26 July 2005 (Tuesday)
Session Start: Tue Jul 26 08:31:09 2005
Session Ident: #t1
[08:55:04] <guy> JP's
Market Profile
room is open today - it's called JPJTrading.com on PalTalk
[09:27:23] <guy>
ER2
singles above us at 675.5 and 676.3
[09:29:01] <guy> 1 minute to open
[09:30:37] <guy>
ER2
Single Print
short at 675.4
[09:36:45] <guy>
MP
trades show short
[09:36:54] <guy> signals are short off
VAL
[09:36:58] <guy> and short
single print
[09:37:03] <signal>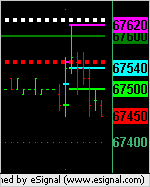 [09:45:32] <guy>
Single Print
trade takes +2 point on 1 contract and moves stop loss to breakeven for 2nd contract
[09:50:35] <guy> Consumer Confidence
[09:50:35] <guy> 10:00
ET
[10:00:52] <guy> 103.2 vs 106.2
[10:13:49] <guy> rest of
single print
stopped out
[10:18:38] <guy>
Single Print
short from 676.2
[10:40:06] <guy> Innerworth:
Feeling Control Over the Inherent Uncertainty of the Markets
[10:51:39] <guy> .
[10:51:56] <guy>
Single print
took +2 on 1 contract and moved stop to b/e for other
Apologies: ISP problems through rest of the day.
The other contract on the
Single Print
short was stopped out at breakeven.