SafeZone Stop
Support question about the SafeZone Stop Indicator:
Is safezone programmed only for uptrends? Is there anyway I can use your formula pack to generate a graphical image of safezone on e-signal for downtrends?
The SafeZone works on both up and downtrends. It is designed to be used to help place a stop once you are in a position. The SafeZone Indicator has a set of parameters that can be adjusted when it's being used and one of these parameters is the
long
flag. If you are running a long position then this should be checked to true and it should be set to false for a short position. Here is a graphic of the parameters: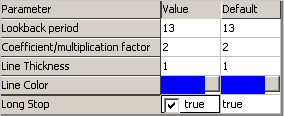 You can access the parameters for the SafeZone (and any other indicator) by right clicking the Advanced Chart and selecting
Edit Studies...
from the menu. In the
Study
drop down (top left) you should select
SafeZone Long/Short Stop
and adjust the parameters. The name of the SafeZone Stop will change to show you if it's calculating a long or short stop.
Here is a web page with more details about the
SafeZone Stop
.
Let me know if this answers your questions?