crude oil volume question
crude oil volume question
Hi,
I would like to know how could they get this low, if the previous volume was so high ? This is crude oil mini traded yesterday. Thanks
Click image for original size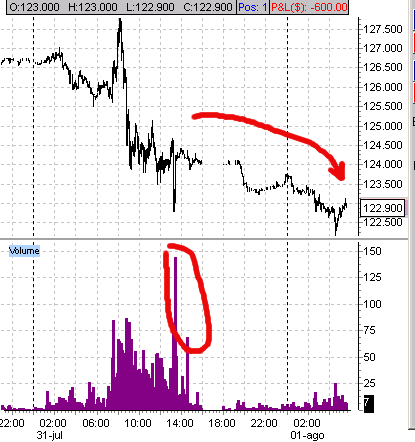 That high volume could be a ton of stops being triggered and cleared out. After the market moved back up the stops were gone and when the market moved down again today there weren't any left. Also traders with stops below that level - the area we've entered today, would probably have taken their trades off after the market spiked back up and so won't be resting at that area now. This also applies to profit targets for the shorts. There would have been more traders taking profits at that lower price yesterday than there would be today. Remember that it was towards the end of the session yesterday so day traders would be looking to close positions and at this time this morning they're looking to open positions. The entering of trades is also likely to be more widely spread across time if there aren't any big moves whereas the exiting will be concentrated if there's a spike.