RSI breakouts
Click image for original size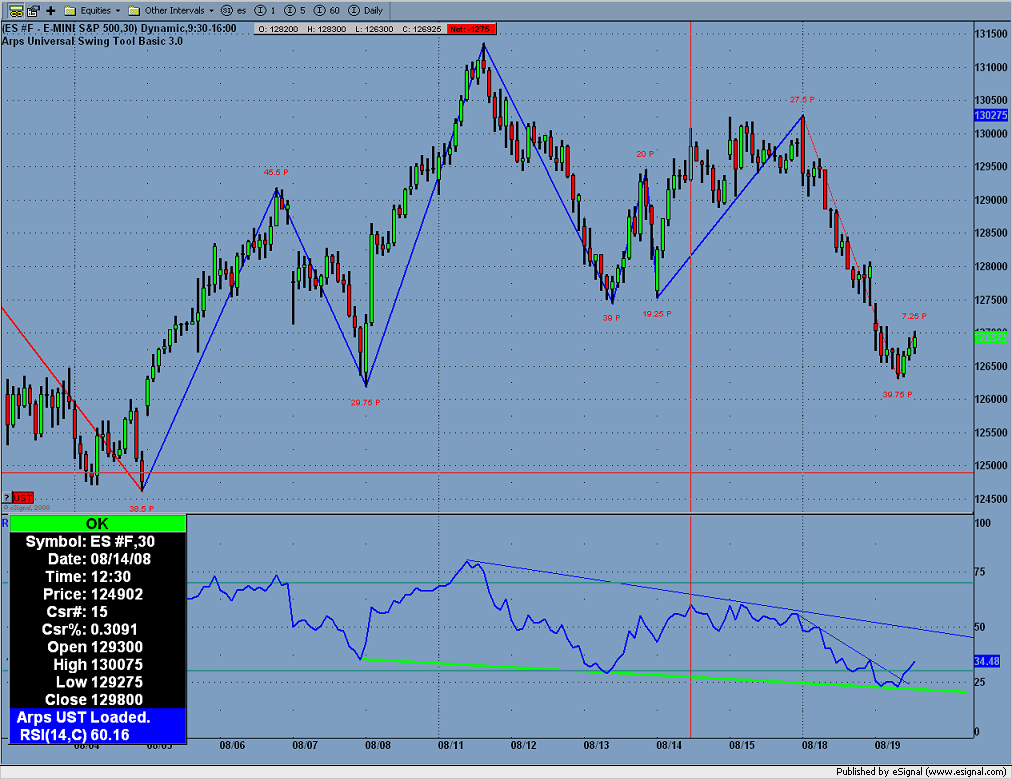 This last little breakout to the upside on the
RSI
happened when the
ES
was still around 64 area. And found support twice on the green line drawn from 2 other lows in the
RSI
. Seems to be forming a wedge which is indicative of a market starting to trend. Any way bounce off support or breakout it yeilded some nice points in the
ES
today, either way you want to go.
It's a shame that this didn't generate much interest yet but it is summer. I dug up that article
I mentioned and will post a recap with the core ideas sometime on friday.....
Ok let me make a quick summary:
Hartle used a 14 period
rsi
on the daily chart and readings above and below 50 ( Above 50 sets up longs, below 50 sets up short side).
He plotted
rsi
as a histogram and would look for a reading above 50 that was surrounded on both sides of the histogram with lower readings...to set up long trades. "Ringed" highs in this case.
Rules:
1)Find markets where
RSI
is above 50 and forms two pivots highs, the first one higher than the second one. ( A pivot high is a high with a lower high preceeding and following it)
2)Draw a horizontal line downsloping connecting the two pivot highs
3)The
Rsi
must close above the trendline and the price bar must close in the upper half of the range
Enter on the close!!
Stop-loss and exit:
Set initial stop -loss two
ticks
below the entry bar then trail with a stop below the previous day for the life of the trade..Here is an example of how he would have connected the pivots on the histogram...not a great chart as I have no patience for my I/RT this morning...
Click image for original size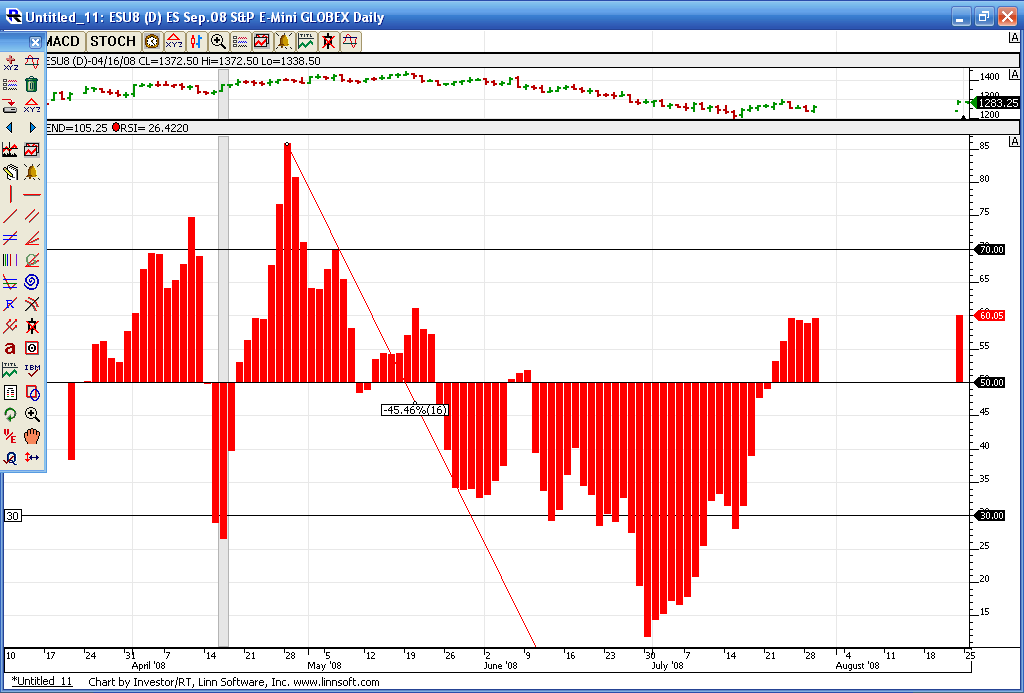 Perrty simple, and looks good. If you drew that trendline from that extream high to the last high before it broke 50.00 it marked the bottom
RSI
bar. I am going to order this new
RSI
book...
RSI
logic or something like that its a rather long book on
RSI
the author's a
S&P
futures trader so it ought to be perrty good. Its supposed to be a new way of looking at
RSI
. I'll post anything good on this thread...
RSI
; logic, signals and time frame correlation by Walter J. Baeyens. But am interested in anything to do with
RSI
.
charterjoe

ive been reading your posts about taking phi to the 4th power * price to get price - did you know if you squared said price you will also be able to take said price to time?

you will be able to prove that pythagorean theorem on your post of es 1260 on the 20th of august

im sure you know what im taking about

take care

gio
quote:

---

Originally posted by gio5959

charterjoe

ive been reading your posts about taking phi to the 4th power * price to get price - did you know if you squared said price you will also be able to take said price to time?

you will be able to prove that Pythagorean theorem on your post of es 1260 on the 20th of august

im sure you know what im taking about

take care


gio


---
Pythagorean! I was born in the same town were Pythagoras was, (Pythagorion Samos Greece)