High Volume I'm using on Monday
High Volume I'm using on Monday
745 - 746 lowest volume of the surge areas

754-757

772-776 *** this is the big volume zone

784-788

I'm discarding the high volume that ran up from 789 into the 4PM close and hopefully this isn't a mistake

803 - left over from Fridays numbers and close to Fridays high..will they defend this again?

812-813

832 -835
once again there are two zones that are close to
VA
numbers....the 745 - 746
and the 754 - 757
I will also be looking to the overnight to try and get some clarity on the buying spike that began at the 3:54 e.s.t bar up to the close of the cash index as I'm not convinced of that area yet...
so far over night low came in first down to 783.25....... .75
ticks
below our 84 - 88 zone and rallied so far to a high of 817.....just one point above the first key zone from the other day...
here is the overnight so far...what we have to watch for in the day session is that new volume can come in to create new zones. So just because the next zone sits way up at 832 - 835 it doesn't mean it will get there. They can bring in new volume at anytime but luckily we can monitor this and use the existing zones still as targets.
Here is overnight so far with the zones hit so far...
Click image for original size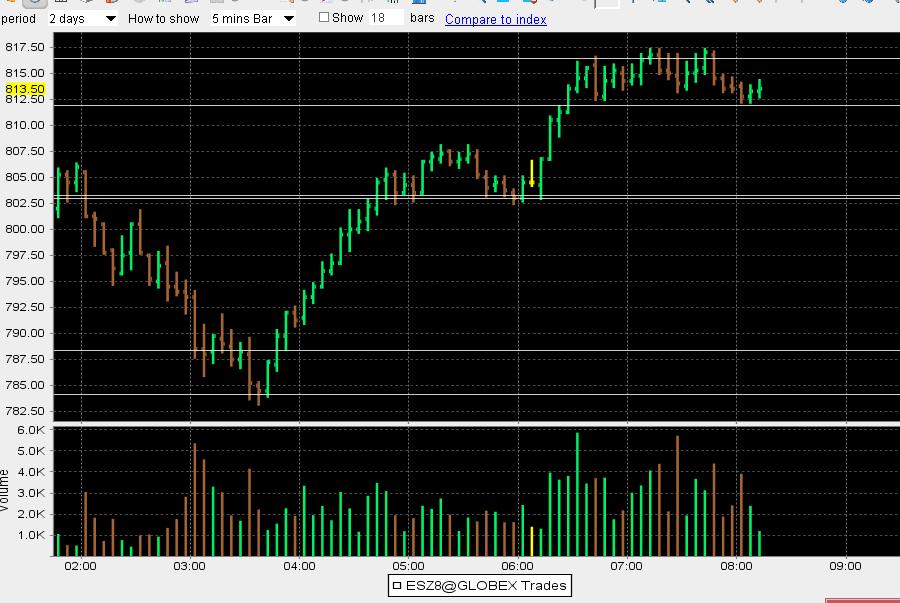 failure up here should close the
gap
down at 803...we have a weekly pivot magnet at 804 so that
makes this area even more interesting
Good luck today
Bruce
here is the one minute for reference - 813.75 seems to be the high volume bar for the overnight
Click image for original size