A Filtered Approach for Trading Market Turns
A Filtered Approach for Trading Market Turns
This approach is geared towards tight entries at potential market turns, but also blending in an initial "confirmation" move that price has begun (at least at this point) to move in our direction. As you will see, it can provide some excellent trade opportunities (2 of these I took today), but of course, as with all setups, some will not work out. I'll let you assess the merits (if any, lol).
First, the key components of this approach:
1. 2 timeframes. Setup and Entry. Setup
TF
is a multiple of 3 times the Entry
TF
.
2. 2 indicators.
RSI
and short term stochastics.
3. While not required, I would throw on a
moving average
of medium length (I use a 50SMA)
The premise of this trading approach.
We will be looking for moves that reach extremes on
RSI
on the Setup chart. Some setups will be a
divergence
on
RSI
after having been at extremes. We will be filtering these setups with the Stochastics by requiring a
divergence
with this indicator on the Setup chart.
We will use the Stochastics on the Entry chart for entry.
We will be looking for channels and wedges to define targets for our market turns.
This approach will result in moves that prove to be bounces (pullbacks) sometimes and occassionally will be market trend reversals. By using the lower
TF
for entry, we will have tight stops (if desired), and should allow for very favorable reward/risk ratios on our trades.
I have attached 6 charts, 3 Setup charts and their related Entry charts. 2 of these trades I took today, and I have noted where and how the entries were chosen. I hope my explanations and comments are helpful. My %K entry hooks are aggressive, so perhaps you can see a better way more suited to you if you find these too aggressive.
As always, any and all comments, suggestions, etc are welcome.
Heres a variation that may provide some excellent "trend" trades. Our same setup and entry methodology, just applied at a different market "juncture".
Click image for original size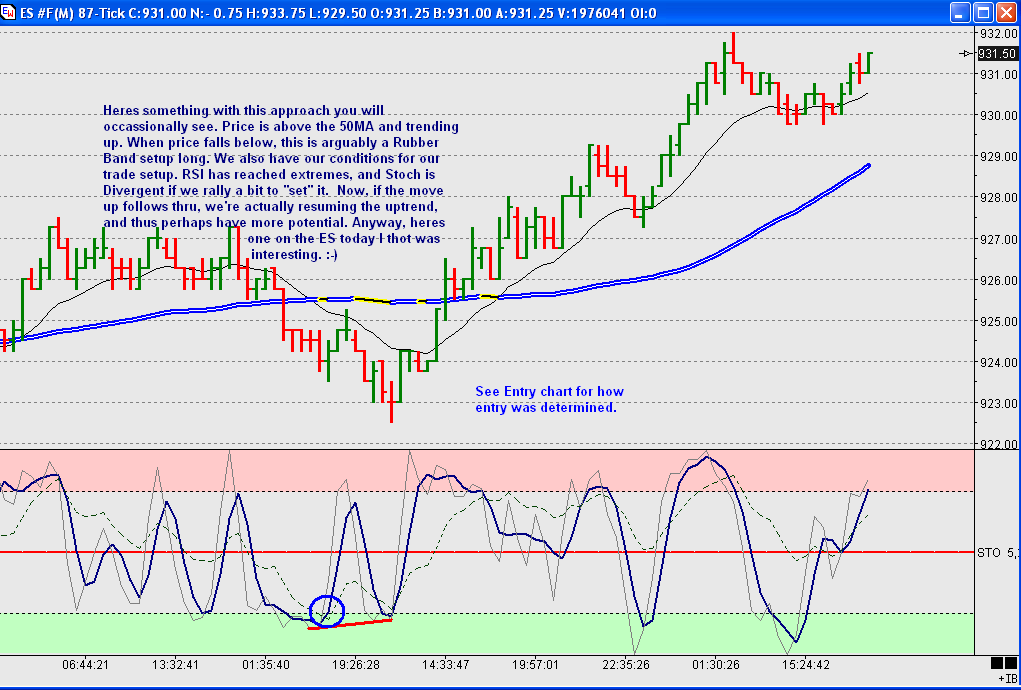 Click image for original size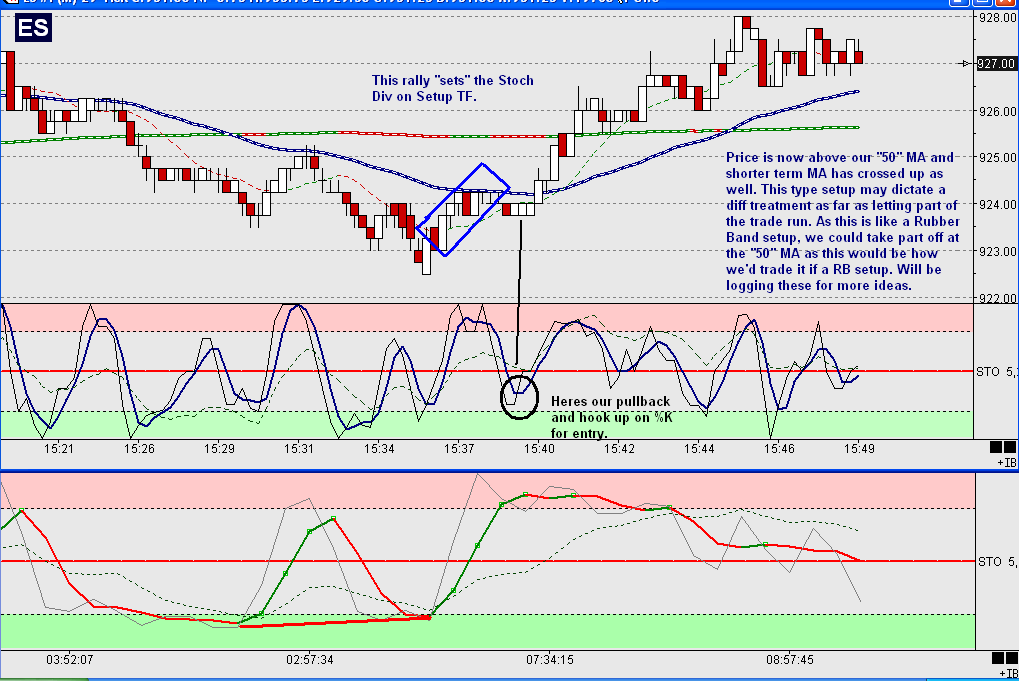 Hi
Ninja
, Looks very interesting....i have been hoping to find you somewhere having seen your posts of a trend turn method on dacharts some time back. This setup looks along the same lines but a little different, what prompted the changes?
When i can work out how to get screen shots off ensign i will post up some of my setups for you to compare! Also what T/F do those
tick
charts on eur and es equate too as our data might well be different and would be interesting to see how fast your charts are!
Good trading to you.