Signed Gann Book
Dated Gann's grand niece a few years back. I'm in Texas and hung out with her in deep East Texas where my family is from and where her mom owned Gann's old homeplace. She also has a book that W.D. Gann signed to his brother, Charles Gann, that I had a chance to look at and review. (Should have bought it at the time but had other things on my mind).
Anyway, I'm including a pic of it here. If anyone is interested, I can contact them and broker a deal (I don't want any cut off of it, just to put it into the hands of someone who can truly appreciate it).
The book is just in so-so condition ... and the pic page of W.D. where he signed it to his brother is detached from the book (god knows why it would be that page).
If anyone is seriously interested in it ... and this is the real deal ... as I know the family ... you can email me. The only possible speed bump is that we had a "falling out" that was just a mixed bag of things. But I could contact 'em and try and snag it from 'em. Here's the pic of the book I looked through from the family:
I also have some naked pics of his grand niece ... JOKE JOKE JOKE!!!!!!
But serious about the book!
Click image for original size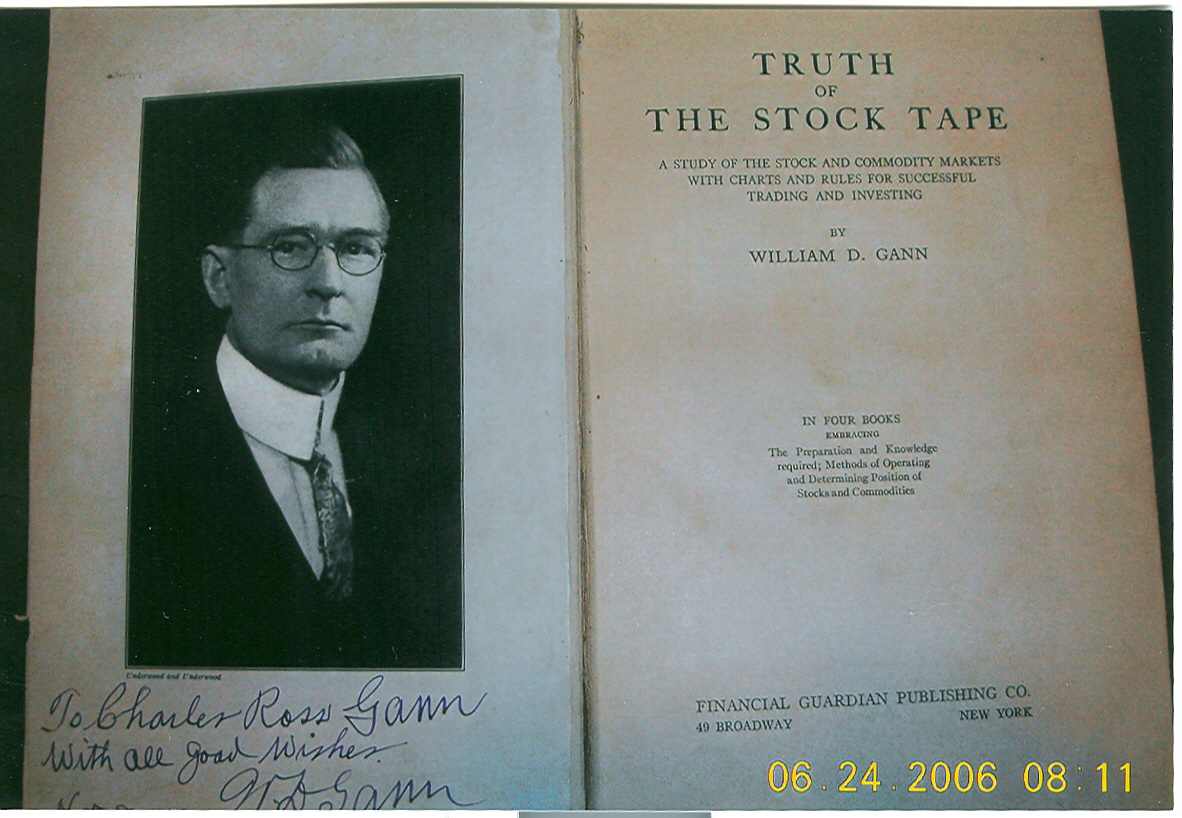 Additional info: S., the gal I dated was great ... but her mom turned out to be a real stinker ... thus the "falling out" ... but have visited with her a few months ago. So, may be able to get a hold of it for someone. I've got several hundred trading books, many signed etc.

If this were in better condition, I'd have already hit her up beyond what I did a few months back for a grand or more, though it's not worth that. I think she actually hates me though ... at least according to her daughter (who liked me) ... she kinda just dislikes men in general based upon what her daughter said and my miserable experience with her. But WTF, I can try.