Kool projected low hit ... BOUNCE?
Kool projected low hit ... BOUNCE?
Snagged a chart of
SPY
daily off stockcharts.com ... and along with trendlines and
S/R
lines I have on my own ... well ...
Kool, whadda ya think of a long trade here for a 2 to 3 day bounce (and the magnitude) on the
SPY
. (also concerned it may be a meager move up for a multi-day trading range).
I'm set to put on a long position depending on where the morning opens and how it reacts in the first 30 to 60 mins (maybe even a long on the open). Gonna do it with options and pick a good strike.
Your thoughts buddy?
Click image for original size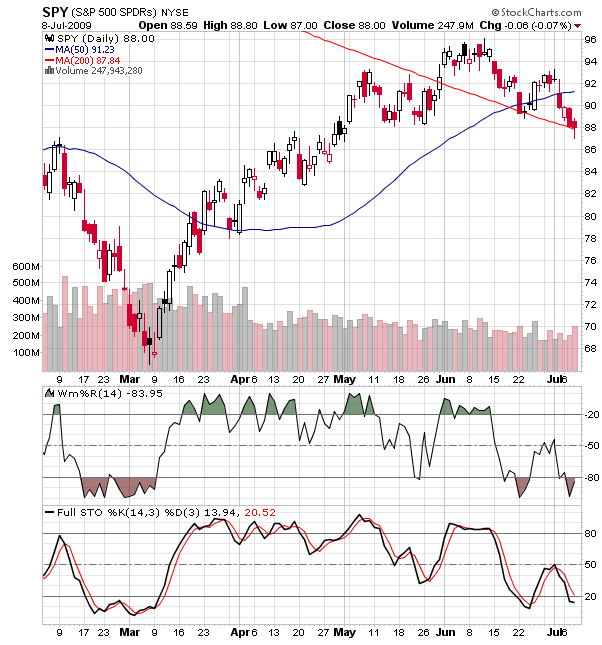 MonkeyMeat ... the other other other white meat!
The daily
H&S
pattern has been talked about (and possibly positioned short) by pretty much every market technician out there. Am wondering it may not unfold as expected due to the "over exposure."
And also today reacted off a support zone from multiple approaches. And though I'm not a big "indicator" trader, I included a couple of common oscillators that many follow which indicate a potential oversold situation ... which also adds to my "bounce" idea.
Anyway, open to feedback from other folks as well.
well, cycles are generally positive till late July or early Aug. And it sure looks on the daily chart like a typical a-b-c correction down . i really wanted that 873 to hold this decline , but i suppose a few handles lower intraday shouldnt matter. Any way ,yes im still bullish , but getting very nervous! FWIW, i did go long my 401 k 50% with the idea of adding another 50% if we tank to 820-830. my reasoning includes the fact that it took 17 months to go from 1576 to 666 and a minimum expected bounce in terms of time of .382 is still some time ahead of us! note that the 957.50 peak came at a .236 timeframe virtually to the day! but that just seems too early to me. any way i told the room the short term proj down was 865 and you see where we bottomed! now looking for a small retrace then bounce to 885.50 and hopefully closer to 900 on the very short term.
Thanks for the good analysis and feedback Kool ... am looking for a place to go long tomorrow if things pan out in the right way ... for a 2 to 3 day bounce. Good stuff!
im hoping for 872 or so but i cant tell untill i get a down projection off this 881 area hopefully
not sure but isnt there an eclipse around the 22 or 23rd? (and a new moon the 22nd to boot!) both potential lows