14d RSI at 50%
I saw this at barcharts and I was wondering
what the "at 50%" means of the 14 day
RSI
at 50%?
http://charts3.barchart.com/procal.asp?sym=ESZ9
Click image for original size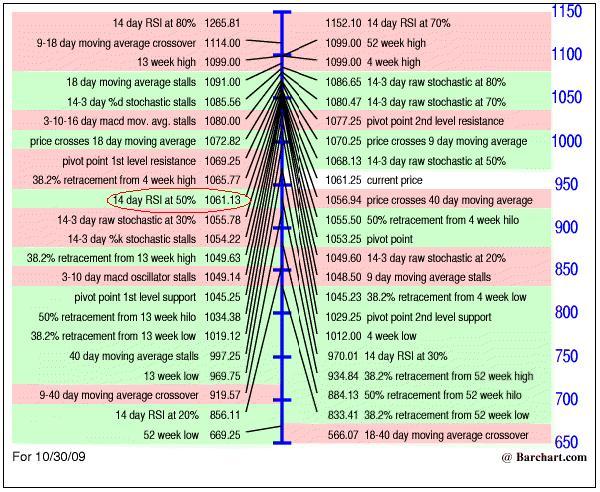 Looks like it's simply today's Close (10-29-09) of 1061.50 (on
ES
) ... and that the 14 period
RSI
reading is currently at 50%. Nabbed a daily chart below and slapped a 14 period
RSI
on it in
TS
and it shows a reading of 50.13% at the legend on the right. Dunno fer sure, just my
WAG
.
Click image for original size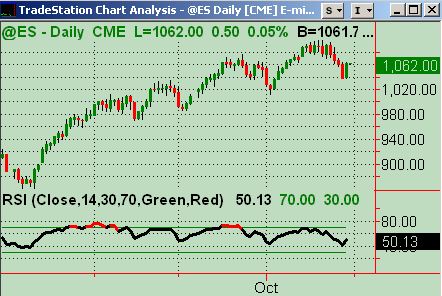 Hi
MM
,
I don't think its that.
Here is the current snap at 10:50
(Barchart show delayed price of 1054.50 and 50%
RSI
at 1068.68)
I think it must be would the current price would have to equal to give
a current reading of 50% on the 14 day
RSI
.
What I was wondering was how to compute it so that I get their number.
Perhaps you could look at your current
RSI
reading for me
and then later in the day when(if) we get up to 1068 look at the
RSI
again.
Many thanks,
I don't know Blue ... am stymied on this one. Would be nice to find out though. They are labeled as "projections" when the mouse pointer is held over the graphic on the site.