ES S/R Map for 11-3-09
Here's what I've got for
price action
S/R
price levels. Share here with charts or commentary what you have for coming into Wednesday's
ES
trading session!
Click image for original size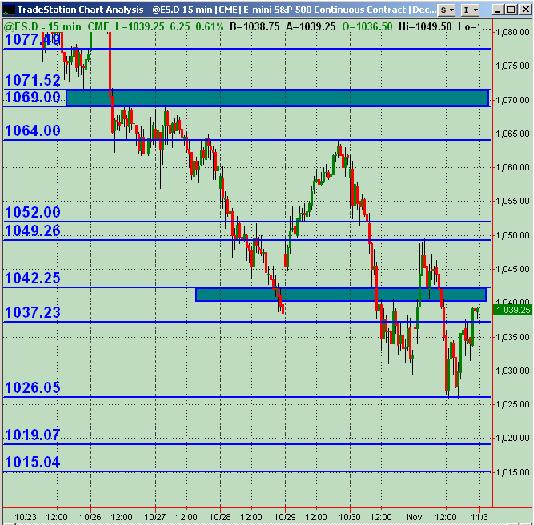 I mentioned this on yesterdays thread in the P.M and since the overnight has some stalls at these levels it has confirmed them for me....the 1027.50, 1034 and 1041....I expected some back and fill in the 34 - 41 area but that broke down and we got attracted all the way down to the 27.50 number.....with the fed meeting etc, I would still expect some consolidation in between the 34 and 41 in the day session...not sure if I can trade today but good luck to all.....
the
volume profile
for yesterdays
RTH
trade, last nights overnight and the sunday overnight is pointing to the bell shape..........so we have to be careful that this might develope some more before we gravitate away from this formation......this is consistent with the consolidation I expect....I'm trying to buy the declines below 34 toward sthe 27.50 expecting trade to go back to the middle...interesting that the middle of the 27 and 41 area is 34....
If we can get a first push down in day session I want to be a buyer...overnight showing slight "b" pattern below this 34 key area
market is still caught inside yesterdays levels... 1041 - 1025

below the range we have major support at 1009-08

above 1041 the next resistance is 1057

inside the range we have 1034 which the market is testing at the moment.
So far the session has been backin' and fillin' in the 34-41 area you mentioned Bruce ... waiting for a reason to go somewhere. The 34 area both of you referred to has been holding the market up so far. Helpful analysis and input!

These were some potentially tradable areas up to this point in the session today depending on an individual's strategery and entry setup/criteria.