ES 11-04-09 RECAP
WELL TODAY WENT PRETTY MUCH AS EXPECTED! HOPE
MY
BUDDY
VO
SOLD THAT 1056.50 AS WE DISCUSSED! IF
SO
HE MADE A KILLING!
NOW
, WHATS IN STORE NEXT?..
IM
EXPECTING A 3 WAVE ADVANCE HERE WITH THE FIRST WAVE UP ALREADY COMPLETED.
NOW
DOWN FOR THE 2ND WAVE. NOT ENOUGH TIME YET TO STUDY CHARTS ,BUT NORMAL WOULD BE 1034 OR EVEN 1031 AREAS. THEN UP STRONG EARLY NEXT WEEK TO COMPLETE THE PATTERN. REMEMBER ,
NOV
9 IS A BRADLEY TURNING POINT DATE. THERE NOT ALWAYS EXACT , BUT USUALLY VERY CLOSE! ALSO REMEMBER THE WEEKEND UPDATE A WEEKEND OR
TWO
AGO
? I SHOWED WHERE LONG TERM CYCLES HAD
AN
IMPORTANT PEAK EITHER NEXT WEEK OR THANKSGIVING WEEK! LOOKS LIKE WERE
O/N
TRACK!
YOU CAN LAUGH
ALL
YOU WANT , AND I ADMIT I DONT TRADE BASED SOLELY
O/N
THIS , BUT IVE MENTIONED THE MOONS SEVERAL TIMES. FOR THOSE WHO THINK THIS IS
ALL
HOCUS POCUS ,CHECK OUT THIS CHART. SOLID CIRCLES ARE THE FULL MOON AND EMPTY ARE NEW MOONS! YOU BE THE JUDGE IF THERE IS ANY CORRELATION!!!...LOL:
Click image for original size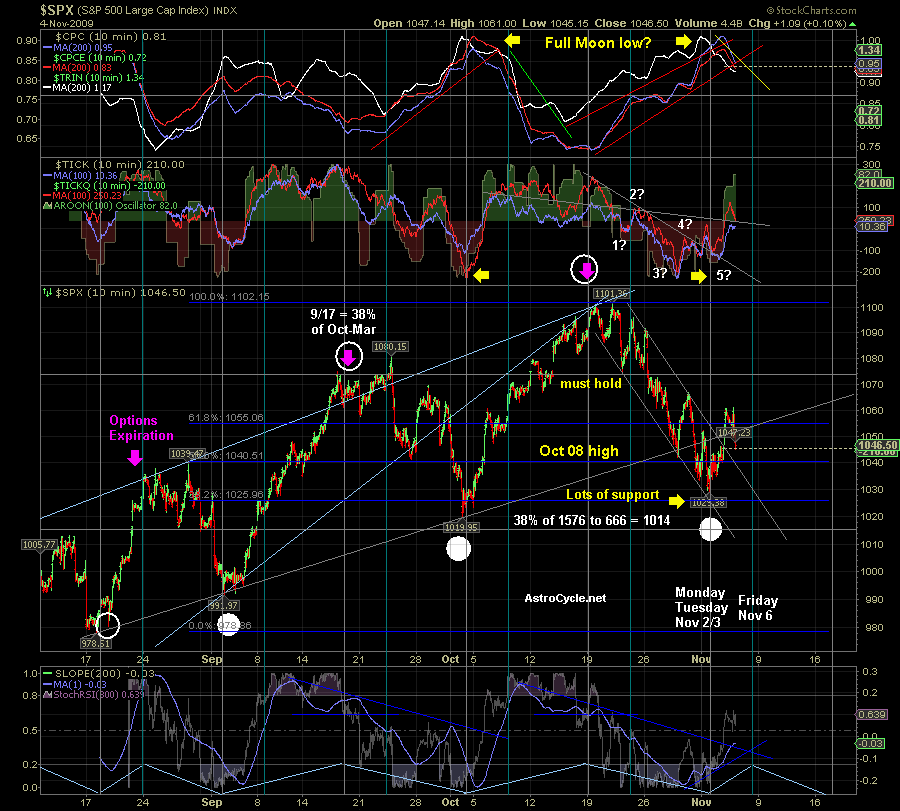 ...COURTESY FRANCIS BUSSIERE
Hi Kool. I really enjoy following your posts and watching your methodology. I have been applying this to
QM
and have been having fairly good success. Was wondering if you could elaborate a little more on how exactly u are using the
MACD
histogram on the 13 min chart. I understand its the beginning of a trend but do u go to the 1 min chart and enter on a retrace once you see the histogram changing? Also just one other minor point. I see your point wrt support below 1000 looking at the first 3 projections on the 120 min chart but doesnt the last projection from 1058.50 eliminate the second last projection from 1049.50? Thanks and good luck trading!
HI EINSTEIN!...
GLAD
YOUR HAVING SOME SUCCESS!... FIRST THE PROJECTIONS . TECHNICALLY , YES THE 1058.50 PROJECTION WOULD NEGATE, OR
AT
LEAST BE MORE IMPORTANT THAN THE LOWER TOP 1049.50 PROJECTION.AND ACTUALLY THE 1069.75 ONE WOULD BE EVEN MORE IMPORTANT , BEING A HIGHER HIGH. OF COURSE THE OFFICIAL PROJ WOULD COME FROM THE HIGHEST HIGH(1099) UNTILL
MET
. THE REASON I HAVE BEEN LEAVING THE OTHER ,(TECHNICALLY NEGATED) PROJECTIONS UP FOR VIEWING( AND I MIGHT
ADD
,FOR
MY
OWN USE!) IS BECAUSE OFTEN WHEN 2 OR MORE PEAKS GIVE THE SAME GENERAL AREA, YOU CAN HAVE MUCH MORE CONFIDENCE THAT ,A: THEY WILL LIKELY BE ACHIEVED, AND B:THEY ARE LIKELY TO PROVIDE SOME KIND OF BOUNCE ,OR REACTION WHEN ACHIEVED. YOU KNOW HOW
IM
ALWAYS SAYING...SHE WANTS THIS OR THAT NUMBER? UAUALLY THATS WHY. FOR INSTANCE, WEVE SEEN THAT 1063 AREA AND THAT 1073 AREA A COUPLE TIMES
NOW
FROM DIFFERENT LOWS ,
SO
I WILL LIKELY SCALP A SHORT
AT
EACH ONE!
NOW
TO THE
MACD
I SHOW FROM THE 13 MIN CHART. ITS REALLY JUST A GOOD TREND INDICATOR. SAME AS THE CROSSING OF THE RED WHITE AND GREY (15
EMA
, 54
EMA
, AND 100
EMA
AVGS
O/N
THE 5 MIN CHART). I DONT USE THE
MACD
AS TRADING SIGNALS CAUSE TOO OFTEN IT WILL GIVE A BUY AND OF COURSE THE MARKET GOES UP, FOR SAKE OF EXPLANATION ,LETS SAY 7 HANDLES. THEN WHEN THE MARKET REVERSES AND BEGINS TO DECLINE, THE TREND SELL SIGNAL ISNT INSTANT OF COURSE AND BY THE TIME IT APPEARS IT MIGHT BE A HANDLE OR
SO
BELOW WHERE THE BUY WAS GENERATED! THIS ,IN A NUTSHELL IS WHY NEWBIES CANT MAKE MONEY WITH INDICATORS! BUT I STILL USE THEM IN A DIFFERENT WAY,THAN JUST FOR A BUY OR SELL SIGNAL. FOR EXAMPLE : LETS SAY I HAVE A PROJECTION
AT
1000, AND A HIGHER ONE ALSO
AT
1010. I SHORT 1000, BUT WILL I GET KILLED AS IT SOON SHOOTS UP TO 1010?
NOW
LETS SAY THE
MACD
SIGNALS A SELL (TREND ). AROUND THE TIME I SHORT
AT
1000. WELL,
NOW
IM
PRETTY CONFIDENT THAT WE WILL GET A GOOD DECLINE FIRST BEFORE ANY REBOUND BACK UP TO 1010 OCCURS! INTERESTNGLY ENOUGH , THAT HAPPENED YESTERDAY FOR ME! EARLY IN THE DAY I HAD PROJECTIONS
AT
1056.50 AND THAT 1063 AND CHANGE AREA. AS WE ROSE FINALLY GETTING TO 1057.50 I THINK ...SHOULD I SELL
NOW
,OR WILL IT CONTINUE RIGHT UP TO 1063? THE MARKET PULLED BACK A HANDLE TO ABOUT 1056 AND CHANGE AND SUDDENLY THE 13 MIN GAVE A SELL(TREND) SIGNAL! IN A NUTSHELL, THAT TOLD ME THERE IS A GOOD ODDS THAT WE DECLINE
AT
LEAST SEVERAL HANDLES FIRST BEFORE ANY SURPRISE REBOUND TO 1063!
SO
I SOLD 1056.00! AND MINUTES LATER IT CONTINUED DOWN! I WIMPED OUT EARLY
AT
ABOUT A 2 HANDLE PROFIT CAUSE I HAD TO SLEEP, BUT IF YOU GO BACK AND LOOK, YOULL
SEE
THAT IT WENT ALLTHE WAY TO 1051 AND CHANGE! ANY WAY THATS HOW I USE THE INDICATOR.