ES 11-11-09 RECAP
JUST TO RE-ITERATE...
IM
BULLISH UNTILL THE MARKET TELLS ME NOT TO BE...WHICH IT ALMOST DID
AT
1026! (A BREAK OF 1018 WOULD HAVE DONE IT!). OVER THE NEXT FEW MONTHS , I EXPECT MUCH HIGHER PRICES, THEN A DECLINE INTO THE 4 YEAR CYCLE , LATE SUMMER OR FALL OF 2010. ANY WAY ,SHORTER TERM ID LIKE TO
SEE
A PULLBACK TO
AT
LEAST 1088-89 AND MORE LIKELY 1084-85 . CYCLES REMAIN DOWN THRU TOMORROW, THEN POSSIBLY UP INTO THE NEXT MOON AROUND THE 16TH OR
SO
.
Click image for original size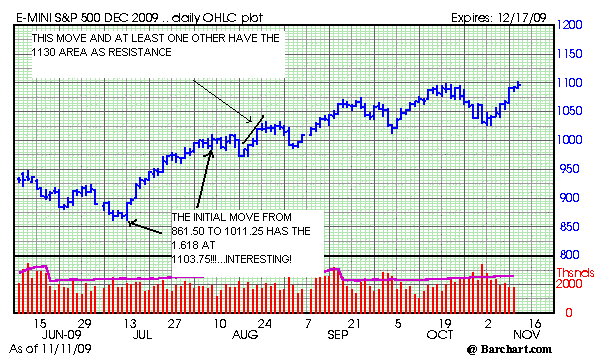 ... EDITORS NOTE: NOTICE ALSO THE FIRST 2 BARS (BEFORE ANY RETRACE) OFF OF THE 1026.50
LOW
PROJECT 1110.25. THATS WHERE THAT NUMBER I MENTIONED TODAY COMES FROM!
Kool: Was wondering if I could send you a
PM
through the forum? Question about entry technique. It may be a little long to post. Let me know. Thanks. E.