ES S/R Map for 11-24-09
Here's what I've got for Tuesday. Blue lines are
price action
S/R levels
... if filled in with Green(ish) color, helps better define
S/R
zone ... Green line is Wkly R1 Pvt ... Red line is Wkly Mid Pvt.
As always, looking for any feedback and others' analysis for coming into Tuesday's trading!
Click image for original size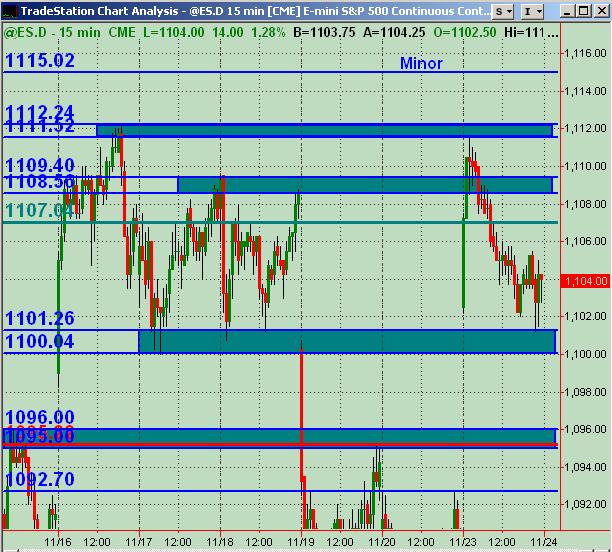 Anything above 1108 is proven resistance. Today's morning rally was fully retraced back to the opening price and then some. There is still a
gap
up, so now the ball is in the bulls court. I am looking for a re-test of 1083 to see how bulls respond. I think there are still some trapped shorts below 1080 and if my guess is correct, that should put a limit on the downside. Range estimate is 1108 - 1083 for tomorrow.
Many traders that i am following are projecting a correction starting here and now. That being said, I am still mindful of potential upside to 1120.
Magnets are still the 1103 - 1105 but I'm now officially adding that 98.75 from yesterdays overnight as it was respected in the overnight once again in last nights move....the 1092 is still in effect also but not as impressive as the weekly close is down there too.....still a short bias for me

1084,
1077
1061..****