High Volume for Monday
Sorry Kool...I was out this afternoon. I'm leaning more and more towards the volume thrusts and don't fire up my
MP
software as much. I still like to monitor what type of day is unfolding in
MP
terms though. Here is the chart from today with the first minutes high and low snapped horizontally.
The only reason to snap the lines there is because it was the highest vertical volume of the day besides the 4PM close. The one at 10:15 or so was on lower volume. I would resnap them if a higher volume bar comes in but it didn't today. So here we have the volume attractor established by the first minute of trade. Powerful stuff in my world.I've been working on a matrix ( I like that idea tonight) for some time to establish volume thrust relationships.....needs to be refined but I can almost establish the day type with these..I'll keep you posted but for now all we really need to see is the high volume bars.
To the chart: I've included part of the overnight just so you can see that great opening thrust.
Click image for original size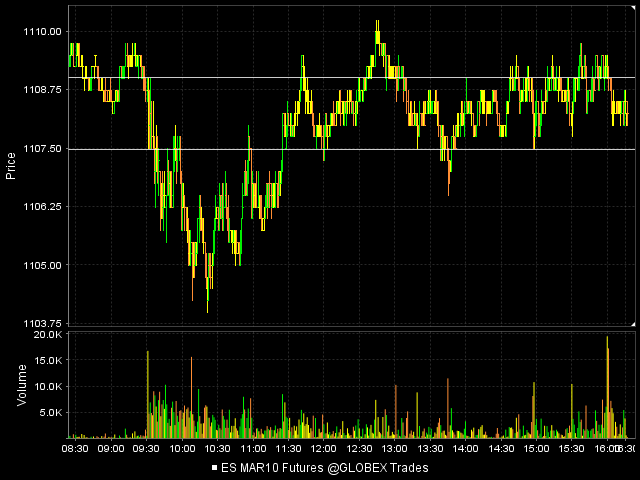 the smart trader will keep track of the volume spikes as they will become magnets for other days.....also keep track of leftover
triples
as they become future targets....this chart is from Tuesday and all
triples
that you see on this chart where "cleaned up" in the overnight session which traded as high as 1111.50 so far.....
note the perfect hit on the lower zone as mentioned at the top of this thread...
Click image for original size