triples on the lows
I have a double standard in the overnight session....I count them as run out if the
triples
that formed in the day session are run out in the overnight but if they form in the overnight I DONOT monitor them or trade for them....
I usually suck at the overnight so I donot follow them and donot have a good feel for
triples
that form in the overnight session
Now
gap
and
triples
still at the lows.....trying to trade for them again
triples
run out on one of the weakest volume fed announcements......1108.75 is the price bulls need to take over and hold to win any rally from here on
a close up of the
triple
and the
gap
...the
gap
is in the data not the
gap
from the previous days close to todays open.....great reasons to stay bearish
Click image for original size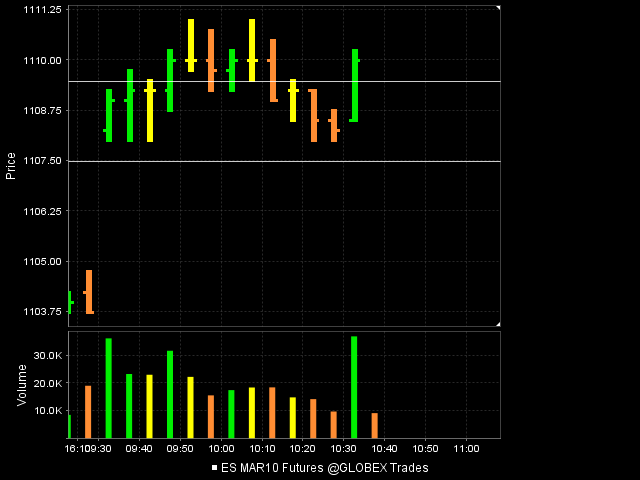 Hi Bruce, I noticed in previous threads that if the
triples
are at the low or high of the day
RTH
that you do not consider them to be as significant, am I correct in saying this, and would these
triples
from today be considered to fit this scenario? Thanks for your input!!
here is a cut and paste of an email I sent a bit before the first 90 minutes ended today.....In general I donot like them as targets at the lows or highs UNLESS we can have other reasons to take the trade...you can also
add
a failure at the highs to this as a concept...
"For me the trade needs to start with a compelling target first.....the
triples
are probably my LEAST favorite target but if you couple that with the concept of the market returning to the open print and retesting a previous Real time high or low after it breaks out above then it leads to a good trade although agressive...I don't use fixed stops and go a bit by market feel and volume areas and overnight highs and lows......
Currently we have
triples
on the
RTH
lows and a
gap
in the day session data...this is different from the
gap
from the previous days close and they get filled a HUGE percent of the time...these happen often on
low volume
days but volume spikes can create some good ones too....the emini is ver efficient at cleaning these up but the hard part is sometimes finding a signal to take the trade,,,,
Currently I like to see the "
triples
" have 2.5 - 5 points of potential profit so I don't trade for them when they get real close to getting run out...I prefer to have a trade on from a higher price if I'm going for
triple
lows to be run out...hope that helps some"