6E 2-8-10
Projection from Friday's low met 13710.
Today's 1hr projection to 13633 is not met.
Profitable trades today has been 2 from 13710 and 13703.
Click image for original size
Click image for original size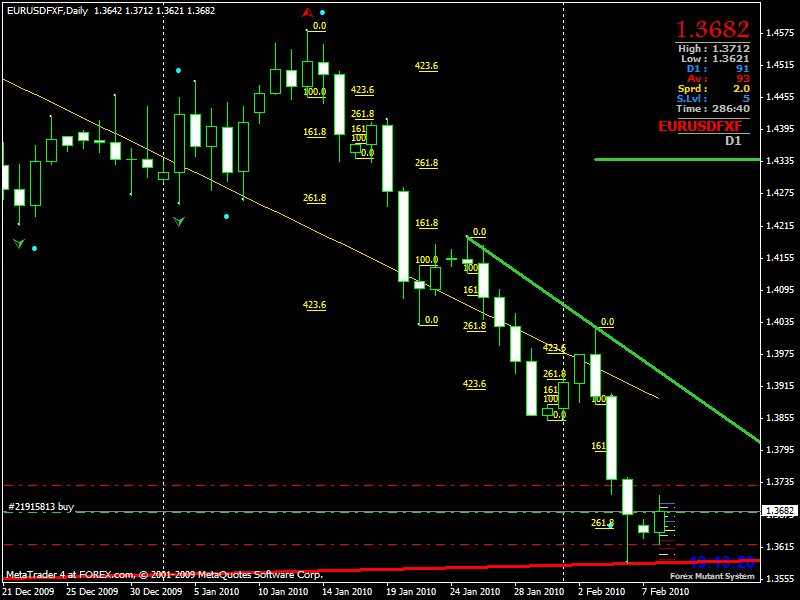 Lordalfa, when price gets close to a projection do you use any indicators/stochs to dtermine if you will enter the trade or do you just set it and forget it?
Usually it overshoots. So I will place the stop limit orders.

eg, if the price has gone above projection, wait for it to come back down and sell stop limit. vice versa for buys.
See the recent daily projection of the MT4 chart? I use that on both the MT4 trade and
Ninjatrader
as a reference. I place the buy at 261.8%. I loaded up on the
FX
with 4 lots. Took 2 off at 50 pips. The next 2 are taken off today.
I have +6 pips more because it is a buy for overnight holds.
The MT4 charts sets where I would go. Yesterday was long.
Daily projections are useful. The reason why I used MT4 with
6E
because the daily, weekly and monthly charts are free with MT4.
If I may be bold, I will project the 2 bar projection from Friday's low to Sunday's high and target 161.8% for the bounce down.