Hi Volume Nodes and Volume Analysis
Hi Volume Nodes and Volume Analysis
Here is this morning chart showing the nodes, along with,my volume analysis entries.
Click image for original size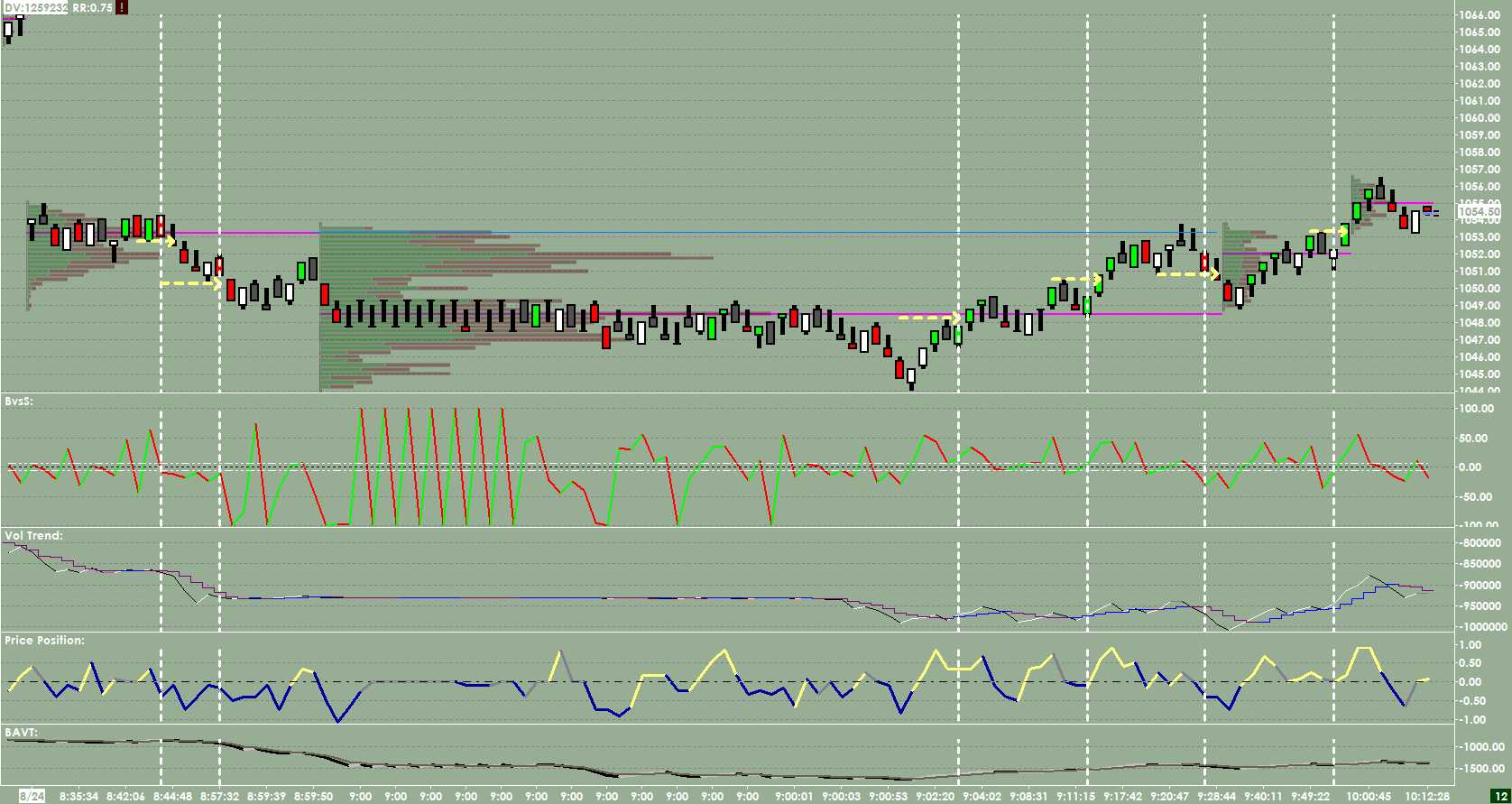 I have difficulty reading your charts BeyondMP. I take it that your charts illustrate sequential 30 minute m.profiles. If so they illustrate that 30 minute POCs have the magnet quality and the propensity to act as support in up trends (or resistance in down trends) and that sequential 30 minute POCs in the same direction define he immediate trend.


Just a note to this forum and to BeyondMP. I see BeyondMP continued his valuable observations on a new forum. Possible this was in error or a deliberate posting to restrict discussion to real time, intra-day use of high volume nodes as an aid in day trading.

I think Bruce was interested in high volume nodes in the bigger picture as an aid to day trading. I don't think these subjects are mutually exclusive, in fact are highly complimentary. As with most valid market principles - they should be valid in all time frames.

The beauty of Beyond's etc illustrations are that he can give examples frequently because of the small time fractal he uses. The lessons he is so far showing to good effect are transferable conceptually to the use of larger time frame high volume nodes.

Yesterday we opened higher; above the market was an important high volume node in the 1081.00 area. This was not only a "magnet" to prices but it also proved to be effective resistance. On the reversal if last week's low was to fail as support then the next high volume node below was in the 1052.00 area, and below that in the 1044.00 area. We sure made it there today.

BeyondMP intra day examples will quickly point out the use of high volume nodes in a larger time frame to day trading. Let's consider keeping this together in one forum and see what pearls come forth.

DWD
yes,
DW
the chart is a bit fuzzy....I'd be interested in the breakdown of Beyonds lower panes and how those are utilized in decision making unless it is exclusive to him...I respect the privacy if that is an issue...I think we could probably agree that the volume gets tested above and below the market but forming a bias is logically the real trick to utilizing them..
I had a Volume Node at 84 even
DW
if I remember as that was where the volume came in from Thursdays report.....
I also had a volume node at 60.50 which never traded to in the day session..
We should keep these posts in one area just so we don't lose focus
DW
,, can u get us a visual on the 52 and the 44 ? I assume that was time and not pure volume...but not sure.
Beyond..can u break down the chart for us..?
I posted this in the other topic to make sure you would see it.
If someone could give me some advice on how best to post charts so that they are more clear, it would be gratefully appreciated.
I opened the other topic to emphasize the benefit of using volume analysis to help identify entries. Let me know which topic I should use.
It needs to be said, I am a scalper. I prefer to take several high probability trades that give me profits, than to hold out for an across the market win. I need the short term gratification of a winner, it suits my personality and allows me to enter the market all day long. As, all I do is trade during the day, I need a style of trading the keeps me engaged. I know it's not for everyone, but it works for me.
As you can see by my charts, nearly every entry gives me at least 4
ticks
on my first leg, which "pays the bills" and the runners provide the "fun".
Originally posted by BruceM

DW,, can u get us a visual on the 52 and the 44 ? I assume that was time and not pure volume...but not sure.

Beyond..can u break down the chart for us..?

The bottom 4 panes are my analysis of volume.
The "BvsS" section gives me the
delta
of buying and selling. It is based on a variable basis volume. The concept I came up with, is that a raw
delta
of 100 contracts, for example; needs to evaluated against overall volume. If during a given period 300 contracts total were traded and the
delta
was 100 that would have to weighted versus a period when 1000 contracts total traded. The raw
delta
only tells part of story it needs to equalized against total volume, in order to have real meaning.
The "Vol Trend" section gives me direction and bias of the overall volume volume. For example, an increasing
delta
on decreasing volume means something different than an increasing
delta
on increasing volume. This is another part of the overall "picture". On this morning's chart, you can see, it went flat during the 10am news posting, providing a great indication that it was time to "sit on your hands".
The "Price Position" section tells me the direction of price. This is actually a
leading indicator
. If you look at the chart you will see it changes direction before price does. As it instantly tells me whether I should be long or short, it takes much of the guessing out what I should be looking for. It, also, signals the end of a trade for me. By the way, you won't find this one anywhere else. I call it Price Position because that's what it tells me. Again, it is a metric of volume I designed.
The final section "BAVT" is my take on overall buying and selling pressure. It also gives me quick look at what I should be looking for.
I used to manually compute all of these values. It led to missing a lot of trades. So now, I let the computer do the number crunching.
Finally, I combined them all to change the color of the bar, so the red bar needs to be there for a short and a green for long. Again, it just saves me the time from having to do the evaluation by "hand". I have found that anything I can do to streamline the decision process pays dividends in wear and tear(both physical and mental) on the trader.
Please let me know if this makes sense to you, as I know, I can sometimes be unclear in my writing.