ES - Daily Overall Look
Tight sideways overlapping daily bars for a week now.
It's up against the
LINE
of the ascending triangle drawn in Magenta.
It's also punched above the Yellow down trend line that it came back and tested.
It's above the 50 and 200 SMAs as well now.
No significant pullback on the move up since 12/20 = "strength."
Looking like a significant move out of this area … my view, based on above analysis and intraday action has me leaning towards a breakout UP.
Just wanted to toss this out there. Here's the
ES
Daily chart that everyone also has on their radar:
Click image for original size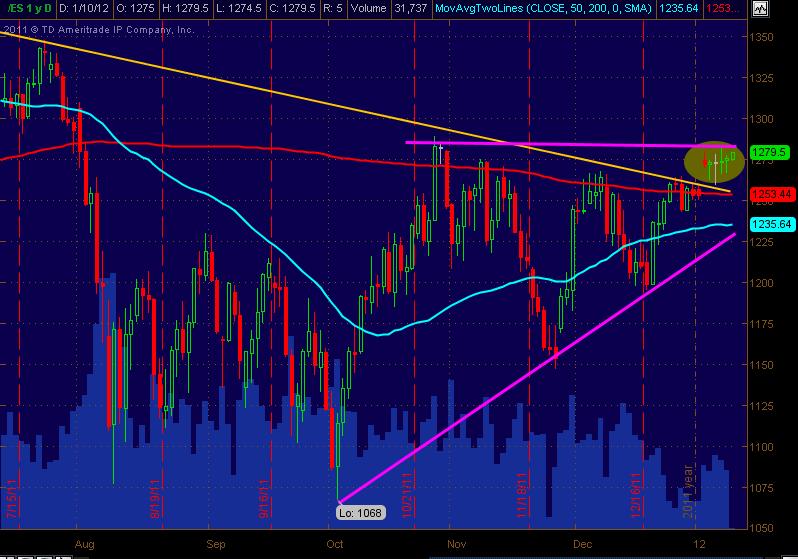 I'd alluded to this in the past day or two. We'll see I guess.
Here's an All Trading Hours 30min chart showing the narrow/constriction of
price action
highlighted in Black. Just a drill-down into what I described with the
ES
daily chart and the commentary:
Click image for original size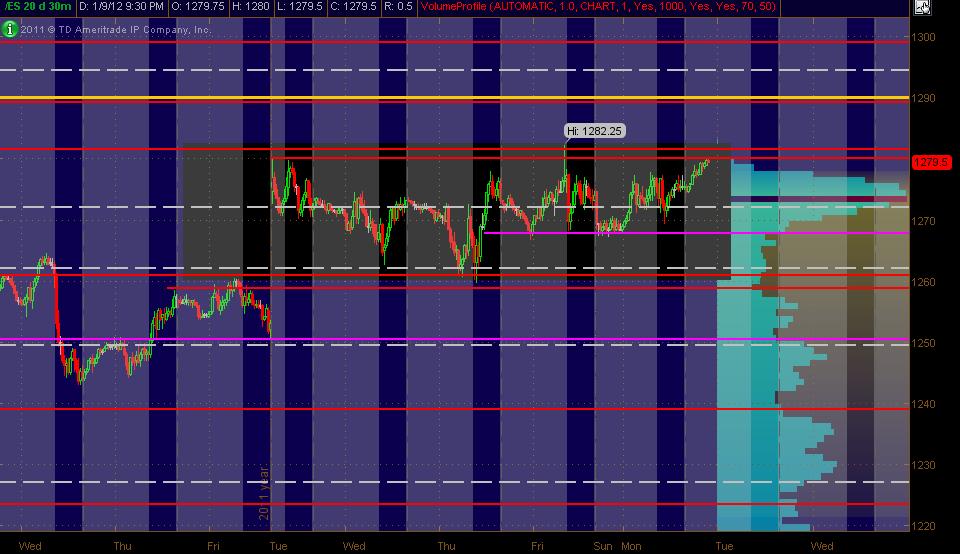 MM
overnight went right to your red/yellow brick wall at 1290
excellent work
MM
!
I expect we will back and fill a bit this morning off that resistance level
Just curious why you put the lines at 1290'ish ?
Originally posted by pt_emini


Just curious why you put the lines at 1290'ish ?

Nothing too exotic really.
Using an All Trading Hours
ES
continuous contract daily chart, I eyeballed a best fit line primarily taking into account these days/swings for the Red
S/R level
:
4-18-11 swing low of 1290.25
6-21-11 swing high of 1293.75 (prior day's high was 1292.75)
7-18-11 swing low of 1291.25
10-27-11 swing high of 1289.25
(I guess a pic of the chart would offer a better "visual" and more nuances I could point out)
As for the Yellow line … I used the 30min chart mostly (all trading hours) looking for any potential Fib extension/retracement clustering that stood out to me … and was also very near a Red
S/R level
. And 90's also a decent round number. All taken together, the 1290 area stood out to me as a pretty significant level to watch.
Still struggling with how heavily to weight
RTH
vs ATH price highs and lows. Also, I'm assuming most other folks are working off of continuous contracts by now. Granted, the cash index would look a little different. But most of the
PASR
levels I find are using the current front month
ES
contract using the 30min chart. Obviously 1290 was going back a bit further – multiple months.