ES Tuesday 7-3-2012
I have a major short resistance on the 1366.25 as a fib level zone coinciding with my
PRC band
setup and my Double Stochastic overbought zone. Will play this target for a scalp of 2 pts. Let's see how it reacts. I would have a 4pts stop loss.
Click image for original size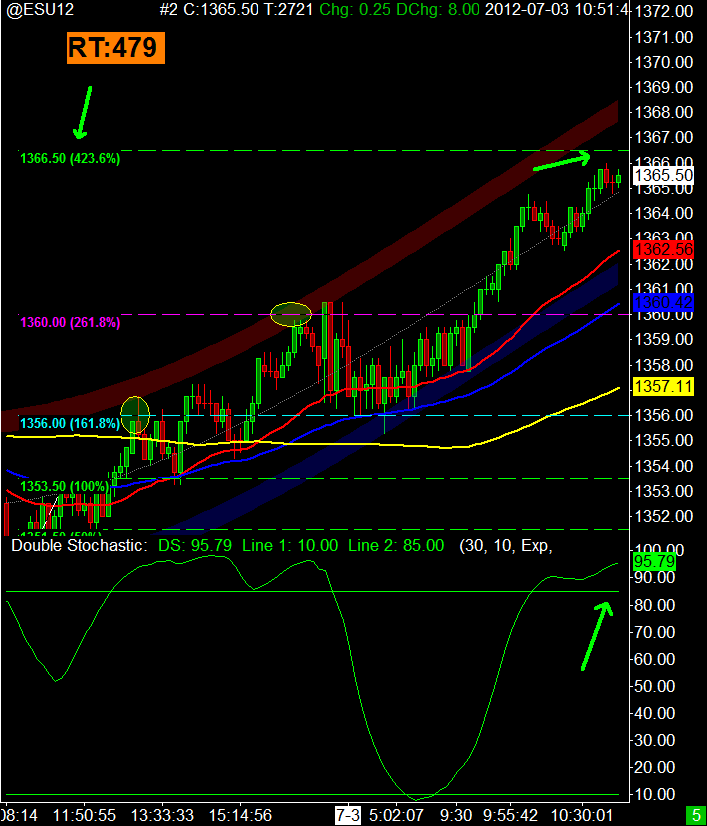 cool John ..I have 67 - 68.50 and right now the volume magnet sits in the 62.50 - 63.75 zone...we are approaching magic time...lotsa luck..hope it goes well and have a great holiday!
I am moving my stop loss to 1374.25 since I draw new fib zones that has a major resistance @1370.25 exactly on my stop current stop loss. If It gets to 1370.25 would look for a target to a BE on my initial entry.
Have a good holidays, gents. Hope you will keep the Forum open. :-)

my target is 1364.25 from my initial short. Let's see if the
ES
get before it closes @13:15 EST
Well I met my target I would be out till Thursday. See ya all back again and have a nice 4th of July.
yeah... I thought that was beautiful structure off the zones...almost perfect !