ES 8-3-17
Two bell curves yesterday with low time separating them....so watch 2470 - 2471 carefully today. Employment data tomorrow. I've seen them front run and trend it and also have seen them do nothing the day before....so just use your lines anyway today. I'm not trading options or even bringing up
TOS
today so I won't be trading much or using day session pivots. Weekly pivot has been passed through at 2470 many times this week and is part of our low time area today - one of those bell curve edges. Here is how my chart will look...look where your overnight low is compared to my bell curve center in lower distribution. Also look to your overnight to confirm that 70 - 71....If I had to pick two numbers then I would use 2468 and 2471 to see if anything happens at either of those. Hopefully volatility will pick up soon....I think they will have to test down into 70 - 71 from 73 - 75.50...certainly doesn't give us much room for profits. In the back of my mind we are still working on an inside week which happens 15% of the time or less !
Click image for original size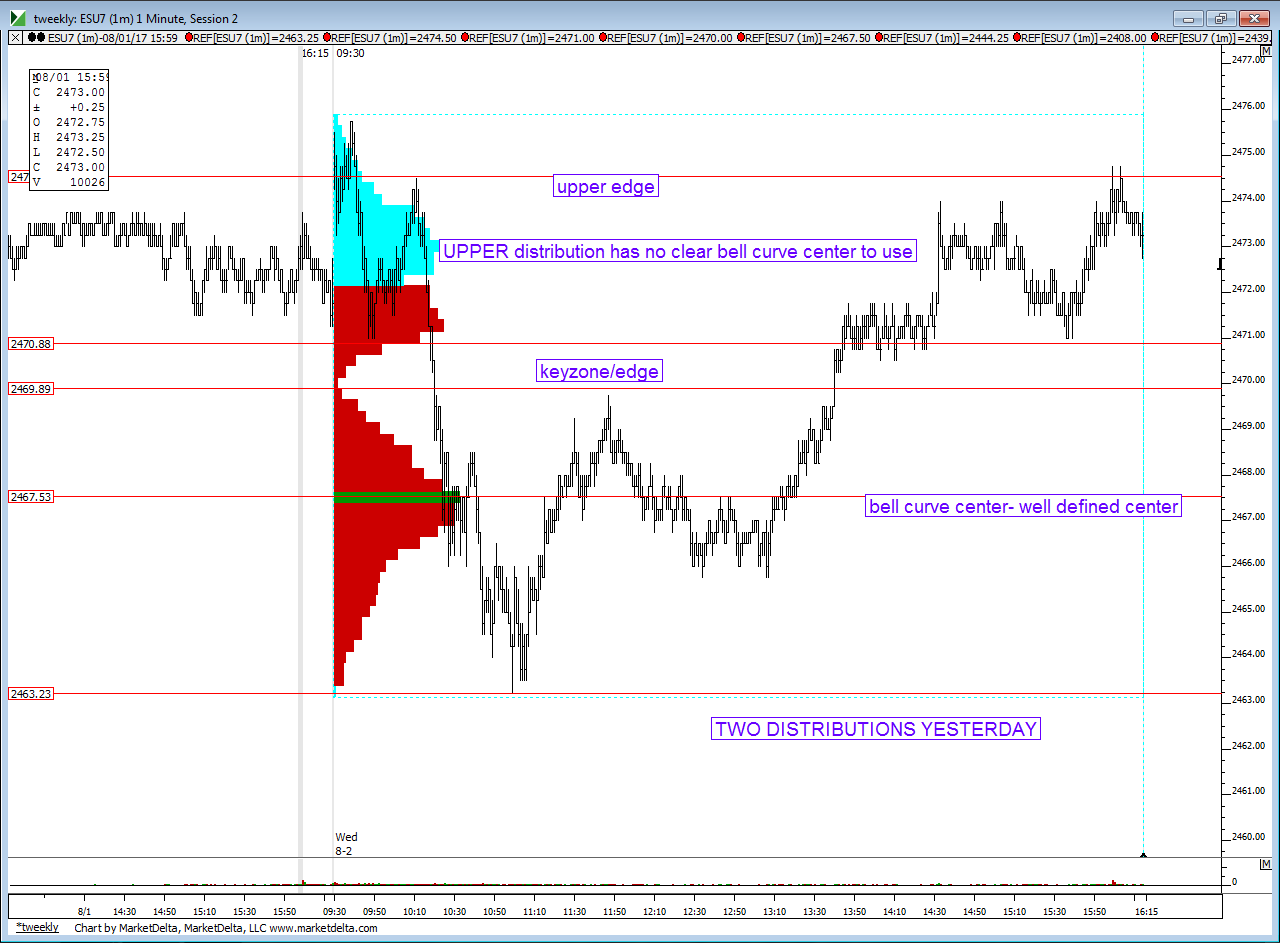 how volume spikes become magnets and what happens when we don't retest high volume on the same day it forms.....NOTE : I don't count the 4 pm closing volume......the sharp brains that visit mypivots will find many ways to use this idea...and those who have been around will remember this from many, many years ago before Volume histograms on the HORIZONTAL axis became popular....this is all about VERTICAL volume...a classic idea that deserves some attention to from new viewers



biggest volume that just formed on my data comes in at 70 - 71....funny, our key zone...so I would expect that to be a further magnet on pushes down or up away from it....but it won't be a magnet forever
It's going to be some interesting trading today! Thanks for the charts Bruce.