ES Tuesday 9-12-17
If u r feeling lucky then you could look for sells off the R1 up at 2490.50 in early trade....I will update with levels and YD's areas later....key today will be to see if we have follow through from the all time highs...so 85 - 87 is first key support/target...no midpoint test yesterday
edit: although we could see two
gap
and go's I don't think it will happen so be careful on a
gap
open higher that initially pushes up......especially if midpoint hasn't printed..this is core video with areas I am watching ....I will edit with video 2 that will expand upon yesterdays references that I think we need to be revisited
edit 2 : some follow up ramble on the cash and the
tpo
probability concept...will pump out a hard copy of what I am using as key areas for those who don't have time for video
key areas
Click image for original size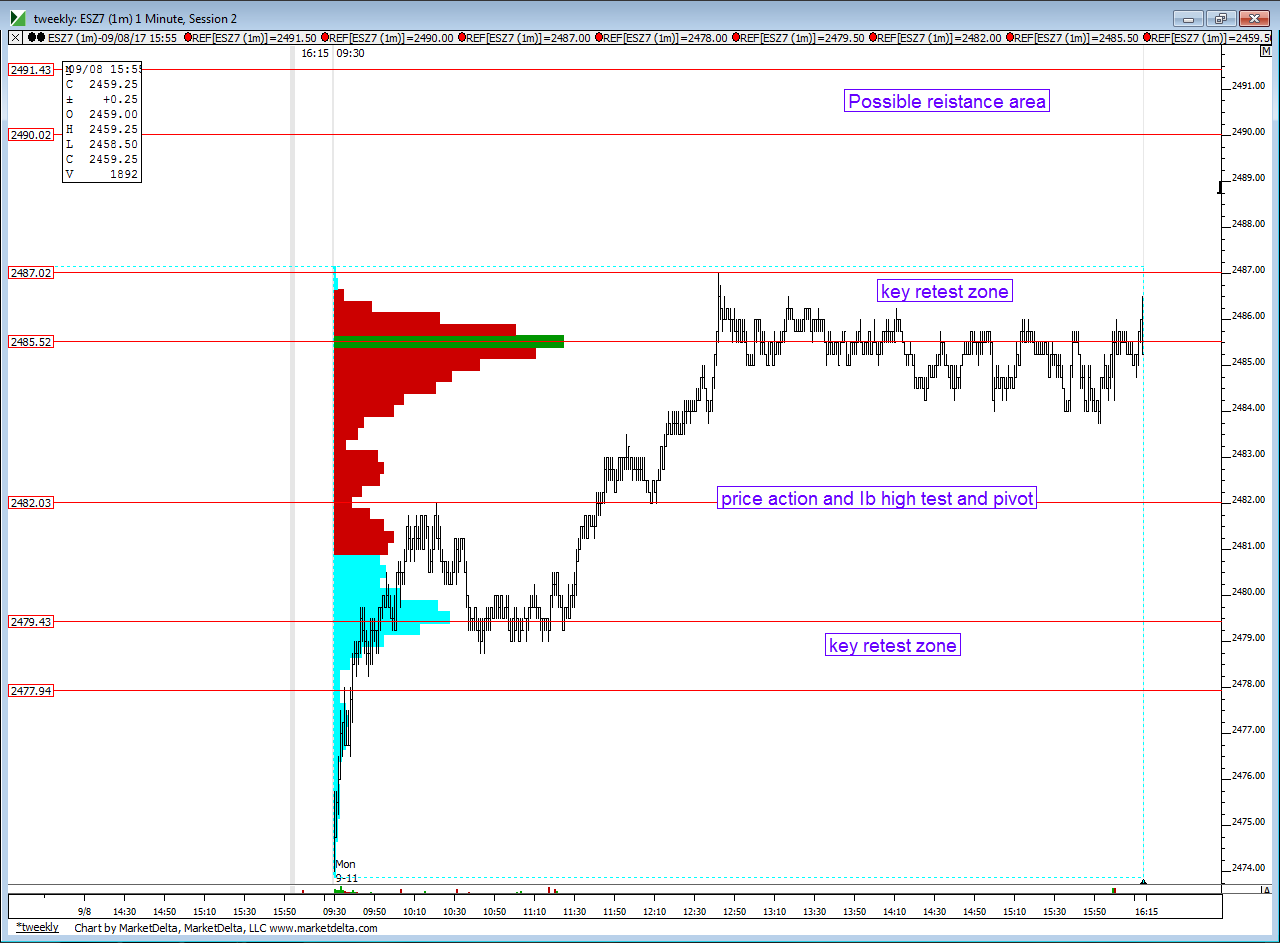 overnight inventory is all long again like yesterday but I think they will need to retrace at least some of that today...so I will be fooled if we have a
gap
and go that doesn't retrace today
I added a hard copy of key areas for me today......key thing everyone will want to know is this " Is the breakout to all time highs in Futures real and will we see follow through up today?" If that idea fails then they will want to know if the break from the 2477.50 - 2479.50 is a real breakout
with this push up first I am starting shorts at 93 and will
add
at 95...target is overnight high retest
my hope is now they just sucked in the breakout traders that said " wow, look how well it worked to just buy the breakout yesterday...so lets do it again "...so if / when they get it wrong they start selling out losses to fuel a downside move...lets first resolve this overnight high....
Looks like short term liquidation with this b-formation in the making.
Value building higher +
one-time-framing
lower = I have no clue ...
some days we can only make money by knowing which side NOT to be on....for me the winning side was the short side today and still is as long as we don't start consolidating over 2492 but if we start firming up above that 2492 then the bulls might be able to take over.....hopefully most knew that the overnight midpoint was 2488.......and you can see where current low is.....overnight midpoint is always a given to try and trade for especially after we fail at reaching a midpoint the day before...
89.75 and 90.50 has
gaps
in the data...just an FWI !!
I had a good trade long yesterday and will be content to wait for that lower that is coming this week. I think LOL