ES 4-9-18
key area for me will be 21 - 23 in early trade as of 7:25 a.m..also using 16 and 11....will revise later
edit..9:20 .
copies of day session profile from friday and then the overnight.......so my revisions have the best numbers coming in at 2616 - 2617 and then 2622 - 2623....these should be the critical zones/ areas as they are confirmed on both overnight and day session
Click image for original size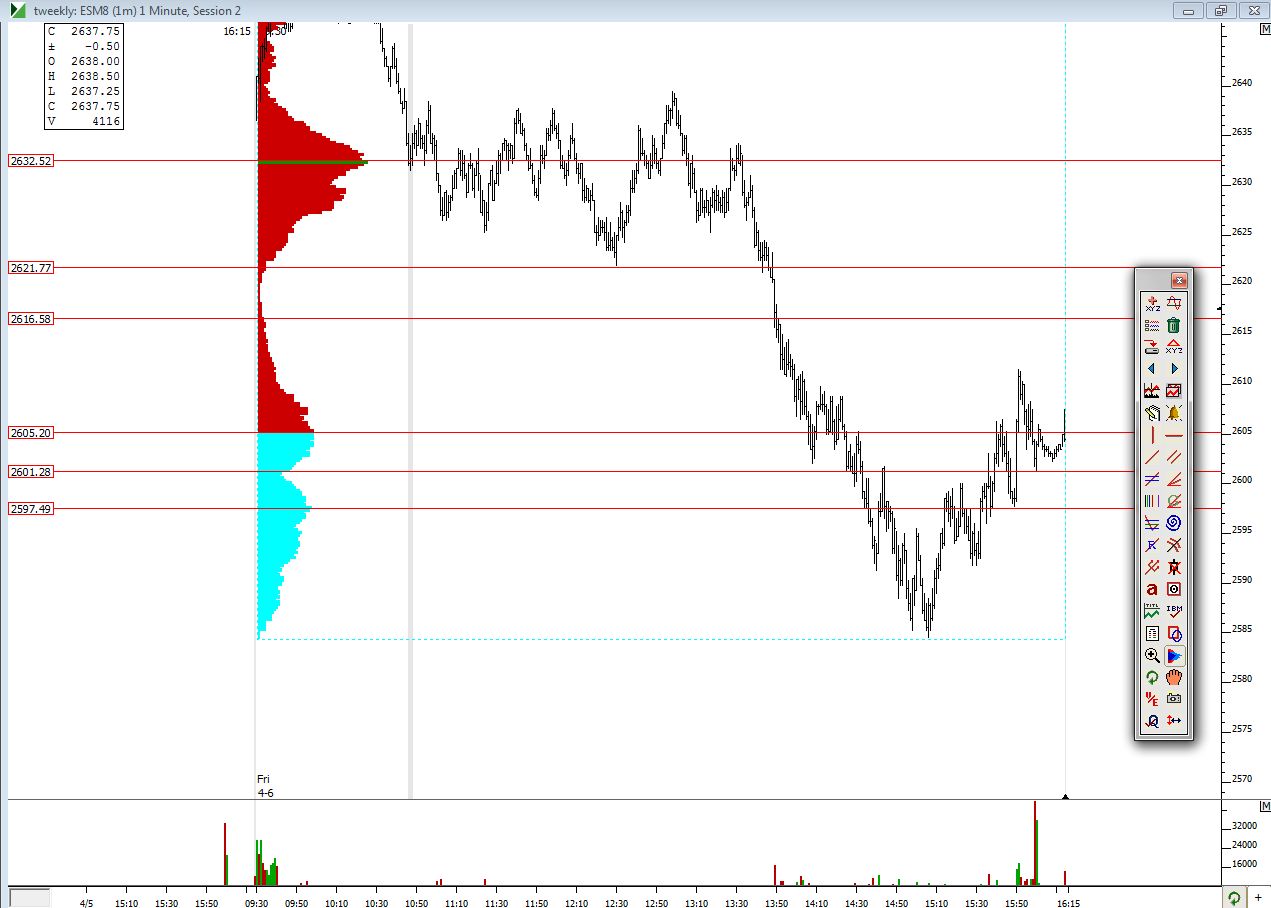 Click image for original size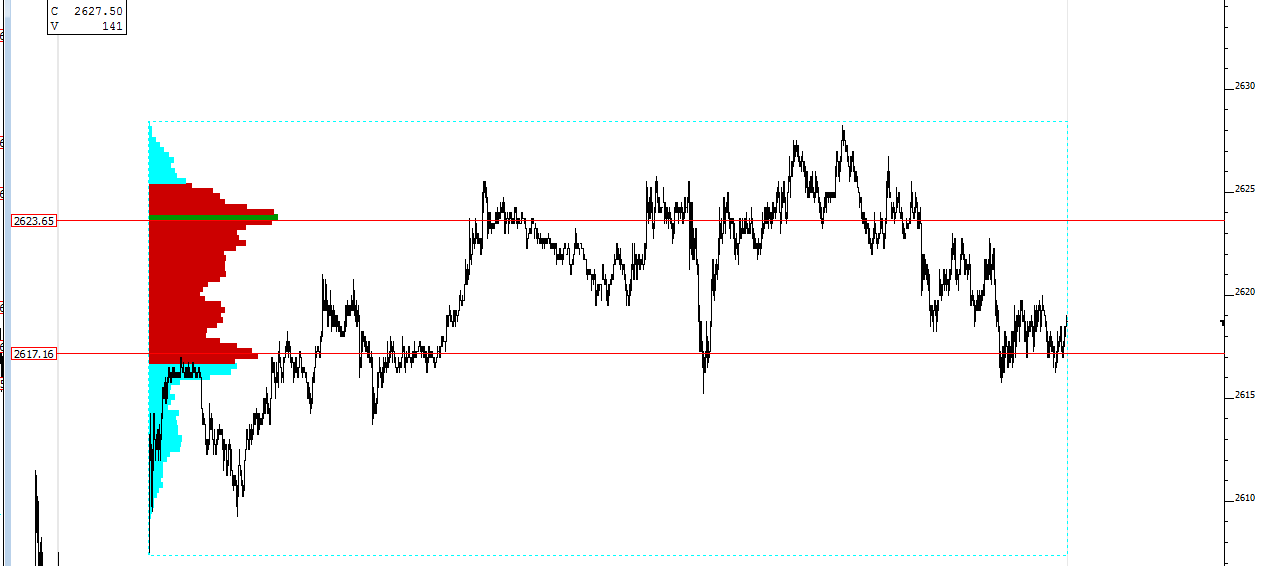 a basic idea here is if we fail at the overnight high then we will come back to our 22 - 23...if we find acceptance then that huge node at 2632 should be the target...point of this is to NOT forget about the power of an overnight high and low........perhaps more useful for new comers to these posts but those are always key references......they are a given and I don't always mention them and assume most know those....they are a GIVEN
so even though I couldn't find anything meaningful from Friday's day session to go with the overnight high it doesn't mean that it isn't important..........
I think this battle now gets fought at our 22- 23 area...if they can keep price above that then it is showing that they are accepting price above the lower edge of Fridays big bell curve and 2632 should be the target...either way...that seems to be critical now...
here is how that last post concept looks.....and why the 22 - 23 is so important....also look at left side to see fridays big Bell curve
Click image for original size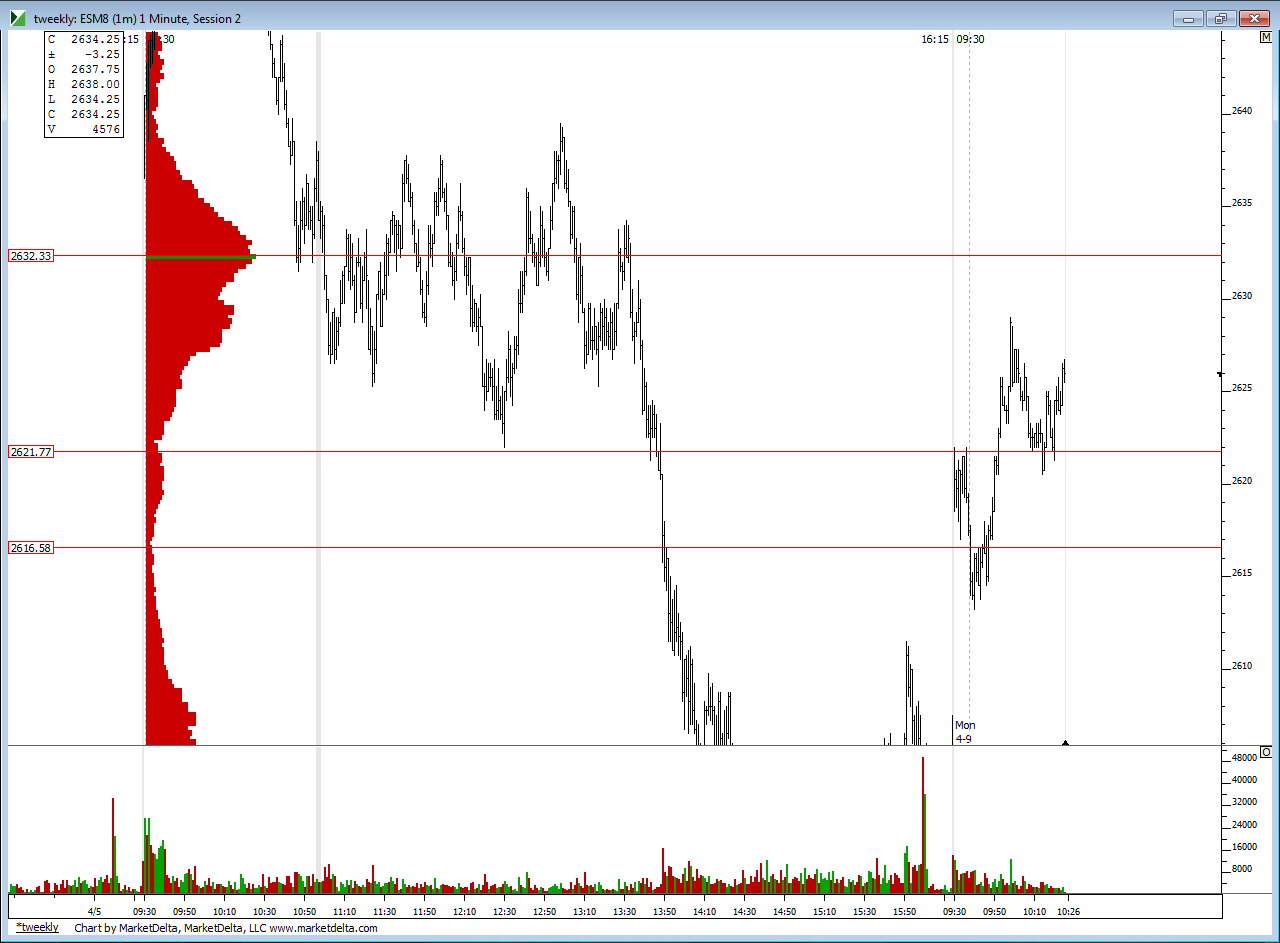 is anyone getting this ? LOL....or has most of it become redundant over time? Same concepts just a different day...........
if I were trading anymore then 39 - 40 is important and also 45 but even more important is to see if buying can dry up from somewhere and then you can target the 32 retest etc....nuff said and time is up for now,,,good luck if you are out there in the trenches....sometimes we dry up just above the bulk of the bell and then come back to retest...so in other words it doesn't have to go to the 38 - 40 or the 45 before they start using the center of that big 32 bell as a magnet
one of my favorite Greenday songs...kind of fits for what I think about forum life sometimes.....but a great rockin tune


keep pounding it out.. i get some day..lol thanks for posting
I think there are just not enough people out here that visit anymore Duck .................I can't blame them as there has always been a lack of consistent postings ....especially on my part........it always came in waves and to expect people to show up just because posts start showing up would be foolish...