ES Weekend Update 2-18-23
ES Weekend Update 2-18-23
The market is nearing or at an important juncture. The expected decline has lasted 150 = points so far. This week we get Fed minutes Wed, jobless claims and
GDP
on Thurs, and the Feds favorite inflation gauge on Fri. Remember the first half of Feb. is normally strong giving way to weakness the 2nd half of the month. Seasonals have a low on Thurs. after which they go up till March. Because of the `hammer
doji
on Fri. i believe bulls could push it up further on Mon.-maybe Tues and then down into Thurs. After that, bulls should have the wheel for a while. Thursday the 23rd looms as a possible important turning point.Fridays hammer was the .382 extension in terms of time for the entire rally from the 3788 low . An ideal time for a turning point. . The decline finally broke the red avg and proceeded to the black avg at 4056 to make its low, and then bounce. So there are some compelling reasons for a further up move early in the week. But seasonals and my cycle low, and the fact that we havent hit 4047 (which is a perfect .382 retracement of the supposed wave 3 from 3788-4208, an ideal number for a wave 4 pullback) or 4034 lead me to believe we could see one more push lower to these fibs or even 4000 (3998) soon. After that, should it occur i think the rally resumes to the 4240`s bare minimum and potentially much higher. A fun week coming up!
From Sentimentrader: The advisor and investor model cycles from pessimism to optimism
The SentimenTrader Advisor and Investor Model (AIM), a composite of sentiment indicators, cycled from < 10% to > 80%. After similar sentiment-based signals, the S&P 500 typically experiences a near-term pause that refreshes a bullish long-term backdrop.
Click image for original size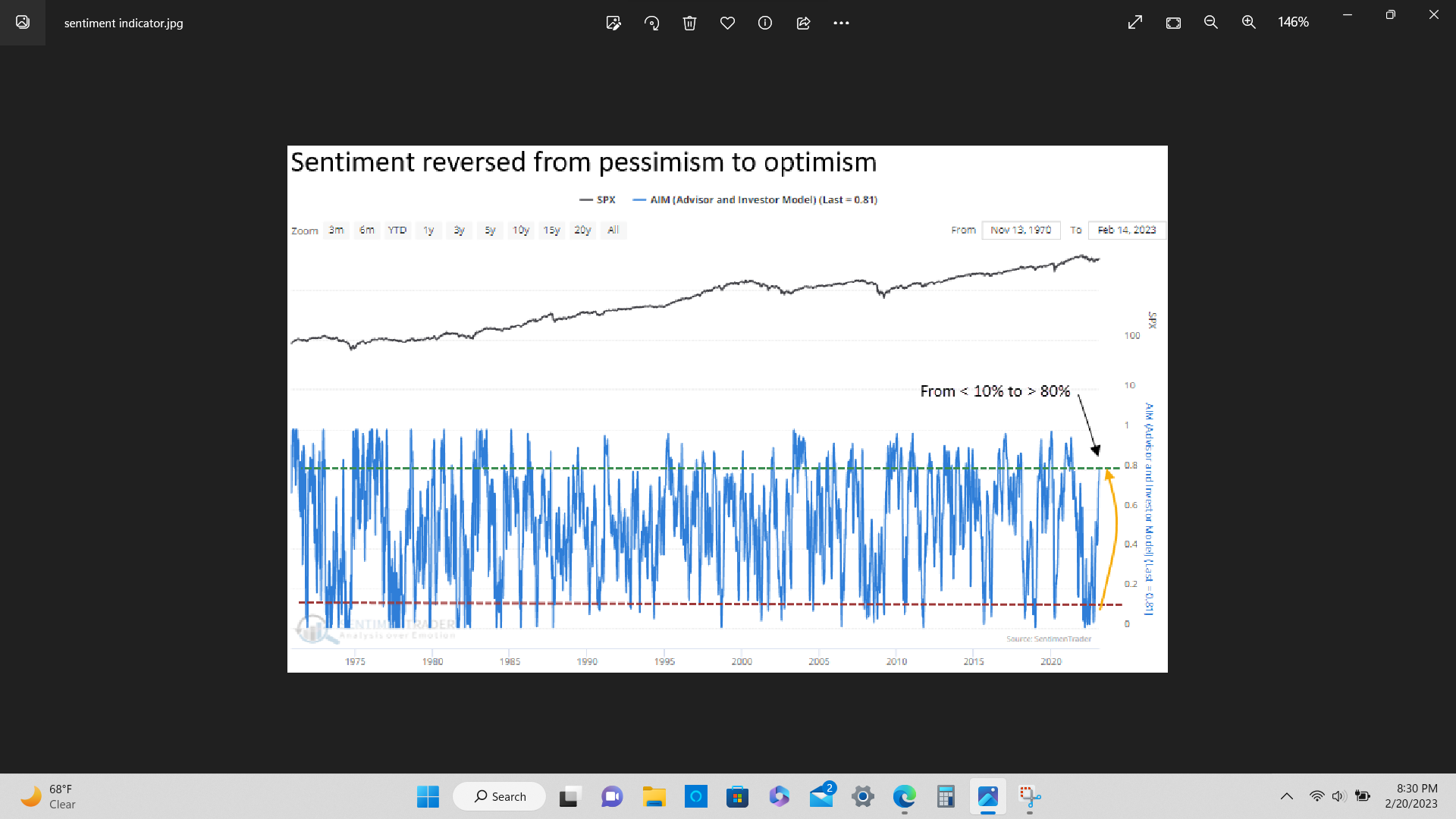 Not even close... order cancelled
And there it is ! 3998 exactly as forecast!