Thomas Hoenig
Thomas Hoenig
Definition of 'Thomas Hoenig'
Tomas Hoenig is the President of the Federal Reserve Bank of Kansas City. Dr. Hoenig was the chief executive from 1 October 1991 and started as president on 1 March 2006.
In 2010, he started serving as a voting member of the
Federal Open Market Committee
. During 2010 Tomas Hoenig regularly voted against the maintenance of low interest rates saying that the improving economy would cause an increase in long-term inflation expectations that could destabilize the economy. 2011 sees him leaving the
FOMC
as a voting member.
He has a Bachelor of Arts in economics and mathematics from Benedictine College, Atchison, Kansas, and a Ph.D. in economics from Iowa State University.
Thomas Hoenig is a well known
inflation hawk
.
Click image for original size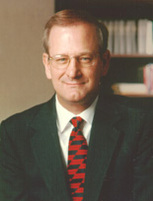 Do you have a trading or investing definition for our dictionary? Click the Create Definition link to add your own definition. You will earn 150 bonus reputation points for each definition that is accepted.
Is this definition wrong? Let us know by posting to the forum and we will correct it.