Elizabeth Duke
Elizabeth Duke
Definition of 'Elizabeth Duke'
Elizabeth A. Duke is a member of the board of the Federal Reserve System. She took office on 5 August 2008 for a term that will expire on 31 January 2012.
From 1998 to 2000, Ms. Duke served on the Board of Directors of the Federal Reserve Bank of Richmond. She has also served as a member of the Fannie
Mae
National Advisory Council.
Ms. Duke has a bachelor's degree from the University of North Carolina at Chapel Hill. She has an MBA from Old Dominion University.
Click image for original size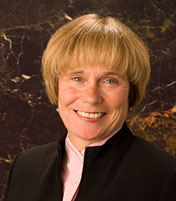 Do you have a trading or investing definition for our dictionary? Click the Create Definition link to add your own definition. You will earn 150 bonus reputation points for each definition that is accepted.
Is this definition wrong? Let us know by posting to the forum and we will correct it.