James Bullard
James Bullard
Definition of 'James Bullard'
James B. Bullard is the president of the Eighth District Federal Reserve Bank, at St. Louis. He took up this position on 1 April 2008.
Dr Bullard has a bachelor's degree in quantitative methods and information systems, and economics from St. Cloud State University. He has a Ph.D. in economics from Indiana University.
Click image for original size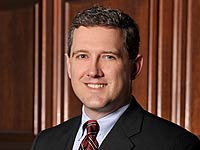 Do you have a trading or investing definition for our dictionary? Click the Create Definition link to add your own definition. You will earn 150 bonus reputation points for each definition that is accepted.
Is this definition wrong? Let us know by posting to the forum and we will correct it.