Bearish Harami Candlestick
Bearish Harami Candlestick
Definition of 'Bearish Harami Candlestick'
A Bearish Harami Candlestick is a
candlestick chart pattern
that is seen at the end of an uptrend when a subsequent candle is "engulfed" by the previous candle. If looking at a daily chart then this is also referred to as an
Inside Day (ID)
when looking at
Crabel Price Patterns
.
Features of a Bearish Harami Candelstick:
Forms at the end of an uptrend.
The Bearish Harami Candle has a lower high and a higher low than the previous candle.
The previous and Harami candle can be either red or green.
The smaller the Harami candle the more likely the reversal.
A green previous candle and a red Harami candle indicate a higher probability for a reversal.
Click image for original size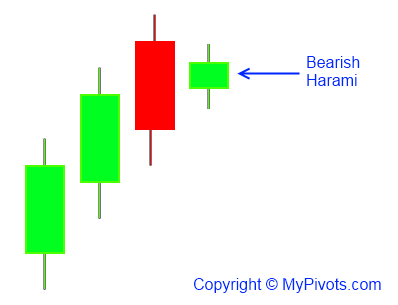 Do you have a trading or investing definition for our dictionary? Click the Create Definition link to add your own definition. You will earn 150 bonus reputation points for each definition that is accepted.
Is this definition wrong? Let us know by posting to the forum and we will correct it.