Charles Evans
Charles Evans
Definition of 'Charles Evans'
Charles L. Evans is the ninth president and chief executive officer of the Federal Reserve Bank of Chicago. In that capacity, he serves on the
Federal Open Market Committee
(
FOMC
), the Federal Reserve System's monetary policy-making body.
Click image for original size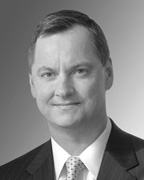 The Federal Reserve Bank of Chicago is one of 12 regional Reserve Banks across the country. These 12 banks — along with the Board of Governors in Washington, D.C. — make up our nation's central bank. As head of the Chicago Fed, Charlie oversees the work of roughly 1400 employees in Chicago and Detroit who conduct economic research, supervise financial institutions, and provide payment services to commercial banks and the U.S. government.
Before becoming president in September of 2007, Evans served as director of research and senior vice president, supervising the Bank's research on monetary policy, banking, financial markets and regional economic conditions. Prior to that, Evans was a vice president and senior economist with responsibility for the macroeconomics research group.
Do you have a trading or investing definition for our dictionary? Click the Create Definition link to add your own definition. You will earn 150 bonus reputation points for each definition that is accepted.
Is this definition wrong? Let us know by posting to the forum and we will correct it.