Paul Volcker
Paul Volcker
Definition of 'Paul Volcker'
Paul Volcker is an American economist and was chairman of the Federal Reserve from August 1979 to August 1987 during the presidencies of Jimmy Carter and Ronald Reagan.
In February 2009 he accepted the position of Chairman of the Economic Recovery Advisory Board serving under President Barack Obama.
Paul Volcker is a graduate of Princeton and Harvard Universities as well as the London School of Economics. He is alsu an honorary alumni of Hamilton College (1980), University of Notre Dame, Princeton University, Dartmouth College, New York University, University of Delaware,[4] Fairleigh Dickinson University, Bryant College, Adelphi University, Lamar University, Bates College (1989), Fairfield University (1994), Northwestern University (2004), Rensselaer Polytechnic Institute (2005), Brown University (2006), Georgetown University (2007), and Queen's University at Kingston in Canada (2009).
Click image for original size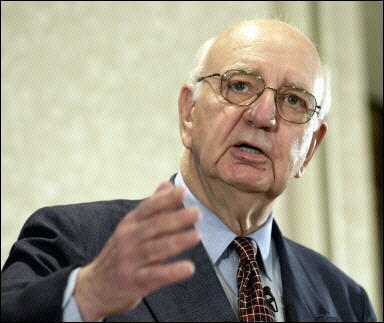 Do you have a trading or investing definition for our dictionary? Click the Create Definition link to add your own definition. You will earn 150 bonus reputation points for each definition that is accepted.
Is this definition wrong? Let us know by posting to the forum and we will correct it.