Nymex miNY Light Sweet Crude Oil year error
Nymex miNY Light Sweet Crude Oil year error
I am just looking at the Nymex miNY Light Sweet Crude Oil contract on their web site at this address:
http://www.nymex.com/lsco_emi_pso.aspx
and I see that the contracts are mostly dated out to 2008. Today is 21 November 2006 and it looks like their year dating is 1 year too far. Does anybody know if this is accurate or an error on their web site?
Click image for original size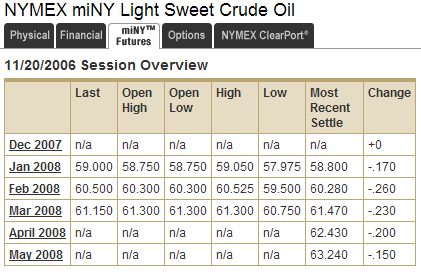 George: I've just looked into it and I think that you are right. I think that it is an error on the Nymex web page. I have just sent them an email from their site and if/when they respond I will report back. Thanks for the info.
I received an email from Nymex this morning in response to my query:
quote:

---

As per the forum posting, you are correct, however it should be fixed on the nymex.com site.

---
So yes, there was a problem on the site but they have fixed it now and the years were 1 year too far out.
the
WTI
or crude as it is known affectionally has 72 months (6 years) listed from the current Jan 2007 until Dec 2012
What does
WTI
stand for? Is this the same contract as the Nymex miNY Light Sweet Crude Oil?
Thanks for taking that pro-active stance and getting them to fix the web page day trading. I never look at crude but nice to know that there are people out there watching the numbers that we read.