Running the Triples
Here is more of a strategy than a specific setup . It addresses the markets efficiency and potential failures. I usually do not trade against this as they get taken out almost 90% of the time on the same day....here it is...a simple idea but one that I have never seen written about....if I where Larry Williams I would attatch my name to it..lol...these are much more valid then double 5 minute bars
When you have three, 5 minute bars in a row with a matching low or high that low or high will get traded back to on the same day. I'll post more charts from the past week or so later but here are todays that haven't been traded back to.
There currently exists two of these area in the market at 75.25 and down at the 67 area.....the market is at 1478.75..these basically develop in
low volume
environments and when the probability fails they become great reference points for targets....more later..here is the current chart...I'm looking to get short...
Click image for original size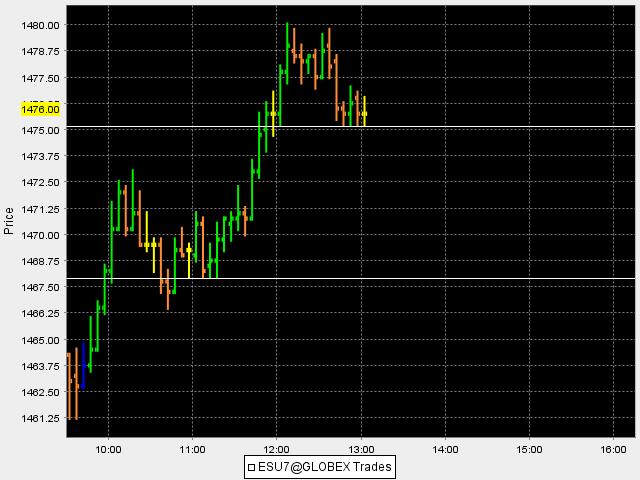 First time reading this thread. I'll be watching the charts to see hows it goes. Have you been successful IE making money with this strategy? Thanks for sharing BruceM.
yes, but best to use the
triples
as targets especially if they DON"T fall near the highs and lows of the day
Bruce,
On 7/08 the
ES
formed a
triple
print @ 12:30 it then went a
tick
lower the next bar. The market then rallied to 874 and made another
triple
then traded back below the original
triple
. My question is did that one
tick
below the low of the
triple
make it void (12:35 bar)?
Could you post a chart Joe ? My
IB
data doesn't show the 5 minute bars that far back.....Not sure what you mean by "Void" also ...the basic premise is that stops sit above and below when we have three , 5 minute bars in a row with a matching top or bottom and the floor knows and sees that...so they go to run them out......we can now see how they cleaned up the
triples
made on this past fridays trade near the lows in the current overnight session.........
here is a cool chart showing how all
triples
( up until this post ) except one have been run out the last two days.......one currently exists at 1100.25
Click image for original size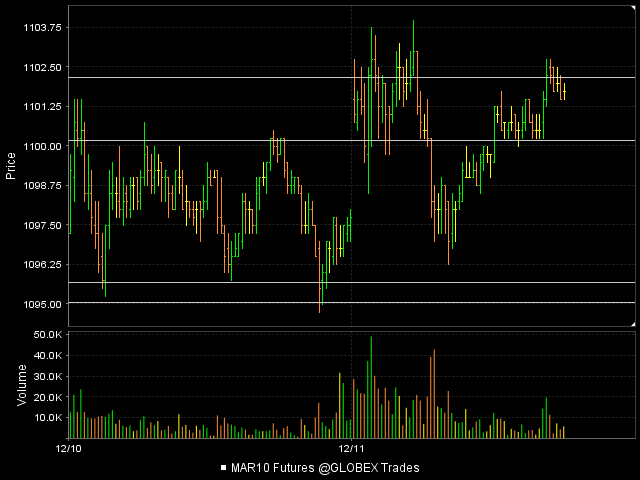 well, my chart came out crappy but there were 11 sets of
triples
run out......does it pay to know they exists..? you be the judge
here is the last run...it was actually 4 ( 5 minute) bars in a row.....beautiful
Click image for original size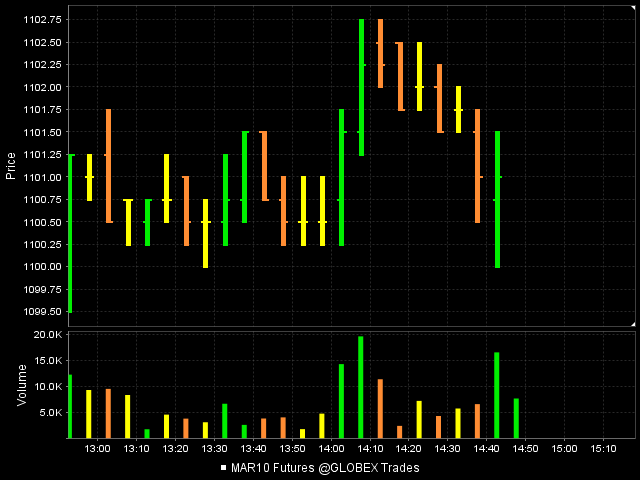 The past month has created more
triples
then I have ever seen on the charts. Not surprising as we are in a
low volume
trading environment and that is where
triples
get created. Many are not getting filled on the same trading day but become excellent targets for the next 1 - 3 days.
On Thursday, 3-11-10 we rolled over to the June contract and that created
triples
at 1136.75 and 1138. I have these lines snapped on the chart below. This past Monday they cleaned them up and rallied from there. This is Mondays chart with the
Triples
marked from Thursdays trade. You should also take note of the
triples
that formed again at the 1138 area and those that still exist at 1143.25 from Mondays trade. Incredible how efficient these market are. There is also a
gap
at 1141.25 that you may be able to see.
The point really is that they know where people gauge their stops and above and below
triples
is so obvious. We need to trade for them to be broken.
Click image for original size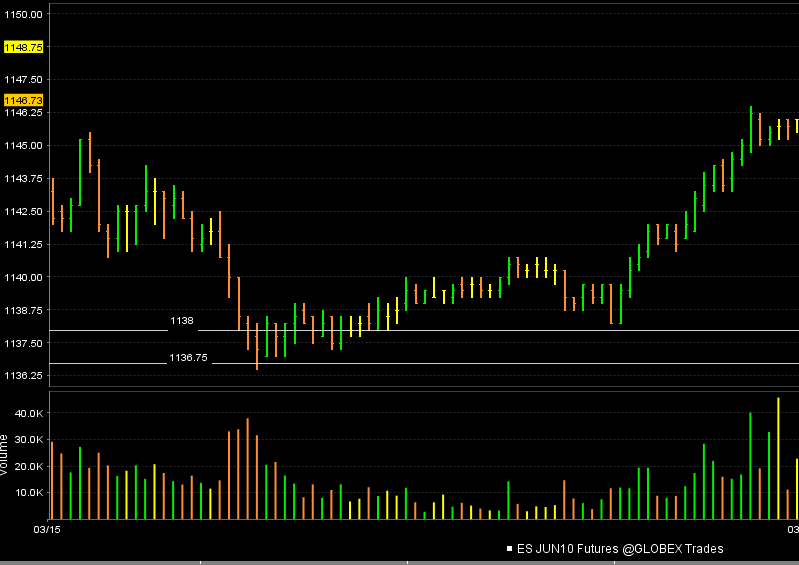 A look at the
triple
festival from 12-21 trade...this is bad stuff and doesn't stay in the market long before they get run out.....many times these get clobbered in the overnight trade. Volume has been unusually low so
triples
form all over the place and become unreliable and risky SHORT TERM daytrading targets but great for a longer term bias.
You can expect to see
gaps
way beyond these areas in the
RTH
session and most likely soon. In other words, I would be careful on any long trades up here.
Click image for original size