Index Comparisons from the CME
Index Comparisons from the CME
This is from the
CME
's newsletter. Remember that the
CME
has lost the
ER2
contract and will soon discontinue trading it and so they are happy to show their competing produce (Small Cap 600) in a favorable light:
Open interest in
S&P
MidCap 400 futures is up more than 20% since end of August 2007, providing trading opportunities from positive YTD price returns and significant 20-day historical volatility.
The
S&P
SmallCap 600 Index offers comparable diversification and volatility with a better YTD price return to the Russell 2000.
The NASDAQ-100 Index provides additional diversification potential, with positive YTD price returns and higher volatility.
Click image for original size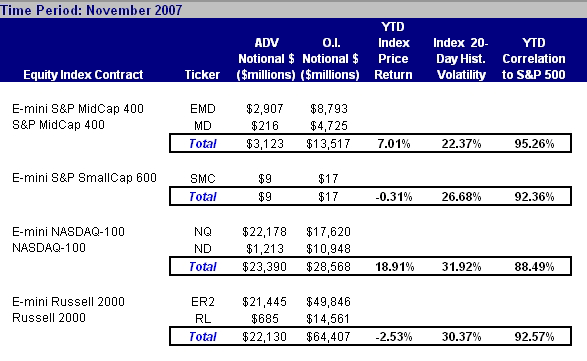 The
CME
averages more than a 99% market share for futures and options on Russell 2000 indexes. They will continue to list E-mini Russell 2000 contracts through end of the September 2008 contract month.
In order to keep your business the
CME
offer the SMC-
ER2
InterCommodity Spread to help you transition small-cap open interest from the Russell 2000 products to E-mini
S&P
SmallCap 600 futures.
Click image for original size