What I'm thinking for Monday...
What I'm thinking for Monday...
I'm expecting a few things for Monday and hopefully one will happen. On Friday the
S&P
opened near its highs and closed near its lows. The
Trin
closed very high...so I am looking at the possibility that all the sellers have sold and we will not drop much below the low of Monday......but even so ..On days after this I look to do the following:
Sell into a
gap
higher opening...( I have key numbers coming in at 1368.50 and 1377and 1382 which will be a big part of any potential rally for me) so these areas are preffered...
or
Buy into a lower opening and first push down in price.....this one will have to be based on
price action
for me as I don't have MEANINGFUL numbers down there..then I think they will go to fill in the
low volume
up at the 82 area
We also might be looking at a Symetric Neutral situation: Longer term
MP
term players will look at Mondays and Tuesdays range in the same way that daytraders use the first 60 minutes. Last week in the overnight we went 10 points above the Monday - Tuesday range high and on Friday we went 10 points below the low of that range...
A new Monday - Tuesday range won't be established till Wednesdays trading so this symetric idea doesn't end till then....If we can hold on to that Friday low or only go slightly lower then we may go to test the midpoint of the range. The weekly pivot is also in the 1377 area.....testing the 1377 area early or in overnight will probably lead to a break of last weeks lows....
Here is a five day composite which shows some key areas...we'll see what happens first...
Click image for original size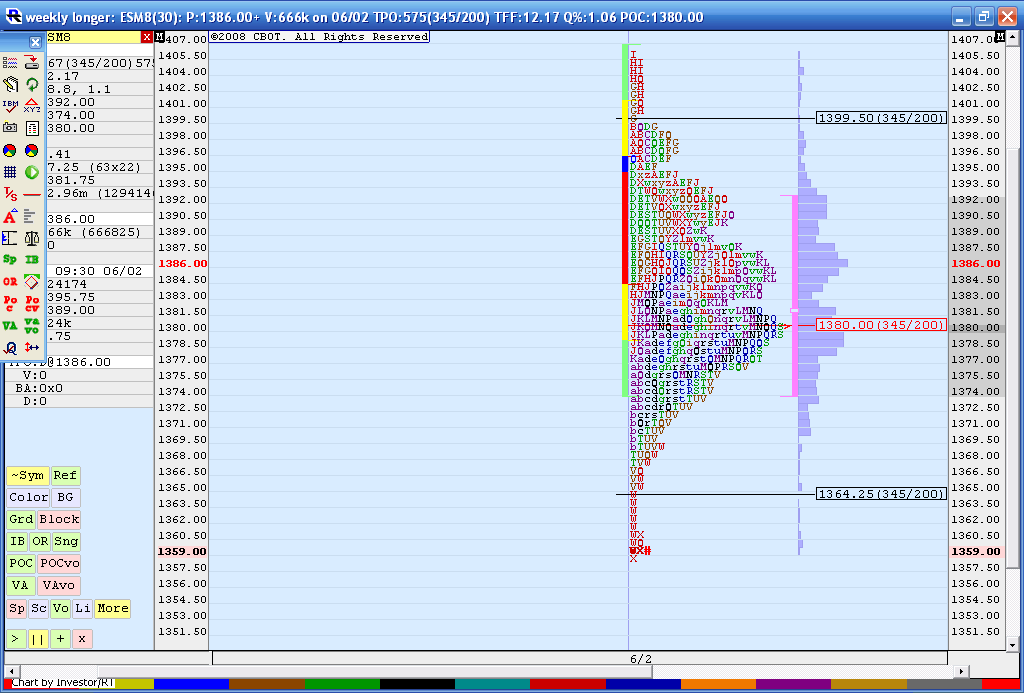 Good analysis Bruce.
Those singles on your composite
MP
chart at 1364 need to be monitored, also resistance at 1370 (from the 60 minute bar chart).
My view of Monday's trading is the market needs to carve out a new
value area
, so baring any new earth shattering major news event, back and forth rotational trading seems likely. So hopefully we will see an early low and then a nice wide developing
value area
. A wide
IB
would tend to confirm this thesis.
so far selling the rallies has been a bit more challenging as we opened higher and dropped down first...
I would have preffered to see the resistance tested first..instead of pushing down and then popping up...since they dropped it down first it seems that support is trying to build which could lead to higher prices and that 77 and 82 retest...
We still haven't built anytime
above
the high volume bars so I am cautious....either way... If this sounds like a two sided analysis , well it is!!! sometimes the market is confusing...If we start building full one minute bars again below 1366 then I think we may challenge Fridays low..
Here is a screen shot with two horizontal lines...these were snapped from the high volume one minute bars from FRIDAYS trade...it just so happend it coincides with the
VA low
....,,you can also see the big volume pushes up into them from todays trade..
EDIT: I added the bold to highlight a critical point about how I view volume...You basically want high volume below your trade if long and high volume above it if short
Click image for original size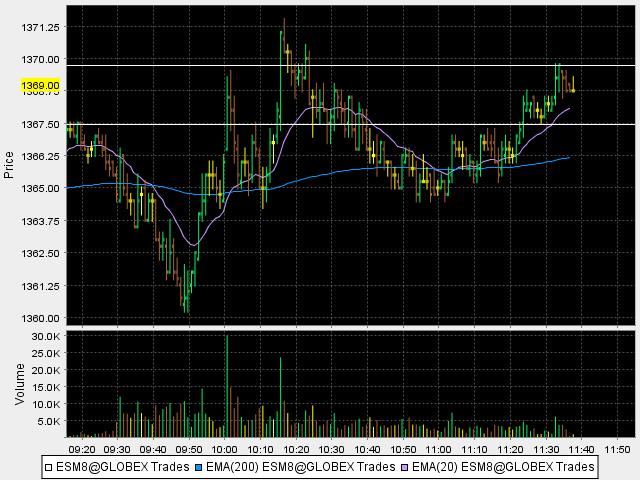 With a 13 point
gap
lower open the first resitance line is 1357.50 - 60 on
S&P
...this is one minute
high volume from Monday and
VA low
in there...we still have 68 area up top then 77 and 82.....failure to rally should lead down to the 41 area.....
Edit: it's actually Tuesday now....
Hi Bruce,

I really enjoy your take on the market. I am learning this trade and it is so difficult to be consistent! But I am sticking with it!!! Thanks again!
Cool Alex glad you are benefitting. Follow the volume clues....
Look how we had a volume surge up into that key zone ( 57.50 - 60)..then the volume dried up at new highs.....
MP
players will use 1.5 -3 point stops above
VA low
of 57.50 so they all get cleaned out...look where plus 4 and plus 8 come in off open print.....or else just follow the volume as a stand alone idea.....on this chart I have also snapped highest volume on downside ( from todays trade)which was at the 51.25 - 53.75 area so that is critical for support....so we will stay stuck until volume resolves itself....many times these volume numbers will end up being one part of the final
Value area
numbers so we can try and fiqure out where the other standard deviations will come in...cool stuff and thanks for the good words
Bruce
Click image for original size
market has traded above the high volume bar of the day again and then hasn't traded too much time below it ( after being above it a second time)...so the theory would state that higher prices are coming and the high volume will support the upside trade by being below the prices......
EDIT: here is the chart..Notice how little time we spent below the key zone of 57.50 to 60 once we broke it to the upside the second time...a bit after noon we spent only two full one minute bars below it and then we where back in the zone...once we got above the zone again we rallied up to take out the previous days close and then ran to the next volume level ( from monday)up at the 67 - 68 area....
Click image for original size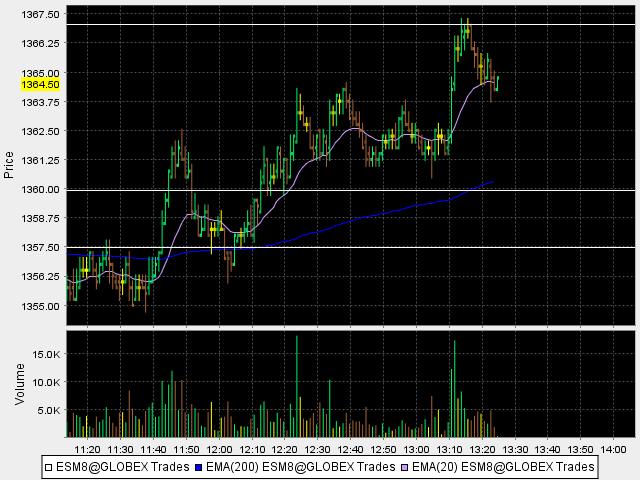 I understand what you are saying Bruce, thanks. Looks like the
Gap
was filled.It took them a while. I wonder if the low of the day achieved in the overnight is going to be challenged during the session today.
I don't think it's going to drop there today Alex.....seems like this is the low to high day...so low is being put in first.....with any luck they will try to run it back to 77 and the 82.....but probably not today....67 - 68 is next area that they need to overtake for bulls to continue winning..on the downside we have the obvious 62. area and the 58.50 area...so those would need to fail if we are to get to overnight low.....glad your reading my persistent ramblings....
Well, 67 held for now... will see what happens @ 62. Looks like upward is the bias today. I am short in the market, added more to my position twice. If I am wrong one more time I am out... I enjoy your "ramblings" :), I learn from them!! keep them coming...