Interesting things - Weekly profile
Interesting things - Weekly profile
I thought this would be a good place to post observations on a daily basis or when we see them happen...
Here is last weeks profile...note the high volume area at the 1259 - 1260 area...then the low area at 1264 and then a high volume area at 1275 area...
Anyone watch the yM trade back into it's singles from Friday while the Naz and
S&P
lagged ? At 2 pm EST..the
S&P
was down 6.5 points while the dow was down only 7 points and the Compx was down 18....
Dow was the leader and should have been down 48 - 60 points...it doesn't ( and didn't lead) for long... the market rolled over as the
S&P
was trying to break out of it's 60 minute high after already haven broken it's lows earlier in the day....hope some of that makes sense..
Weekly pivot was at 1260 also..
Click image for original size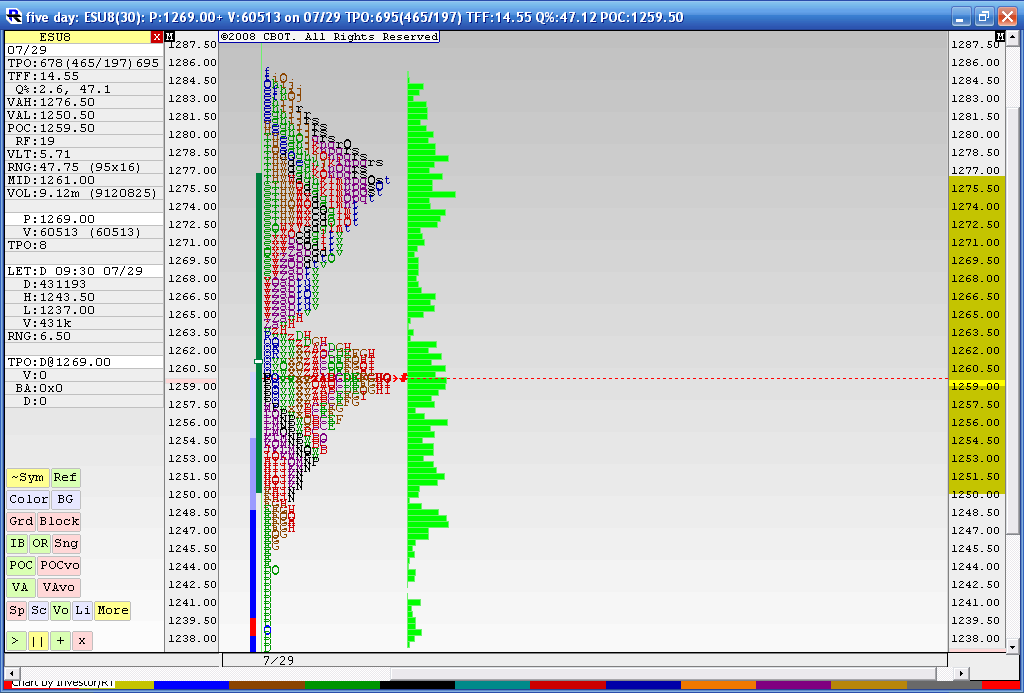 The
POC
for 2 weeks ago was very close to this past weeks
POC
59.5, very interesting. Lots of volume at those prices. 1261 is square of nine btw.
So far the
high volume node
of 75 -77 has put a damper on todays
fed day
rally.....90 minutes of trading left is a long time....my bias is short at the 73 area now....
hourly chart is in a nice triangle but does it have enough power to break the top after using
up so much N-R-G ?