Interesting things - High vol post fed
Interesting things - High vol post fed
Here is a close up of the high volume bars that happened after the initial reaction to the fed announcement. I usually ignore the high volume bars right after the news. You can see that they are trying to break it out of that reaction high with volume and so far not much has happened up here...so far the higher prices aren't atrracting break out players or sellers........except for me...but I'm going to assume that they are going to fool me on my short trade up here....
The point being that I ignore the volume after the spike , much the same way I ignore the first minute spike of volume at the opening and the 4 pm close....
Click image for original size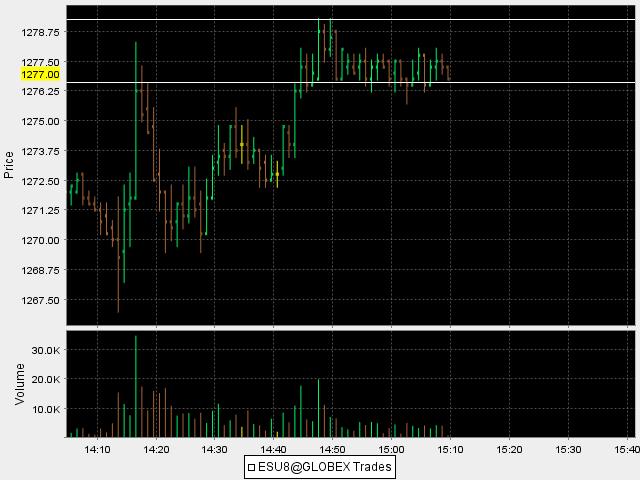 I'm bored watching this...I actually counted 38 one minute bars inside or touching that one minute volume area......seems like the big move should come soon......gheesh!!!
my first support is 76 - 79 today...so you know what I'm trying down here.....

62- 65 is my next big key area,,,,
Bruce,

Are these area's high volume levels from yesterday? 1297, 1279, 1261 are some of my area's
Yes Joe..they where created with the high volume one minute bars...not price at time ! You can also see how our old high volume zone at 85 - 87.50 played out from the "out of steam" thread...on page one....

Basically I count on these to support the market and when they fail they are " attracted " to the other high volume numbers....seems like the big players can be spotted entering or exiting the markets with these high volume thrusts....

So If we fail at the 85 - 87.50 then price will be attracted to 76 - 79 and a failure there will get down to 62 - 65....

You know how that stuff works so my explaination is really for those who don't follow it...

daily highs and lows are not usually made on high volume...the volume comes in a bit before that...today the market went only .75 points beyond it's high volume at the top...
redsixspeed: Do you know someone who does a 5 minute
MP
or other time frame that's not 30 minute?