ES 12-1-08
Daily
PP
= 889
Weekly
PP
= 858.50
D: 1128.50
60m: 905.75, 910.25 / 860.75, 836
15m: 900.75, 905, 913.25 / 867, 864.50, 855.75
5m: 901.50, 905, 910 / 865.75
I will be paying close attention to the 905 area, as we have 60m, 15m, 5m projections there and that is the .618 retrace from the 11/5 H
Your right palmer, volume wasn't impressive. Look how it continued to decline with each higher close. I guess you could contribute that to the holiday, but I dont like buying into a volume pattern like that.
Click image for original size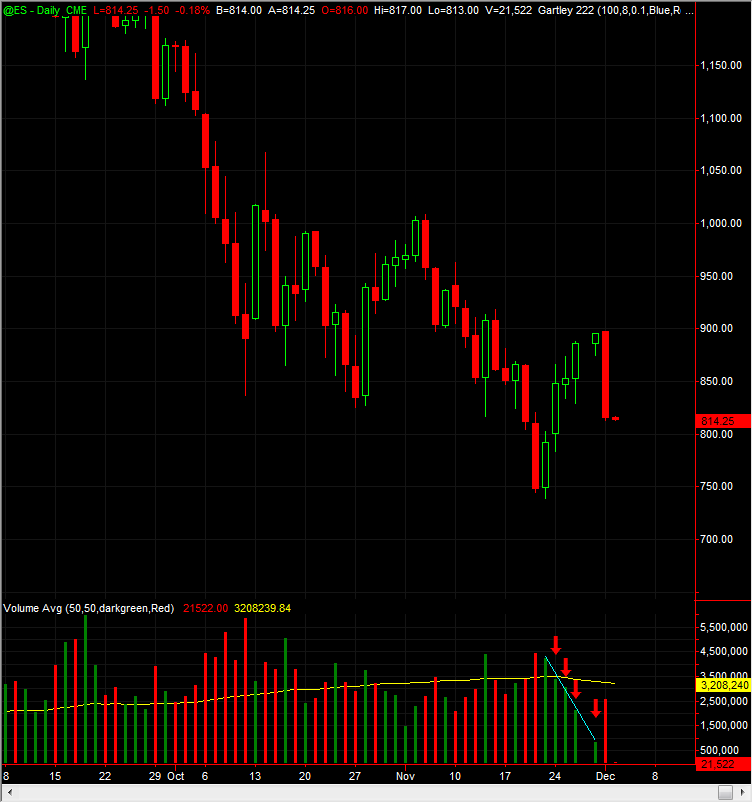 yup, next stop 805.50. Closing
ticks
once again fore cast a good decline (so far 85 handles). Istill believe late tues or wed will be a top, but heres the real clincher.... Im not convinced the rally is over! Remember, the next low of major significance is not due untill mid Jan. Also we never even hit my initial objective of 904.50(still valid unless 739 is touched again) and we had major positive divergencies near the 739 low! IN short ,i also noticed the declining vol. and we were due a good correction. The fact that its so hard and fast is a symptom of the closing
tick
excesses, in my opinion.
Now, if we mish -mash around for the next 3 weeks or so and dont take out 897.50, then the daily bar projection we just made would come into play(676.25) but im not a believer just yet.
quote:

---

Originally posted by redsixspeed

prior IB hi 832 / -100% of today IB 830.25


---
we're back to the 32.00 area/ had a 30min. close
under then above now heading back under