2 August 2005 (Tuesday)
Session Start: Tue Aug 02 08:57:16 2005
Session Ident: #t1
[09:09:18] <guy> Factory Orders
[09:09:18] <guy> 10:00
ET
[09:13:03] <guy> 30 min
RTH
chart for
ER2
[09:13:17] <signal>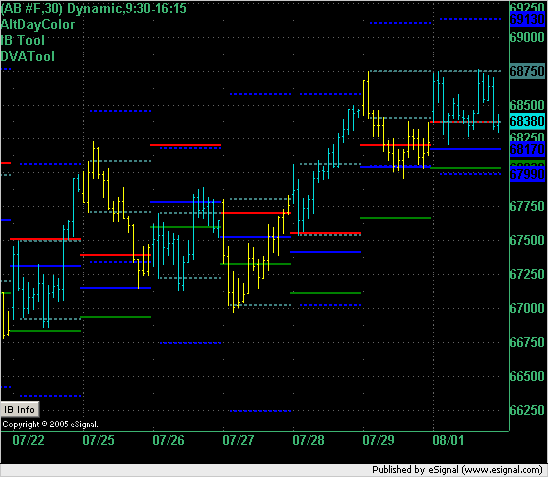 [09:13:29] <guy> lines showing are
IB
and double
IB
[09:13:38] <guy> (dotted grey and blue)
[09:13:54] <guy> VAs and POCs are solid lines
[09:14:32] <guy> Looks like That 687.5 High has held twice yesterday
[09:14:43] <guy> current value of
ER2
is 2 points below that high
[09:15:37] <guy> What do we think people? New all time high today?
[09:16:11] <borisfen> Nop er2 has
triple
top
[09:16:19] <borisfen> and crashed
[09:16:37] <guy> and
triple
top means that the next time we test it... what happens?
[09:16:38] <borisfen> er2 should see 676
[09:17:13] <guy> why 676 in particular?
[09:17:43] <borisfen> low of congestion area from the last week
[09:17:52] <guy> thx
[09:18:38] <borisfen> plus dayli chart er2 we are in triangle er2 bounced from upper line of triangle
[09:29:01] <guy> 1 minute to open
[09:32:03] <guy> i think we see a new all time high today

[09:37:19] <guy> Buys ER2 @ 685.8

[09:40:23] <guy> Exited 1/2 Long ER2 at 686.8 --> + 1

[09:40:36] <guy> exit stop moved to breakeven ER2 @ 685.8

[09:42:20] <guy> Exited remainder Long ER2 at 686.5 --> + 0.7

[10:09:41] <mikee-away> er coming to target=689
[10:10:12] <mikee-away> next target up is 697.4
[10:19:18] <guy> still got DSL problems here - bbiab - good trading everyone
[10:19:21] * Disconnected
Session Close: Tue Aug 02 10:19:29 2005