Ventrilo voice chat
We have disabled the ventrilo server and are now trying a Murmur/Mumble server
NOTICE: We hit a technical snag on the MyPivots Server this morning. We will be using the Ensign server until the issue is resolved. Please see the post below this for the information needed to connect to the Ensign server.
For folks using the Ventrilo voice chat, starting Friday Jan.16,2009 we are moving onto the MyPivots.com server.
In your Ventrilo client application you will need to setup a new server connection to the MyPivots server as follows:
1. Make sure you are disconnected from any Ventrilo server
2. Select the edit options arrow "->" for the Server
3. This will put you into the Server options editor, at the top of the editor click the "New" button to create a new server connection.
4. A dialog will pop up allowing you to enter the name of the server: enter "MyPivots" and click "OK"
5. In the Hostname or
IP
field enter:
www.mypivots.com
6. In the Port field enter:
3784
7. In the Password field (in lowercase):
ourpivots
8. In the Default Channel:
ES
9. I have all the checkboxes below the Channel field checked.
10. Click "OK"
11. Make sure the Server Name selected is "MyPivots"
12. Click the "Connect" button to connect to the MyPivots server.
Click image for original size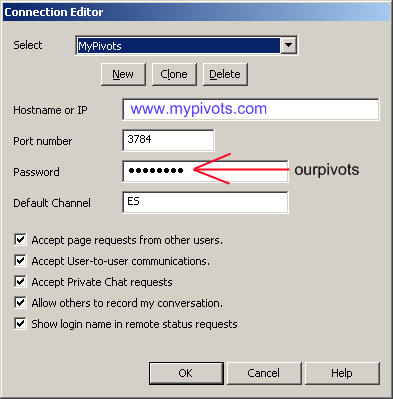 NOTICE:

Early this morning, we hit a technical snag on the MyPivots Ventrilo server, and need to resolve the issue.

Until then we will be using the Ventrilo server at Ensign. For the Ensign server use:

Hostname: blaze.pure-voice.net

port number: 3201

password: enspwd123