Week 11
quote:

---

This is the sixth weekly installment of my CL/CES journal I outlined in The Intro. Previous weeks:
Week 5
Week 6
Weeks 7 & 8
Week 9
Week 10
The course is based on material provided by DLC Profiles, as well as Jim's texts on Market Profile, MoM and MiP. Anyone needing more information should fill out this form and schedule some time with DLC to get a deeper overview of the course.

On with the journal ...

---
CL/CES
-
Week 11
I'm messing with the format a bit this week. Namely, i am focusing on stand-out profiles/days/sessions. So i won't necessarily include commentary on every single session.
Excess
For starters, I frequently refer to excess and put up a standard candle chart showing a broader view of excess and non-excess. since, to some degree, everything is fractalized, you can find excess on daily charts the same as you can find it on 10-second charts or 100-
tick
charts. obviously, these fractalized behaviors are inter-related, so everything needs to be viewed through the lens of Context.
Something Changed
Monday morning gave strong indications that things had changed since Friday's close. It didn't take long to suspect that unchanged, overlapping lower, and lower value scenarios were longshots. the directional signal was clear: up. Initially, my bias was looking to balance long overnight inventory. It was attempted, weakly and quickly, and not thought of again during this session.
Neutral Extreme
Nothing means anything if it isn't in context, but the 24th was just a great example of a Neutral Extreme day. Overnight inventory was way short and gobbled up the late afternoon singles from the 23rd. Looking to balance the overnight inventory to the upside. after floundering in a shallow range, we did head for the ONH. but that fizzled, so we retested our opening lows. that held, but left a pair of TPOs at the lows. No excess, no indication we had sold off too far. we chewed through the ONR, eventually reached PDC, and dribbled through ONH. Looked like a lot of mechanical, destination-based games going on.
Friday
If someone showed me this profile and, with no other information, said "Name the day of the week" I would say Friday every single time.
Smallish range, evenly distributed, double TPOs at
BOTH
extremes, neutral, and we closed in the middle? Really? Scalpers and rotational traders should have been happy, but otherwise i did not see much change, conviction, or money tipping its hand during Friday's session. Double TPOs at the high and low? Seriously? Jeesh. Well, it was definitely an interesting profile to experience.
well, i wanted to put up another broader view daily chart, but i don't have that chart with me right now. i'll
add
it later tonight or tomorrow. basically, separating out
RTH
sessions, Thursday looks like an excess high suggesting we have gone too high (for now) and will explore lower ground.
as i mentioned, i wanted to included a
RTH
overview chart highlighting the excess high from Thursday, so here it is:
Click image for original size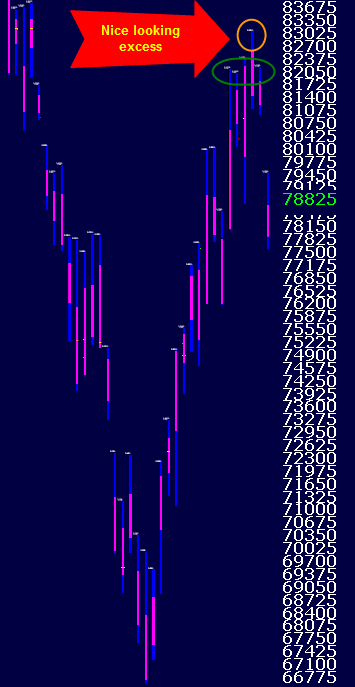 Thursday poked above a current balancing area and recent balancing area, established the excess, and has yet to make a substantial effort to discredit that excess.