Monkey Map - ES Charts for Thursday
Monkey Map - ES Charts for Thursday
As usual, have the 13min chart with
price action
S/R levels
which are drawn in as horizontal blue lines ... and function as
S/R
"zones" give or take a point or so. It's simply a map for the markets when trading Thursday.
Click image for original size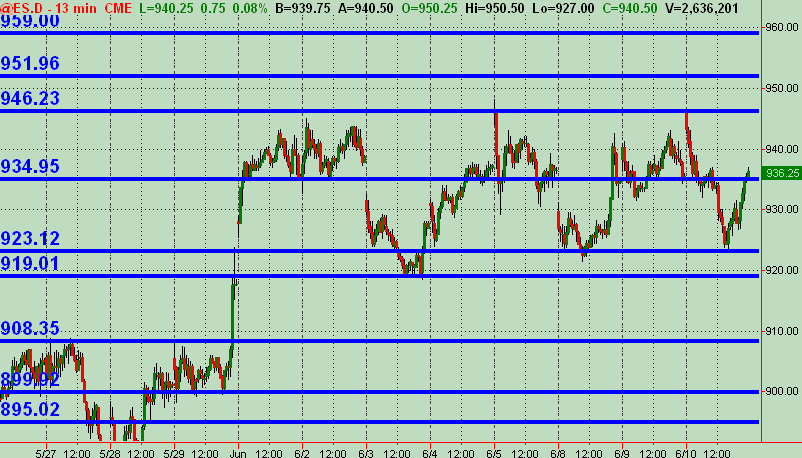 Also, here's the
ES
daily chart from a snapshot I took during Wednesday's trading session that shows a week+ trading range from roughly 920-950/955. This consolidation is at the high end of an intermediate uptrend since March's low ... with today's low reacting off of the 923 area at the bottom of the channel. This is a little bigger view, or "map" of what's going on ... with the upward sloping black line as a trendline from March lows. There's some significant resistance (not shown) from other analysis in the 960's. Koolblue and CharterJoe have both commented on that area as well. Any and all comments, analysis and charts are encouraged here !!!
Click image for original size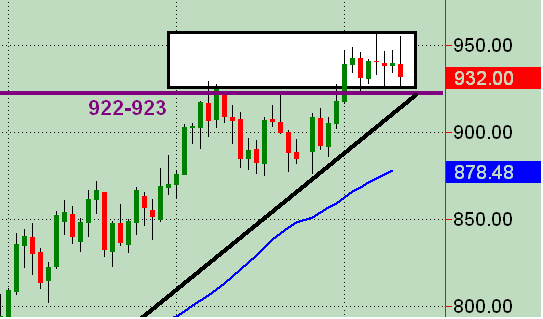 I am hoping that we can break this box with some good volume and get above that 961 area and let that area be a floor for another 40-50 point rally, although I am most likely going to be shorting the first time we hit it so as long as the charts say so. The
RSI
has been in a beautiful up channel or box as I call them on the 30 min, worked out great this last high and last low today.
One thing thats worth noting is that the open high was a new high this week and wide range today, if the news is nothing special in the morning and markets open with in range, It would probably be best to buy low sell high via
MP
15 min.
Another thing worth noting is that the 5SMA on the daily is sideways, which tells me that the fist +10 push out of this box you don't want to be fading it as the indicators are going to read wrong.
Has anyone noticed the celling on a lot of stocks? Like Ford has been trying for days to get above 6.45-6.50 level and each time has falling less and less. To now its almost motion less. And the
ES
is 8 days overlapping range/value thats getting close to a record, look at the weekly on
ES
its an inside week and a very narrow range thus far...either way up or down thru last weeks range its going to be a blast!
USA
750 Posts
Posted - 06/06/2009 : 13:45:47
Next week
ES
: If we break/close above 952.00 we head to 965.00 area where we
will turn back to the 920.00 area...we'll see... oh yea we got a so9 up there.
=================================================================================
O.K. seems we are headed to the 965. I said we would hit and turn back to 920.
We almost hit 920. So do we hit 965.00 and still turn down to 920.00?... BTW the
above post was made in the "
ES
rising wedge topic.
whats up with this 38 - 41 as per June....? Like a giant magnet.......so far it seems like they want to still test those lows from yesterday again.......and then that 23 and the 912 area......I still only know a few things coming into Thursday and that is they will try to test the overnight,
RTH
and weekly highs and lows...lol.....simple but profound
ES
45.25 was the Open +8 ... got to 45.00 so far ...
NQ
tested yday's high ... and Dow traded above 8,800 and seems to be holding for now ... seems like it might attempt a new high shortly, or at least a test of current session high
Rollover
days make it difficult to make any sense out of volume for me.
my
IB
data has a
gap
at 38.50 - 38.75 on September any one else have it?....I agree with
Rollover
....doesn't play fair..Ym took out last weeks high per June but not
ES
.......suspicious for longs I think
Well we haven't hit 965 nor have we hit 920 I still have one more day....lol :)
To random for me
O.K. I missed the 965 & the 920 not by much and we stayed in that range. If only
it were possible to make money trading in a range like that; but in another thread
we have all learned it cannot be done.
Today I listened to two pros give their take on next week. One said 70% chance break
to upside possible to 1000 / the other 80% to downside possible 900. No wonder I didn't
hit my target last week....lol