Today high low and turns
Monday 3 Aug 09
Open: 994
High est:1003.50-999.50 centered 1001.50
Low est:976.50-980.50 centered 978.50
H/L/C 9:21CT: 997.25-988.75 995.25
Today's magnet: 993.50
hey blue is that a typo or is it my misundertsanding....how can you have a sell zone above the projected high? So perhaps the high was suppose to read 1016.25.....thanks
quote:

---

Originally posted by blue

Today Monday 10 Aug 09
High 1006.25
Low 1001.00
Open 1003.00
Close 1005.75
at 9:14CT

Sell Zone 1016.25
Sell Zone 1012.25 1014.25 =centered
Buy Zone 1005.00
Buy Zone 1001.00 1003.00 =centered



---
11-Aug
High 1001.75
Low 994.50
Open 1000.75
Close 995.75
at 9:22CT

Sell Zone 1007.50
Sell Zone 1003.50 1005.50 =centered
Buy Zone 998.00
Buy Zone 994.00 996.00 =centered

12-Aug
Sell Zone 1011.25
Sell Zone 1007.25 1009.25 =centered
Buy Zone 998.75
Buy Zone 994.75 996.75 =centered

currently:10:49CT
High 1006.50
Low 990.75
Open 990.75
Close 1006.00

13-Aug
High 1008.25
Low 998.00
Open 1008.00
Close 1003.00 @9:21CT

Sell Zone 1021.50
Sell Zone 1017.50 1019.50 =centered
Buy Zone 1001.25
Buy Zone 997.25 999.25 =centered

Nice buy zone today. Are these proprietary
S/R levels
?
Hi Bruce,
Sorry for the confusion - and the lateness of my reply.
The stuff "sell zone" and "buy zone is my guesses. The bands are always 4 points wide - for now.
At the top I posted the current OHLC at 9:14CT - the time I posted the estimates (This is so people can see what the OHLC was at that time.) I thought this was important especially in this case as my low =1001 the bottom of the "buy zone", estimate was already met. (The actual low the the day turned out to be 998.25).
My estimate of the high 1016.25 was way off. The final high of the day was 1007.75. ( I trade the
ES
mini and the hours I my estimates for are 8:30CT to 15:15 CT).
I have trouble getting up early enough in the morning, but I would like to post them right after opening 8:30CT for the
Globex
ES
. If this were the case then the lines "high,low,open, close at ..." wouldn't be there. Maybe I shouldn't post them as it is confusing?
It takes me quite a while in the morning to go through my morning data gathering. One morning I posted the estimates first before setting my alert for my trade and missed a perfect low.
Since then my rule is:
Get my stuff done FIRST. -estimates made, alert set, handgraph paper marked up, etc, etc.
No posting or email or other stuff until after it is done. So in this case it was 9:15CT before I could post.
BTW the numbers are only "for fun".
I thought if I posted, it would get me more accountable to myself to get up early. And that I would get everything ready before opening. That's not the case yet.
quote:

---

Originally posted by BruceM

hey blue is that a typo or is it my misundertsanding....how can you have a sell zone above the projected high? So perhaps the high was suppose to read 1016.25.....thanks


quote:

---

Originally posted by blue

Today Monday 10 Aug 09
High 1006.25
Low 1001.00
Open 1003.00
Close 1005.75
at 9:14CT

Sell Zone 1016.25
Sell Zone 1012.25 1014.25 =centered
Buy Zone 1005.00
Buy Zone 1001.00 1003.00 =centered



---




---
quote:

---

Originally posted by rainman99

Nice buy zone today. Are these proprietary S/R levels?


---
Hi Rainman!
Well yes and no, I'll explain. (But first I want to make it very clear to everyone that my estimates are only for fun. )
I'm learning day-trading and started about a year ago with a book called Sniper Trading -George Angell 1990. Based on the previous day's numbers he gives you some estimates for the next day. (He has lots of other stuff and it is all given with the "it depends" caveat.)
1. "Buy" is Doug Taylor's Buy High and Sell Low estimates
2. "Rally" is Doug Taylor's Rally and Decline estimates
3. "LSS" is George Angell's combination of "Buy" and "Rally" and some other stuff. (Later he uses them as breakout buy and sell prices but under certain conditions - where the open was in relation to the LSS high and low, etc.
4. Yesterday's high and low is the fourth estimate.
He then averages together all the four estimates. This is shown as "Average".
He does mention that they are for non-trending markets. I continue to compute these, but they are not usually very accurate. (Today however, he had LSS high=1012.25 and the high of 12:03CT was 1012 -so that would have been useful - if I had remembered it!)
So none of these are proprietary.
---
So then I made some simple ones of my own.
I make an estimate of tomorrow's range, and then the next morning I enter the opening price. Also I make an estimate of the change in the midpoint (for today the estimate was 3.25).
1."Open est"= Opening price +50% and –50% of range
2. "Est Range,+Est Mid" = midpoint + and – 50% of range
My range estimate, 20.25, was far from the actual of 16.00. (I had convinced myself that they would try to run the stops above 1016 to say 1021.50 today. So I increased the range estimate from last nights estimate 13.50 - nope! :-)
So today it was just luck that the low was right. (If I'm right at all it's just luck )
------------
Also I have 2 switches.
"Midchange" switch is for the midpoint. This switch determines if the estimated midpoint change will be added to the open, subtracted from the open, or "0" not used (as was the case today.) It is for "Will the midpoint be higher than yesterday, equal to yesterday, or less than yesterday?"
"Direction" switch is for the direction of the day (from the open).
1=up, 0=flat, -1=down
"Will the day tend to trend up from the open with the low early in the day and the high late in the day and substantially higher – an "upslash" day?"
or
Will the day tend to trend down from the open with the high early in the day and the low late in the day and substantially lower – an "downslash" day?
or
"Will the day be flat trending?"
Today I did not apply my midchange estimate of 3.25 (switch=0), however the midpoint was up from 1001 to 1006 =+5.00, so I should have. This would have changed my "Est Range,+Est Mid" to H=1016.25 L=996.00 with a 1006.25 midpoint. So that is reasonably close if I set the switch to +1, i.e. midpoint up.
In the morning,
I pick one of the high estimates and one of the low estimates with no real system for how to select which I'll use.
(As of yesterday I made an enter in my journal to make sure I look at the stop-run areas when deciding.)
From the high estimate I subtract 4 points and to the low estimate I
add
4 points. These are "splash zones" and when I get close I use indicators to try time it.
The reason for the wide zones was I was too fixated on one number and having a band makes it easier to relax.
I'd be glad to hear anyone's ideas for estimating:
1. the range
2. the midpoint
3. the direction change of midpoint
4. the direction of the day from opening
Happy trading,
At this time I would have the first four estimates for tomorrow (14 Aug 09):
Click image for original size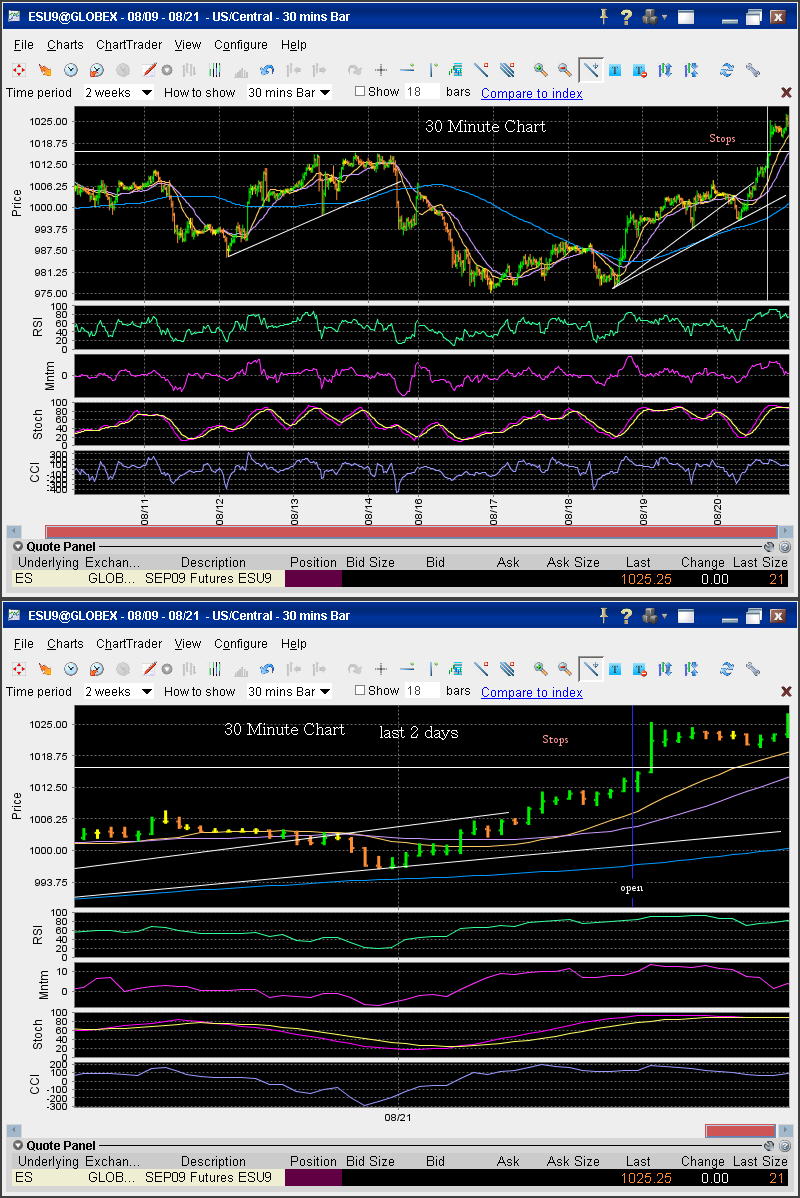 Sell Zone 1024.25
Sell Zone 1020.25 1022.25 =centered
Buy Zone 1010.75
Buy Zone 1006.75 1008.75 =centered
mid=1015.50 rng=17.50