ES S/R Map for 11-18-09 (chartless)
ES S/R Map for 11-18-09 (chartless)
Couldn't upload my typical chart pic for some reason. But here's what I've got as potential
S/R
price levels:
1122 (50% Retracement from '09 low to '08 high)
1113.50-1115 Zone
1108(Wkly R1 Pvt)
1103.75
1100.00
1096
1092
Lookin' for any feedback and other analysis, as usual, for coming into Wednesday's session! (Btw ... as I'm posting this, the
globex
high has been 1110.75) ... with 1109 being Tuesdays
RTH
session high.
Damn, I like a chart lots better ... offers more
price action
history for seeing where the price levels show up ... and which may be more significant than others. Oh well.
This is how much i love trading. Sometimes i spend hours just looking at charts , looking at patterns, prices , etc. anyway this pattern has been showing up the past month or two. It always appears right before a big rise. I call it the wierd M pattern. LOL Check it out.
Click image for original size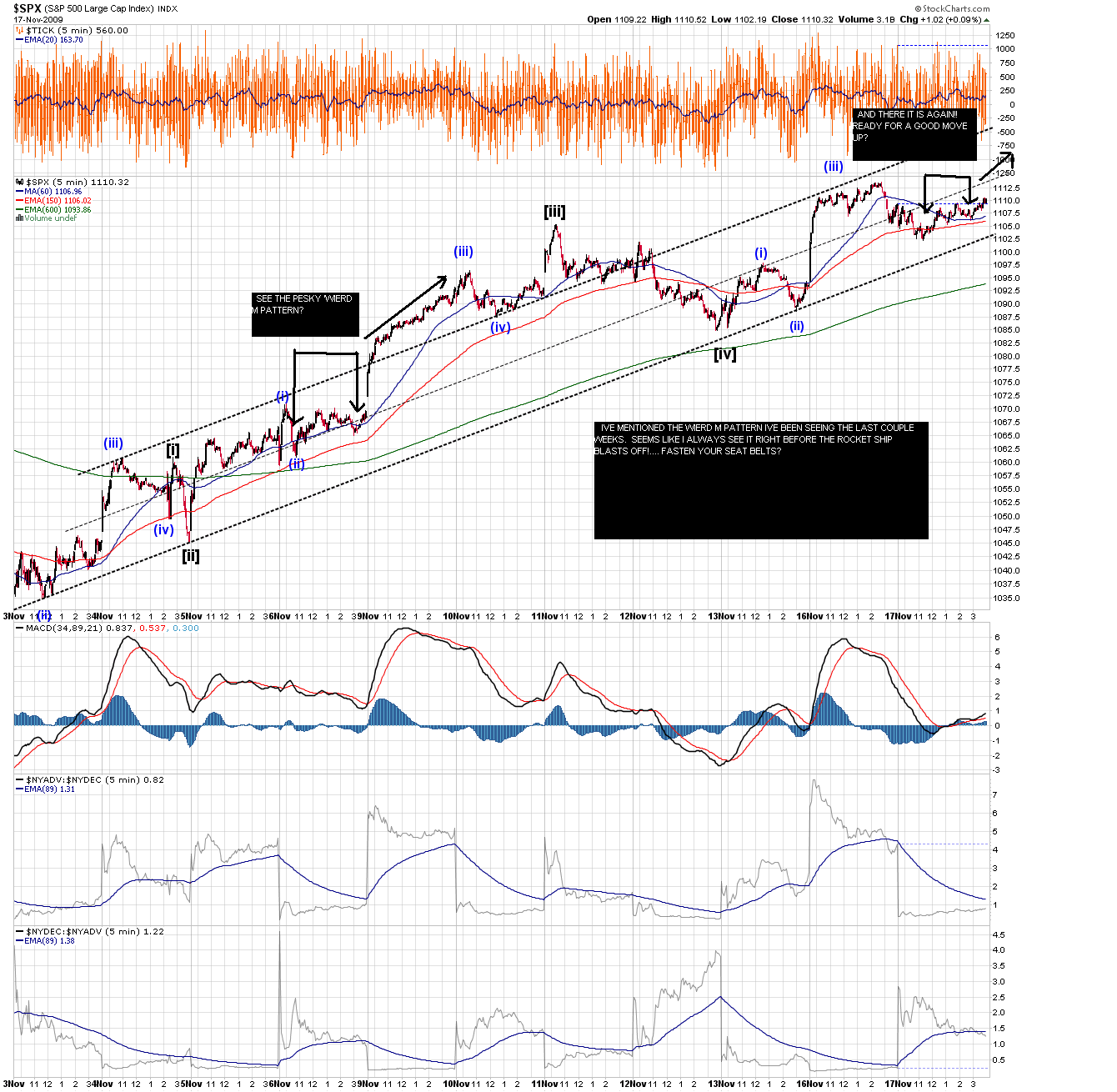 Dont forget, click on the chart once to see it all, then once more to clear it up. Small range day yesterday portends a decent move today.
thanks for those guys...no down projection Kool?...c'mon...I want the down
outside vertical bar
today......TODAY......u guys need to help out my shorts
Lol!..I just covered a short at 1104.75, but truth be told i was looking for 1103 area. Todays action (basically side ways low range mish mash again is completly surprising to me .
did the same thing today Kool...I was waiting for the minus 8 number to hit and it obviously never did.......YET!!last weeks high and that 1100 is stopping this cold on downsdie.....no longs for me though...I'll miss that run up if it happens
Im still hopeful for some upside yet this afternoon. But i will say this . I believe yet another day of low range , strongly increases the odds of a large range day soon! ..lol imho!