S&P Reversals & Targets
The Charts below show past and future Reversals and Targets. The
S&P
is at a significant Top. Increased Volatility and other factors are confirming this. I would be surprised if it broke Monday's high. Today's opening move looks very much like an
Exhaustion Bar
to me, with prices set to collapse imminently. Once the 1-2-3 is broken on the 60-min Chart, then we should be good to go for a Significant Decline.
These Studies can also be extrapolated from 60-min down to 1-min Reversals. That would reduce risk substantially. Note that these are Charts for the
S&P
, and NOT of the Futures Contract.
Good Trading,
Doer
Click image for original size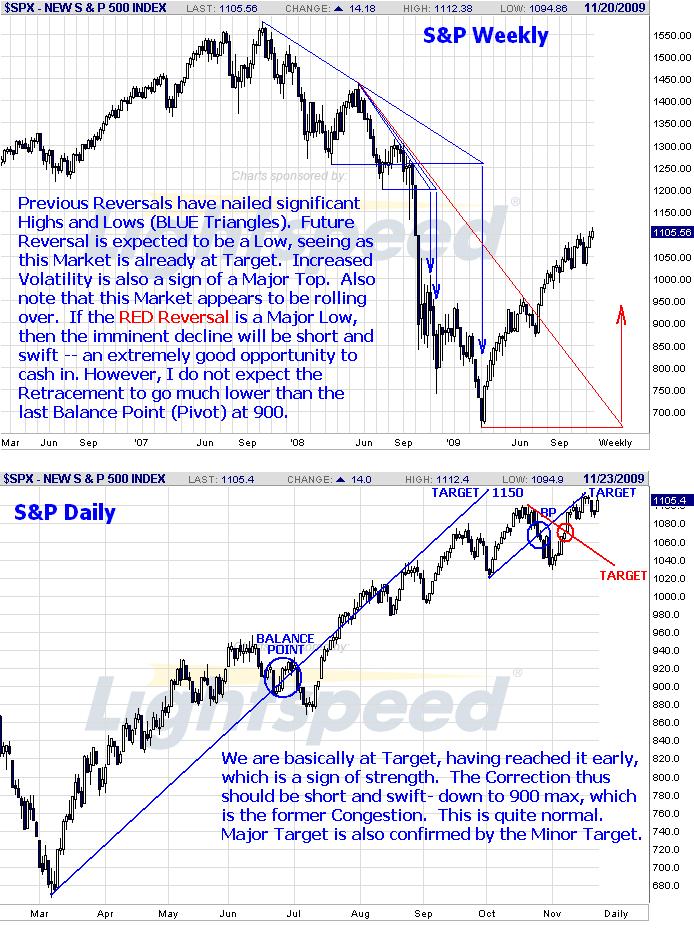 The Charts do not open for me, so will try attaching again.
Is anyone else having the same problem?
Click image for original size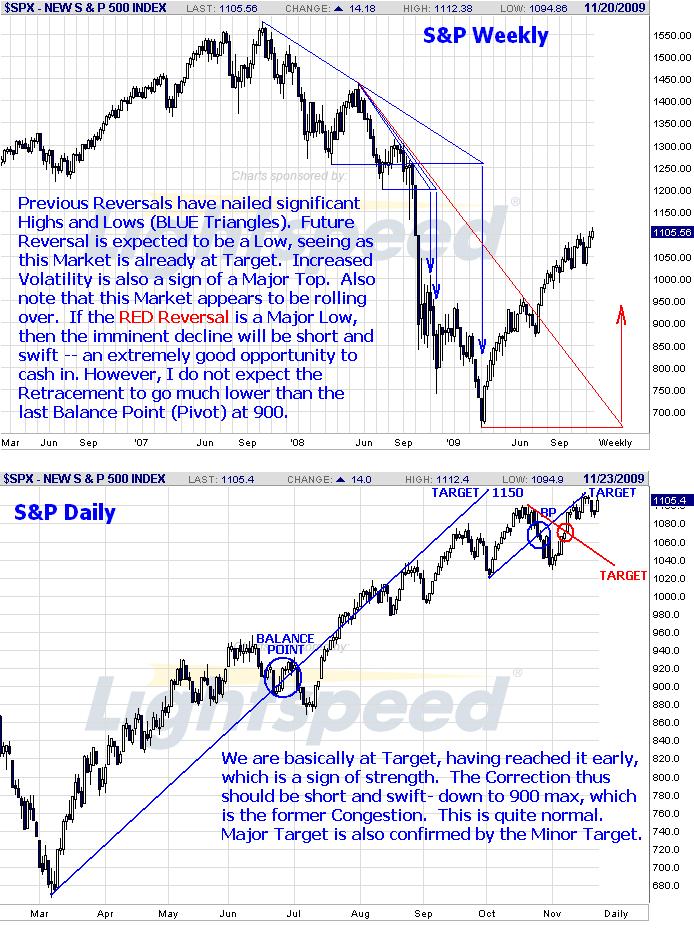 I think it FINALLY uploaded correctly, after FIVE TRIES.
Apparently the ampersand (&) was screwing things up.
Enjoy,
Doer
Click image for original size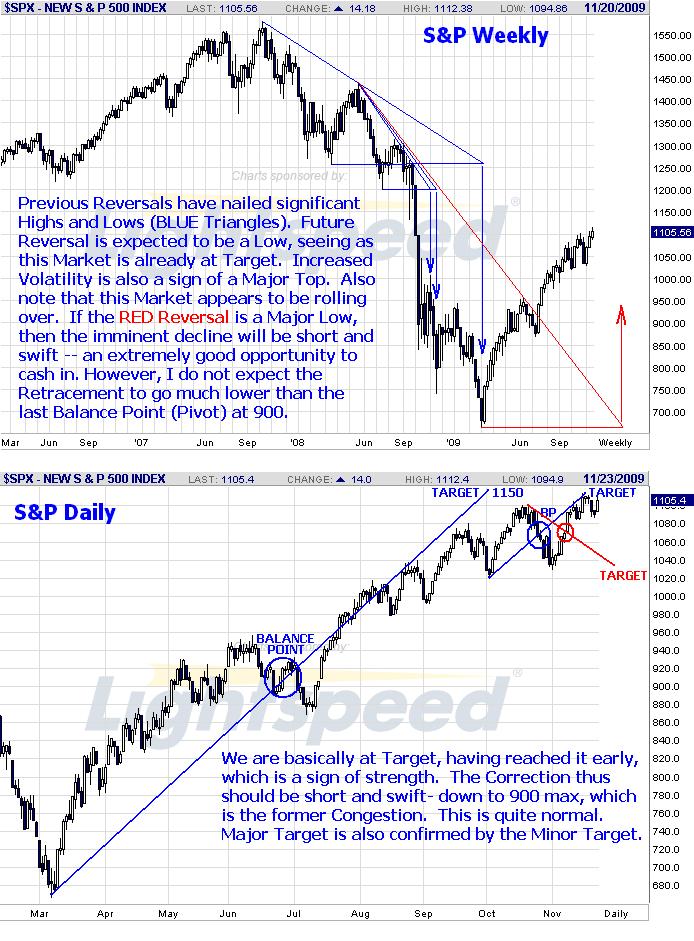 Very interesting I have had success with another method that is very similar. But only works on fixed increment or hand drawn charts where the grids do not change. I still use these pyramids I ought to write a book. These are some file charts from way back....
Click image for original size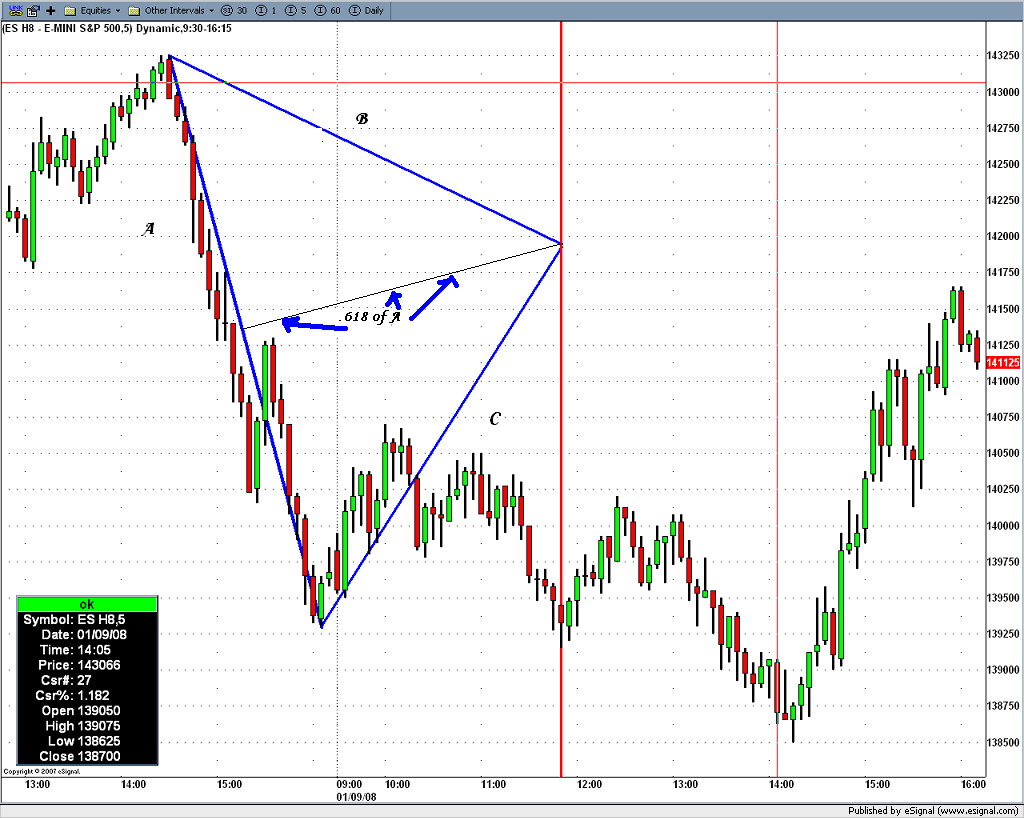 Click image for original size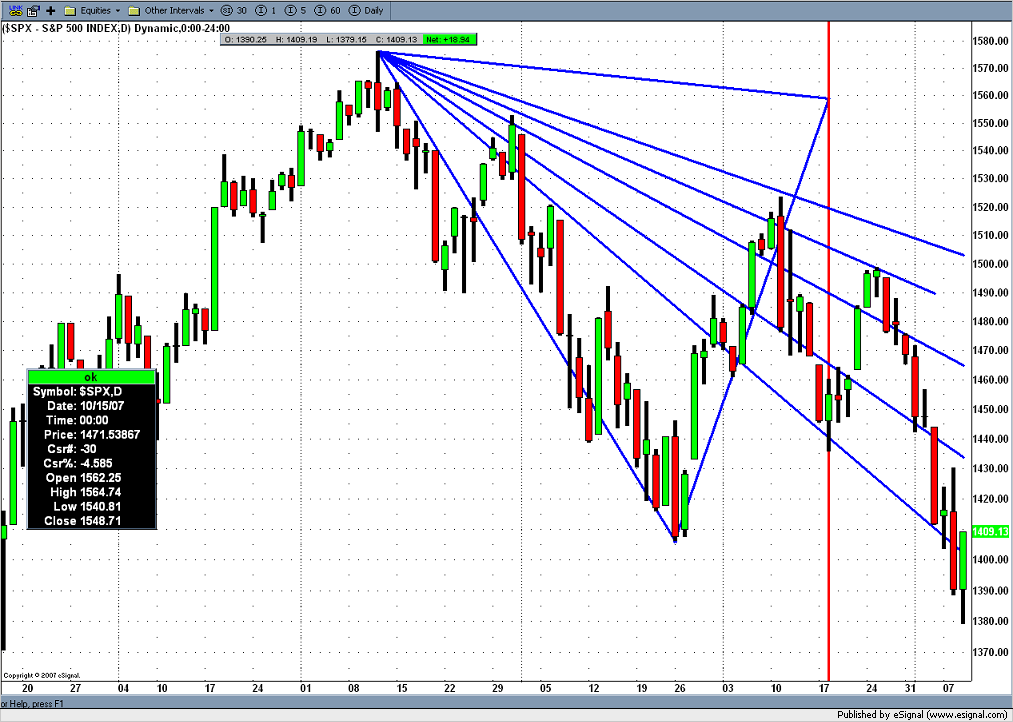 CJ, I do not understand the rules that you are using. Please explain.
With
Reversal Dynamics
, the rules are very simple --
Connect Hi's or Lo's without going thru any intermediate Bars, and extend the Line. This is the same as connecting the Hi's or Lo's of uneven waves, which these actually are. Then draw a Horizontal Line off the OPPOSITE lowest or highest Bar, extending it until it intersects the Angular Line, forming a Triangle.
The longer the wave, then the more significant will be the Reversal, as a general rule. Same applies with what timeframe you use.
Doer
Click image for original size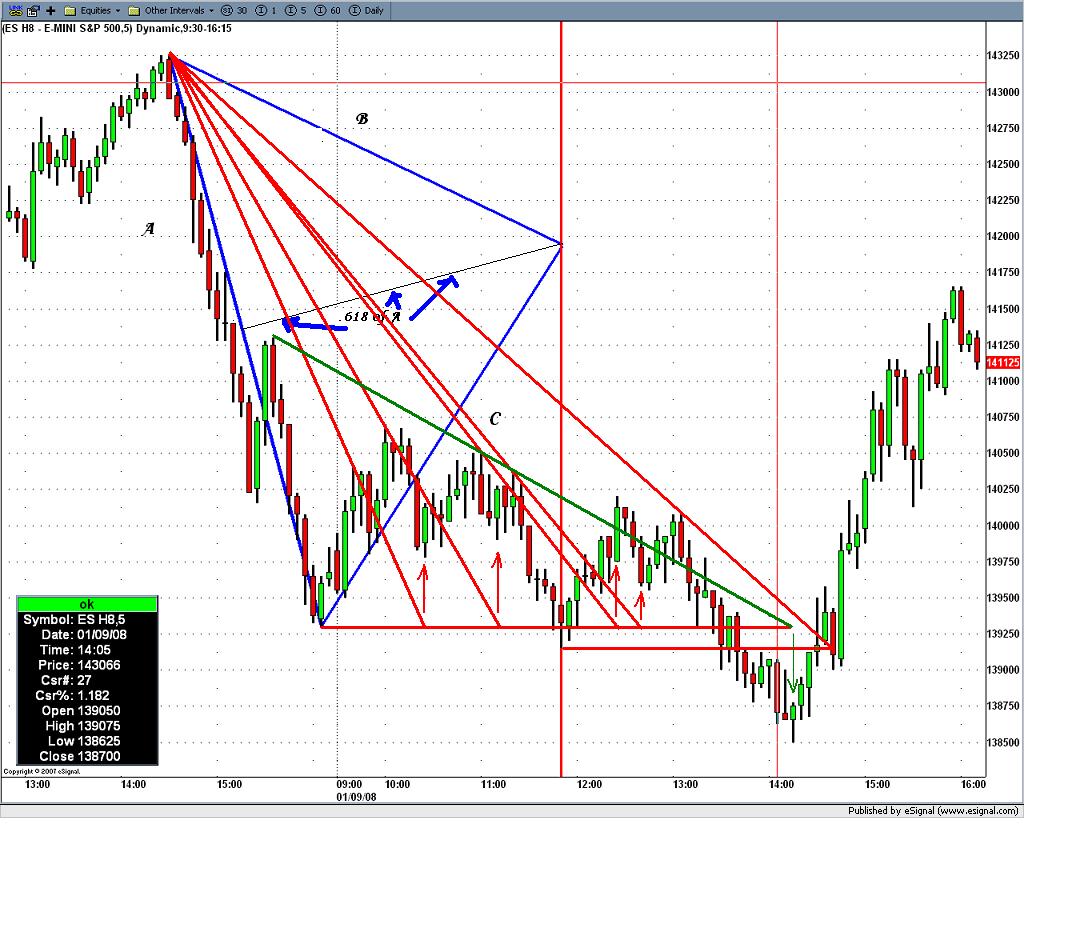 My Charts posted 11-23 still hold and should be reviewed for a longer term perspective. The following Charts are an update and give more specific and timely information. Note that the Chart is of the
S&P
and NOT the Futures Contract. However, they are so close that it makes no difference for our purposes.
Good Trading,
Doer
Click image for original size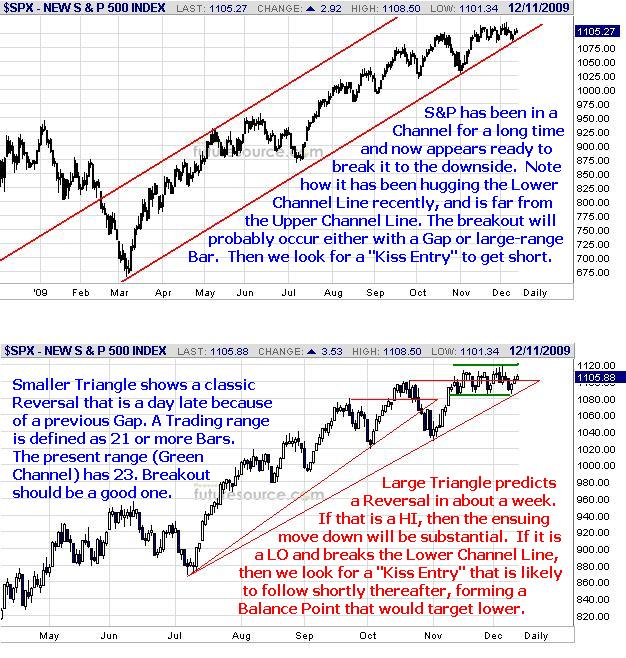 S&P
Emini is stalled in a Trading Range. When that breaks out, it should follow thru strongly. However, if it breaks to the upside, I would be careful of a false breakout.
Good Trading,
Doer
Click image for original size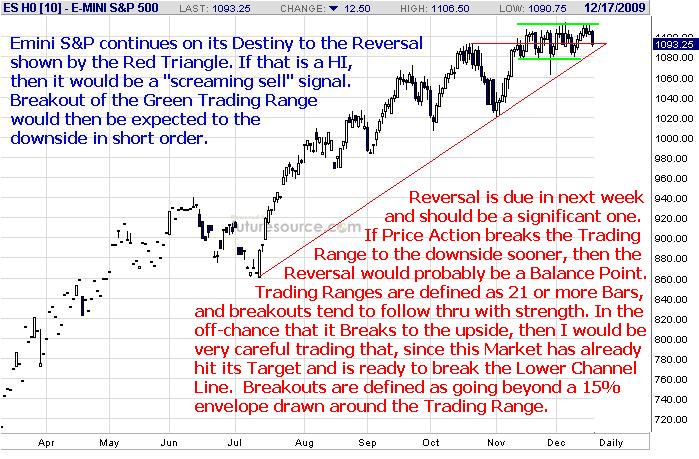 S&P
is setting up PERFECTLY for a Major Short Signal. See above Chart for calculating a Daily Reversal. The Charts below show how it is unfolding to date.
Good Trading,
Doer
Click image for original size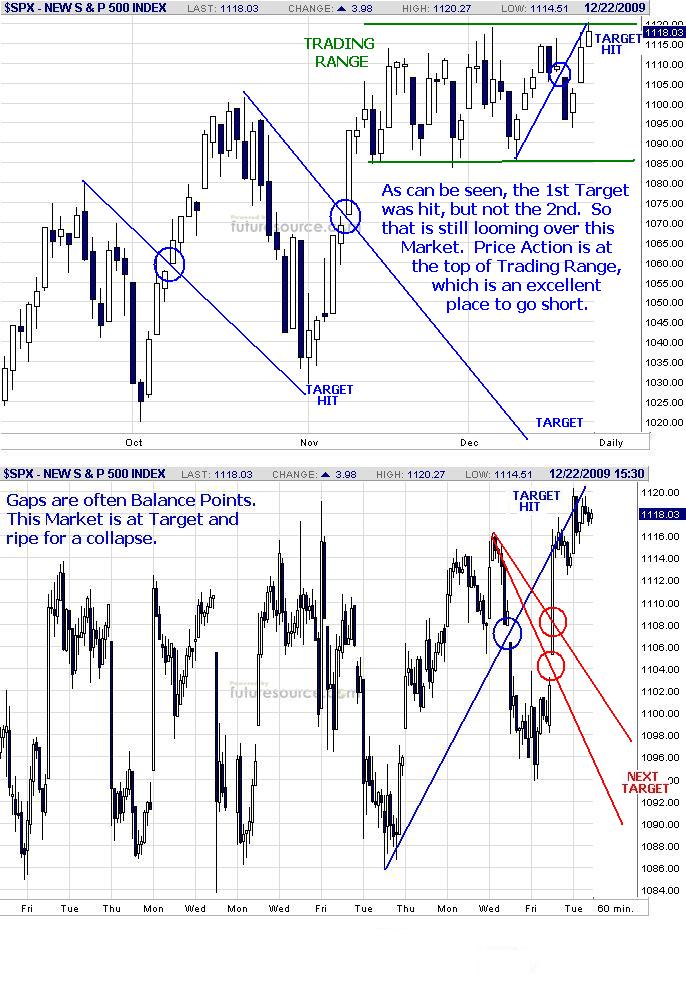 Latest update to what I see follows. A minor change and some additional observations, relative to the previous post. Note how the Target Line goes through not one, but two Balance Points, confirming a strong correlation and increasing the odds of that Target being hit.
Remember that this is the
S&P
, so
S&P
Futures will be slightly different. Therefore you need to draw your own Reversals to get exact hits. Some Charting Software times Bars on the Open, and some on the Close, so that is an additional factor that will affect timing.
Good Trading,
Doer
Click image for original size
Christmas Update
I did not realize that the significant Reversal on the Hourly Chart of the Emini
S&P
would be the LAST BAR before the long Christmas Weekend. We should not be trading during this time, anyway, because the Markets are very thin and stop-running is rampant. This is evidenced by big Spikes on the Japanese Candles. Not so much in the
S&P
, which is probably the most liquid Futures Contract in the world, but you can see it even in otherwise-liquid contracts such as
BP
. So time with Family is more advisable than sitting in front of a computer screen. That is my plan this weekend, so this is my last post for awhile.
Certainly I would not be in this Market over the weekend now, even with such a clear signal as the significant Reversals on the Daily and Hourly Charts. The Hourly Chart even made a Double Top, which is another indicator that a significant high may be in. Interestingly,
Price Action
took out the 15% Envelope around the Trading Range of the last 30 Bars, but I do not take that Breakout Long. It looks too much like a False Breakout to me.
So what do we do next? Monday should see a
Gap
Down when this Market opens. If not, and the high is taken out significantly, then that would mean a new Balance Point targeting slightly higher, and I would wait for developments.
But if, as anticipated, the
Price Action
is to the downside, then the Targets are very clear. Only getting on board would be a problem, as Price Acton could be volatile. So I would look for a Reversal High on the Hourly Chart, or Breakout of a Channel to get on.
Note that this Market is at the Upper Channel Line of a significant Channel, at a Reversal and also at several Targets, both major and minor. That is a
TRIPLE
WHAMMY, and at least a 90% shot. It doesn't get much better.
Merry Christmas,
Doer
Click image for original size