Volume attractors
Here's a quick chart but the explaination has more meaning. I was watching the 1103 - 1105 area because there were volume spikes there for the last two weeks. Today we opened right there and then we rally to a plus 4 number off the open. This is an ideal set up for me as I believe that volume will attract price back to it. So I shorted the plus 4..
The window ( see
pitbull
I,II or
III
setup) is based on Volume too as there is usually much volume at the opening minute of trade....so after price is pushed away from it ( Usually on lower volume) , it reverts back...attracting price back to volume...as I type I shorted volume at the 1110 area expecting price to revert back to the 1106 area...if it works I'll post the chart...LOL
Seriously though, price will either accept or reject the volume.....when it accepts volume and we begin to trend you will see these mini volume spikes over and over as the market moves higher or lower....on the chart below you can see from the volume histogram that the volume was picking up around the 1105 - 1106 area each time....in theory we can just follow the surges...
My chart might seem too simplistic for most but it's what I trade from....
Click image for original size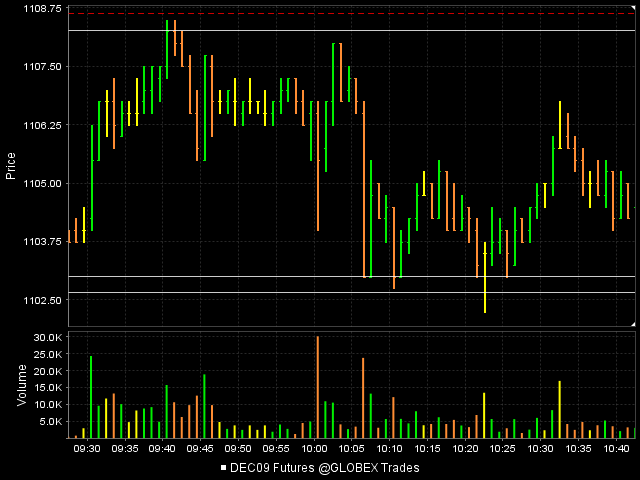 Notice the volume spikes at the 9:30 open, the 10 am and 10:06...all traveling through the same prices......at the very least we can tell that others are watching the area too based on volume... ....Tic charts can define these areas much better then mine do.
Here are the spikes at the 1110- 1111 area...look at time 13:24 and 14:44...spikes in the same area...( I snapped horizontal lines at the zone which will be either rejected, accepted and or tested)... somebody is using it for some reason...not sure we really need to know if it's the fib guys or pivot or gann...may not matter but the volume tells us somebody likes it...
Click image for original size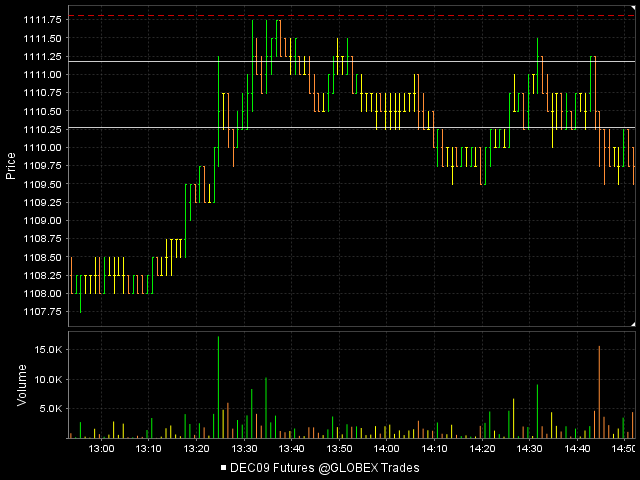 here is the 1110 trade...notice the great volume spike down into the 1106 area....somebodies doing something....like me!!!
Click image for original size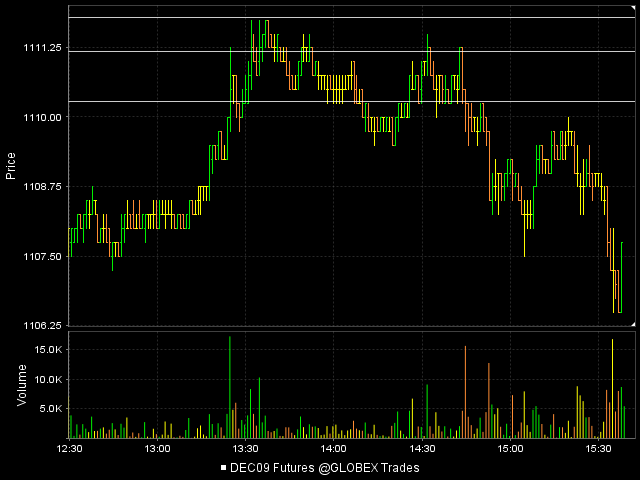 Ya just can't make this stuff up!!
The volume attractors as of 3PM from this big range friday are


1110

1105

97 - 98.50

the 1110 is new but the other ones have been attracting volume for weeks now....


Double outside bars now on the daily chart..is the swing high finally here?