Chart to look at
Here is something to look at its my first time trying to upload a chart with text and analysis but I hope it works...
Click image for original size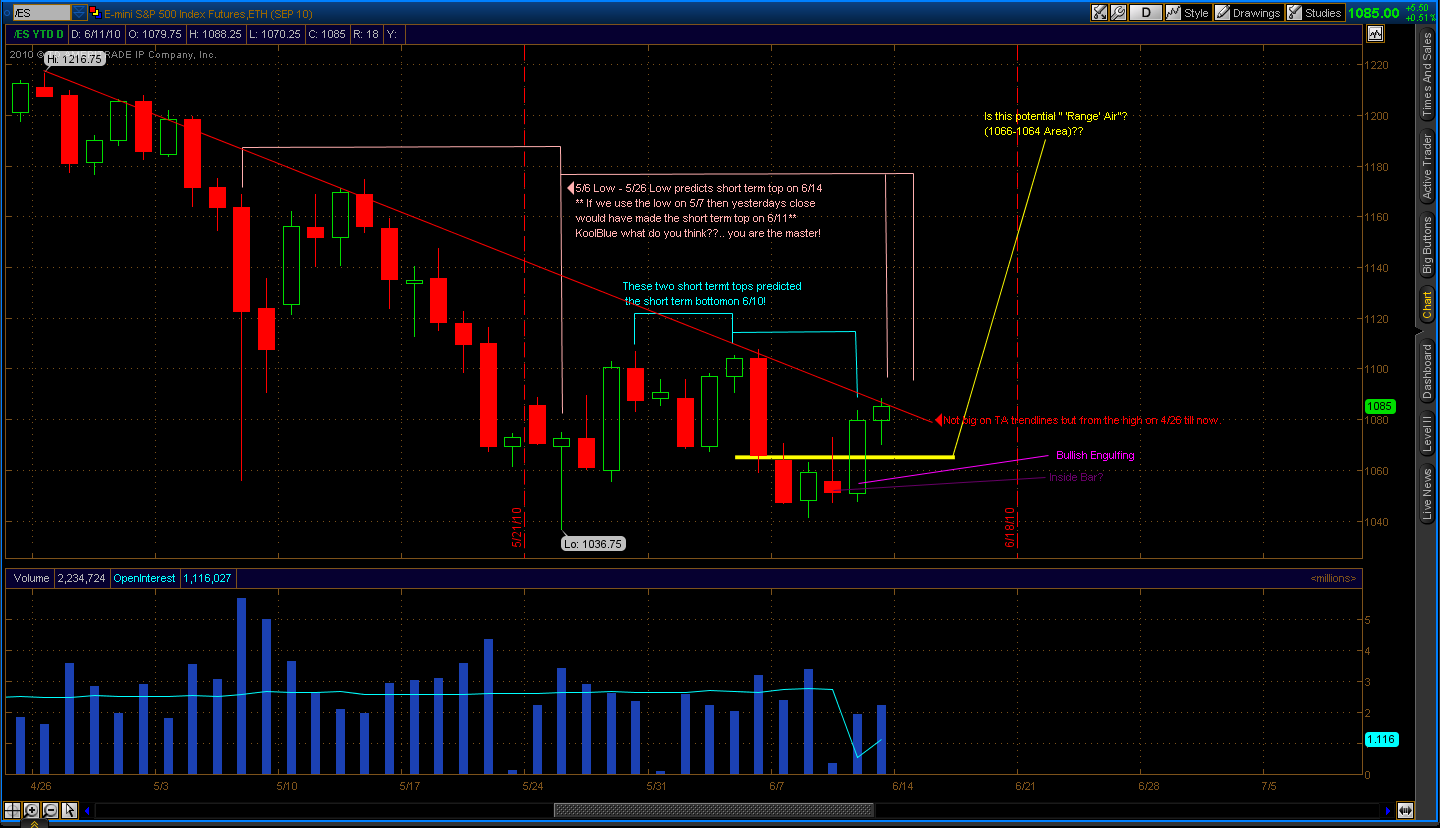 If I have used Kools cycles correctly it looks like we have come to a short term peak. Either happened on Friday or will on Monday. I am thinking Friday was the peak though as we have run into a trendline from the 4/26 high.
What is interesting to reach this short term peak was the days before it we had an inside bar, followed by a bullish engulfing bar + a Kool's cycle that predicted a short term low...
If we look at the volume, this is the first time during this downtrend from the 4/26 high, that a move up happened on increasing volume.
I have a couple questions posted on this chart:
Is that Range Air in the 1066-1064 area (Yellow)?
and
Is what I have been calling an inside bar on 6/9 correct (purple)?
Here is a possible scenario that can get played out:
We have reached a short term peak now.
BBY
and housing numbers brings the market down to take out the 'range air'.
From there we rally until 6/23 which, right now, predicts a short term peak; from the 5/25 - 6/8 low.
This might be convulted but I hope it makes sense and helps.
Lets discuss this chart and upcoming week.
I don't use candle but I'll try to answer some of these....an inside bar has it's entire range included in the previous days, weeks, months , years range...so if looking at a daily chart the high and low ( not just the body of your candles) is contained within the range of the previous bar.
I think that is engulfing. You seem to be use "all sessions" which doesn't show the
gaps
and doesn't isolate just the
RTH
session - 9:30 - 4:15 eastern time so that is a bit different from what I use.
I wouldn't call that range air but we haven't specifically defined that so perhaps Kool and Phileo can refine that for. The cycles are Kools so he can help with that.....I like that trendline...I hope thathelped somewhat..
Click image for original size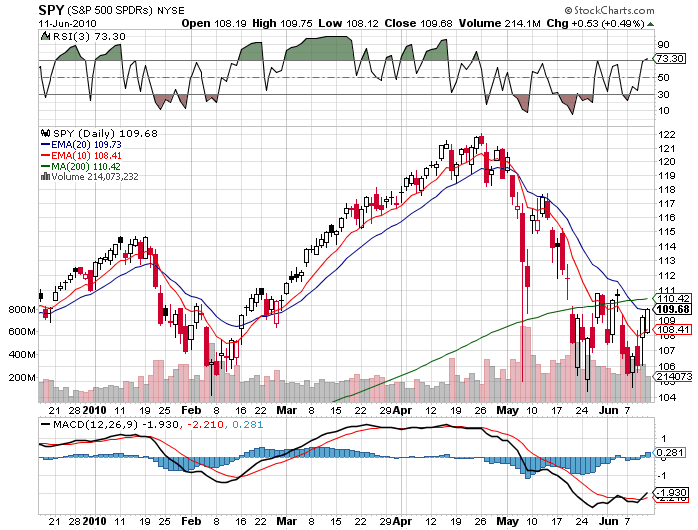 The more I look at the charts, the more I am also biased short for Monday for the following reasons:
-
SPY
closed just under a declining 20d
EMA
109.73 (1086.75 in
ES
)
- 200d
SMA
is at 110.4 (1094 in
SPY
)
-
RSI
(3) is overbought
- already had 2 consecutive up days.
- mutual fund monday win rate since the start of this correction (Apr 26/10) is 25%
An
opening gap
on Monday above 1093 (that's 50% of Friday's Range and 33% of 5d
ATR
) or Euro above 1.2230 to open NY Session would negate my short bias. Furthermore, since Friday was an NR6 day, staying above 1088 for any length of time sets up for a bullish breakout above 1094. First touch of 1075 should be tradeable for a 2pt bounce, but if any subsequent tests of that level fails to hold, that could trigger profit taking down to 1068-1065. I think 1081 will be a good target for any mean reversion trade.
Click image for original size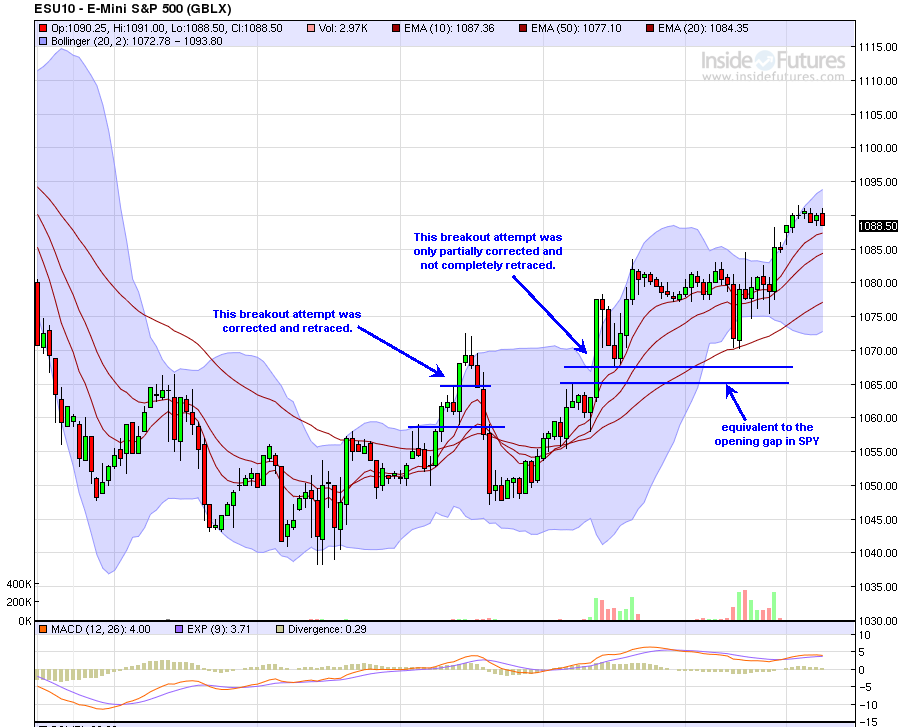 I see a
gap
between 1065 and 1068.
It's similar to Bruce's definition of an "air"
http://www.mypivots.com/Board/Topic/5507/1/price-bar-overlap
probably the biggest difference is that the "air"
gap
I've highlighted occured outside of
RTH
.
Any thoughts Bruce?