ES short term trading 9-29-10 6129
ES short term trading 9-29-10 6129
The
O/N
as of 8:30 has created the symmetric shape (bell curve) . The central point is 41.50 and that has been the line for a few days now.
Preferred trades are
sells
above there. We have the On high at 46.75 which is one point away from our key number of 47.75 from Sunday's night session. Key below is
O/N
low at 37.25 which is one point above the Micro
gap
and
triple
's left over from YD day session.
This is a good day for
gap
fills due to the symmetric
O/N session
and the lack of reports today. Nothing to inspire the market.
Fade
traders will be more aggressive today given the lack of opportunity during YD first 90 minutes...( they won't trend it early on like they did Yesterday)
As Bruce pointed out above you can see the even distribution of prices around
VWAP
coming into the
RTH
open.
Click image for original size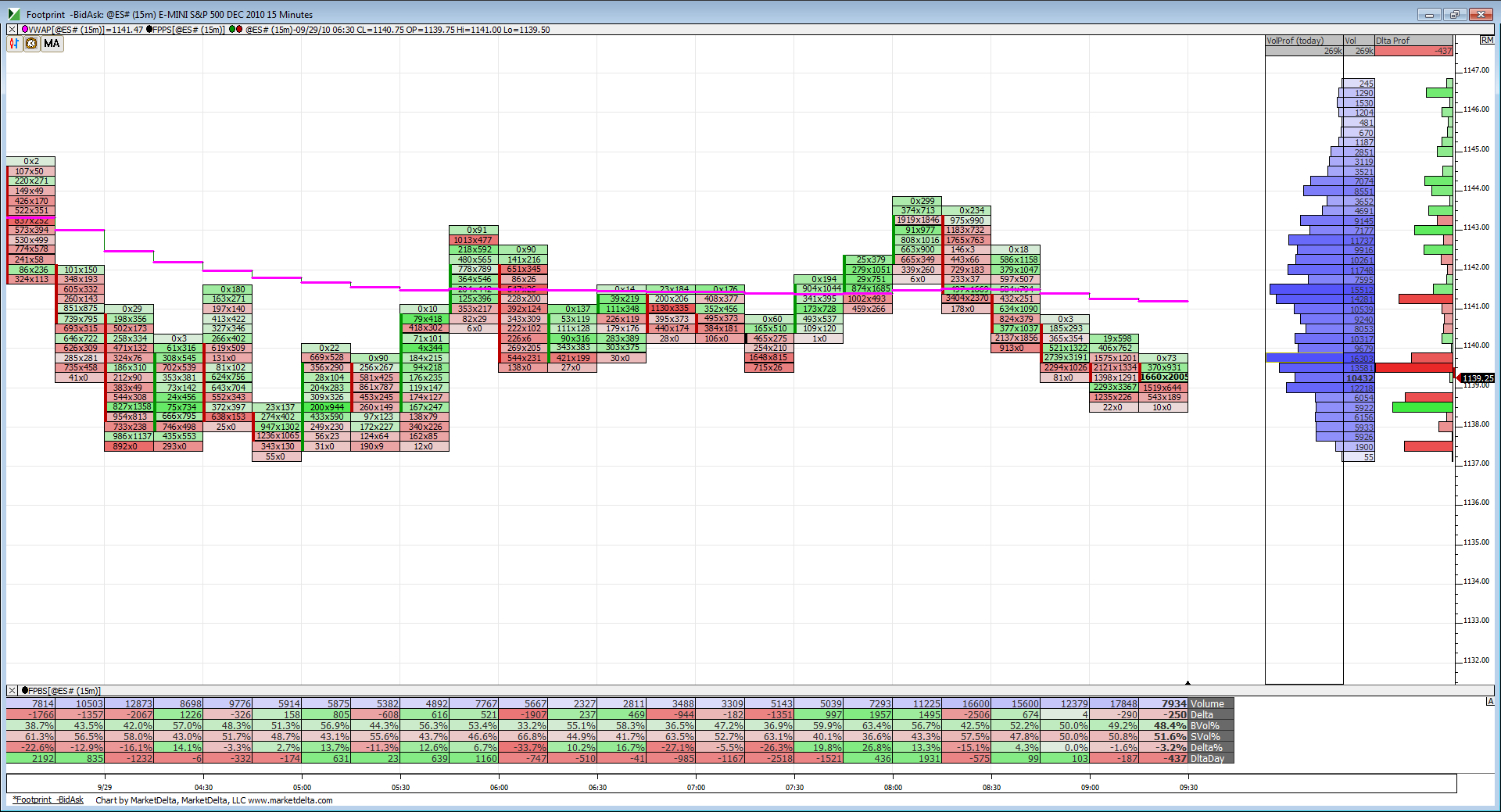 So I guess we will see if those
trips
from yesterday get taken out today.
Originally posted by BruceM

sells are good now above 41.50 as air is below also...two magnets

above we have 1144.5 and 1146 (R level and new downtrend line area here from
O/N
high). below we know
if we can stay neutral we should retest 40.25...
low volume
area.....no signal to short yet.
so far BKX backed down to 45.70 area and back up near
hod
but 46.50 not broken yet by .51 pt
Glad to hear that and thanks for the feedback. The
ES
spends so much time consolidating moves that it is no wonder the "air" trades work so well. I think a good basic filter is to be more agressive when we open and
stay inside
previous days range.
For me I am constantly trying to learn what makes these markets trend in order to avoid those times as a fader. A work in progress. So staying away from reports unless you are working runners is a good plan too. The afternoon trends can be challenging too. A wiser trader would best concentrate on the first 90 minutes of the day and then either do research or get on with your life in other areas.
Of course those of us who are "addicted" need to trade lighter if we feel we must be in on the action. Those reasons are not very good reasons to be trading. Trade to make money but at first strive to get good at your entries and exits. And above all is to know your "UNCLE" point.
Grade yourself on not making money but how well you followed your plan.....most don't plan to lose money but still lose it anyway.....so follow your plan to win and manage yourself....
So ends todays speach on trading....sorry for rambling...this is cheaper than a shrink...!
Originally posted by rburns

Bruce I am finding the air trades on a 5 min to be a most valuable tool. Thanks for that imput.