ES Short term 12/07/10
I'm looking for 1231.00 as the objective and possibly higher.
So far, tonight, the
ES
moved down to 1219.00. The MdP is at 1219.25,
ES
found support and bounced back.
ES
now trading at 1223.25
I think that it will need to open
gap
up and above the 1226.00 resistance. 1226/1227 is a strong resistance,
add
R1 at 1227.00 and we have a nice SR to play from.
Moving below 1216.00 will void the above.
Will see, and as always; the market has the last word and in due time will show me the way.
Nice call Ihunter...I had 31.25 on the radar as it is a
Rat
number but more important will be the 37.50 ...the
split
and Pauls double of Mondays range has hit too....
with no reports today it will be interesting to watch volume to see if our
Fade
mentality will serve us today
That volume spike in the
O/N session
created a
gap
at 1230.50 so any initial
fades
up here will need to watch that area first
looking to start shorts above 33.75 in
O/N session
now...assuming lots of stops under 31.75 ...ON ledge and then the 30.50
gap
...
Here is the profile of the
O/N
action so far with
HVN
(green)
LVN
(red) marked.
Click image for original size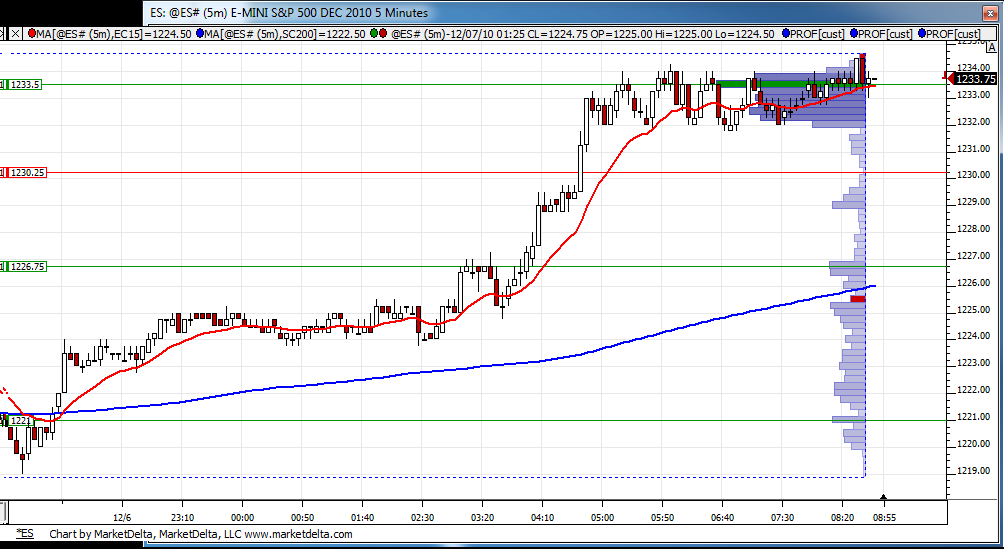 now on 34.50 and very light.....short.....the overnight session is tricky for me.....Ideal short in
RTH
willbe closer to 37.50.....if it prints.....
we will need to put in a high to low day soon...not sure if that will be today.....no reports to goof me up today but news is out so lets see if
RTH
buyers enter at open
took 30.50...last contract trying for 1/2
gap
fill ...obvious concern is that voume that enetered at 30.50 area in ON
28.25 is final....out of ammo...otherwise I'd try to hold a bit more...we may still get complete
gap
fill if they resolve 25 - 27 area
Here is the weekly developing profile and last weeks profile. Interesting how 1231 (
HVN
) and 1231.75 (
LVN
) are showing contrasting zones so close together.
Click image for original size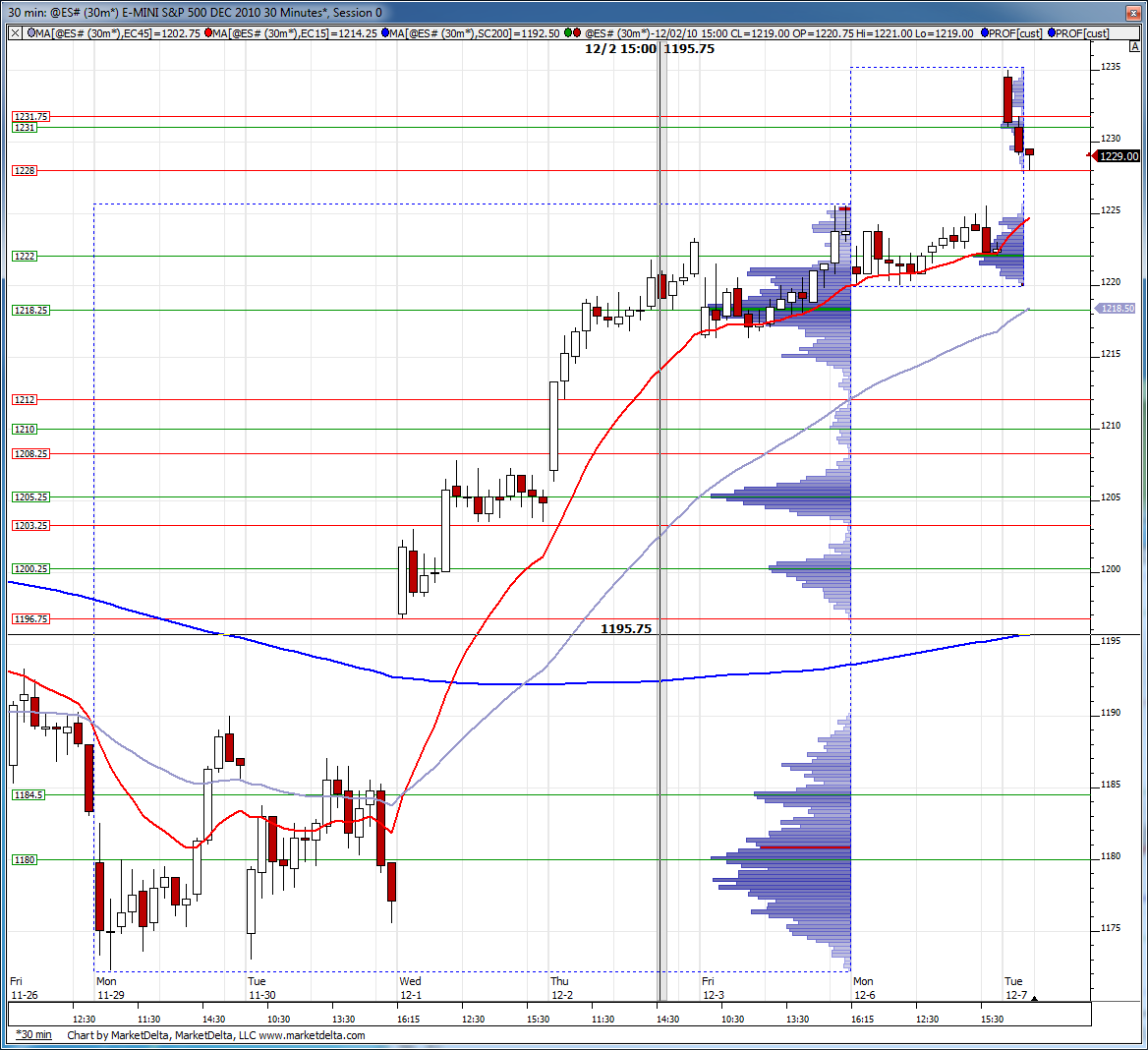 Sorry Lorn, I left for the day so missed all this but here is a chart and some thoughts of what I think I would have done. Without actually trading it , it's hard to actually say what I would have been thinking in the line of fire of daytrading but I think this is it.
In general I donot like to trade for
triples
near the lows or highs of the day but yesterday I think I would have taken a shot at those on the lows as long as we didn't get too far above that 30.50 number I was watching. It would have made sense given the context of opening at the highs and then testing that open print with that Green up bar on my chart and then we rolled over down. We also broke the hour low and we gapped higher. So with that context I would have taken a shot at the short and would have lost when we got above 30.50 and consolidated up there.
The better trade was obviously going for those second set of
triples
that formed inside the hour range later in the day at about 2:15 as long as we didn't trade back above the open print. Runners would have probably gotten the new lows too....and broke the
triples
you mentioned......but if ya aint here to trade then this is all speculation of what I think I would have done... hope that helps as that would have been my thought process..
Originally posted by Lorn

Interesting we have trips right on 1226.75 which I show as a HVN from the O/N session.

Whats your take on that Bruce?

Click image for original size