ES short term trading 12/21/10
ES short term trading 12/21/10
ES
is currently testing a resistance trend line seeing in the daily Chart.
I'm looking for the
ES
to open
gap
down possibly 1237. MdP area then move up again to test that resistance trend line at 1246.00 or so.
O/N
currently trading 1245.25 @ 23:08
Moving above 1247.00 will void the above.
why do u think we will sell off from this key 45 - 47 down to the 1237 area? Just curious. I was thinking we could see 50 - 51 before the
O/N
is done but my
O/N
work needs much improvement...my target is based on the strong Asian market and some basic projections and key
RAT
of 1250. I basically don't really have a clue and not trading but hope it works out for you.
Thanks Bruce.
You could be right. The only way the indexes can go up is in
O/N
via futures, buying and moving above the resistance trend line.
NAS,
SP
, DJ are hitting and zigzagging their own resistance trend lines.
My view is because the 60, 90 stochs are in overbought territory and market hitting resistance, but the stochs can stay in overbought for a long time with the market moving up.
In any event, the
ES
is still testing that resistance trend line and yesterday's high with R1 in the same area 1245/46. Good area to keep my eye on and play from if the down side fails.
My risk is 2.75.
Will see, in due time the market will show me the way.
ES
trading 1245.50 @ 01:17
small shorts started at 46. mean reversion trades with the plan to target the weekly open at 43 even as that is also an
O/N
breakout point. Will watch for new 30 minute closing highs above 47 as possible exit and trade failure.
The 1.62 extension of monday comes in at the 52 area as does R2 and key
Rat
is up at 50 ...so 1250 - 52 is next upside inflection point if buyers smoke us out this morning..
Better trades will come in the
RTH
...no reports to mess us up at 10 a.m today ...41 will be secondary target on shorts entered in
RTH
session..that is pivot area and
O/N
low ....On a higher open we will need to see a half
gap
fill and quickly otherwise we may be on the wrong side today
A look at the
O/N
profile. 45.75
HVN
and it looks like prices will open above it. Perhaps those 50 targets you've been talking about Bruce will be on the cards today. Notice that
HVN
at 42, the breakout move for the
O/N
. Will this area be tested today and defended?
Click image for original size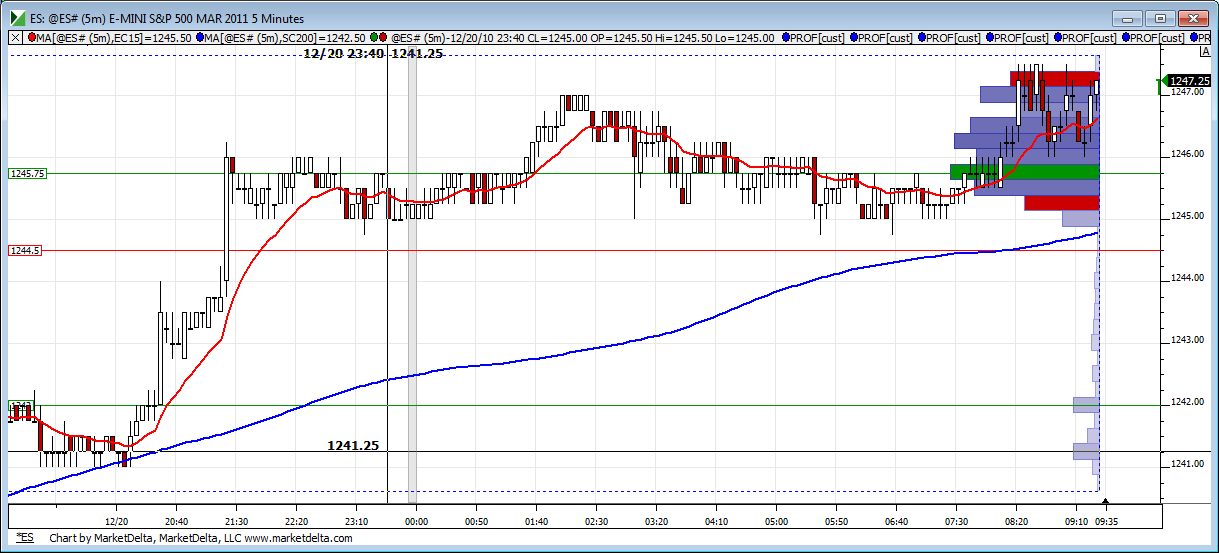 Will see if it give us the pivot 1240.50. Stop still at 1247.75. Tuff SR zone here.

Trading now 1245.75 @ 09:39
Whew! Took me forever to update to windows 7 and ninjatrader7 . Like starting all over again!
Ah, yes I remember doing that a couple months ago.
Originally posted by koolblue

Whew! Took me forever to update to windows 7 and ninjatrader7 . Like starting all over again!