ES Short Term Trading 01-24-2011
ES Short Term Trading 01-24-2011
man! i had a pretty chart all ready and a sell at 1283.25, but the peak occured while i was making it!..grrrr. going to post it any way for the benefit of newbies!....missed by 2
ticks
!.....
Click image for original size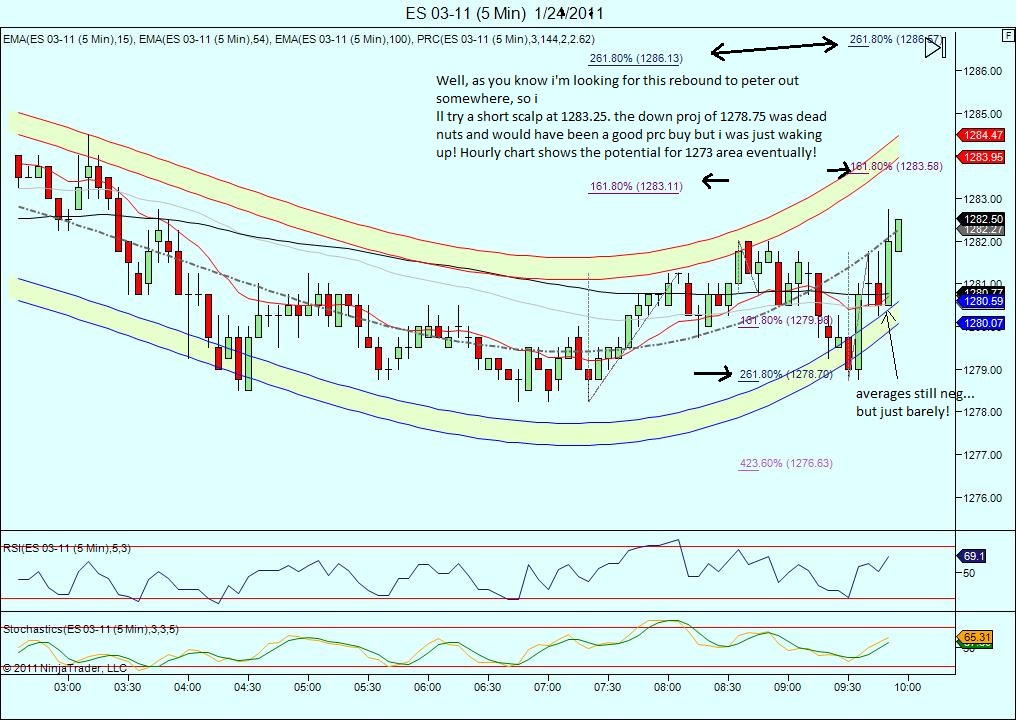 Have to run Jennie to work! Man, i'm hopeful for a move to 1272.50-1273.25 still before any decent rebound , but who knows! sorry i missed that 1283(1282.75) short!...
Great spot for a short here in the 1284s, stop at 1286.50. This is a backtest of a trendline for the past 3 days, also stiff resistance 1285-1286. Watch for a 30 min close below 1283.50. Looking for a 10 handle move to 1275 area.
TICK
is just too dang strong right now for shorts to work...meaning equities are being bought and until that stops we aren't going to get any meaningful change in direction.
UGH! Wish i would have seen your post first,Lorn! Just sold 1286.25 per the above chart i posted...
i'll be taking one off at 1284.75 if they let me ,to reduce risk...already hit,i know ,but no fill. The one min chart indicates a few
ticks
lower, so i'll stick to the plan!
I am kool and am short off 87.50......don't want a close above Fridays highs now...want closes below the
O/N
high now
Exit 1288.00 @ 16:01
Originally posted by WS

Moving stp up to 1286.50
ES trading 1287.50 @ 15:59

Originally posted by WS

Moving stp up to 1285.50 and ready to pull out 1288.00 or so .

ES trading 1287.00 @ 15:57

Originally posted by WS

Moving stopup to 1285.00
ES trading 1286.00 @ 15:50

Originally posted by WS

Moving stp up to 1284.25
ES trading 1286.25 @ 15:40

Originally posted by WS

Moving stp to B.E.

ES trading 1285.75 @ 15:37

Originally posted by WS

Little late but here we are testing support at 1284.00. Long at 1284.25 stp 1283.25 with objective at 1288.00 and possibly 1290/92. will see if it give it to us.

ES trading 1285.75 @ 15:35

Originally posted by WS

The ES tested Friday's high and as usual with resistance, it back off. The support I'm looking for is in the 1283/1284 area, possibly at lunch time. After finding support, it is most likely that will try one more test at the 1288.00 high. The objective is at 1293.0 and possibly 1296.00 late afternoon.

The above will be void if the ES moves below 1283.00.

As always. the market has the last word and in due time will show us the way.

ES trading 1286.00 @ 13:01