ES short term trading 1-25-11
ES short term trading 1-25-11
Boring, yet interesting day yesterday. The market, and this is important, proceeded higher ,against the seasonal tendancies (which denotes strength. Today, which is State of the union day we seasonally should be under pressure for one more day before things turn more positive tomorrow, We'll have to see what develops.Historically, state of the union day is positive overall for the next few days (higher today for instance 16 out of 20 times) . That would line up nicely with the more positive seasonals from wed on...Note also that the nas was leading on an up day, not lagging yesterday, another positive in my mind. Todays news releases are a wash in my mind with likely neg housing reports and a likely positive consumer confidence report.I dont expect any thing real dramatic today, but it seems possible we could be setting up for a positve last half of the week ,as speculated in the weekend preview.
Click image for original size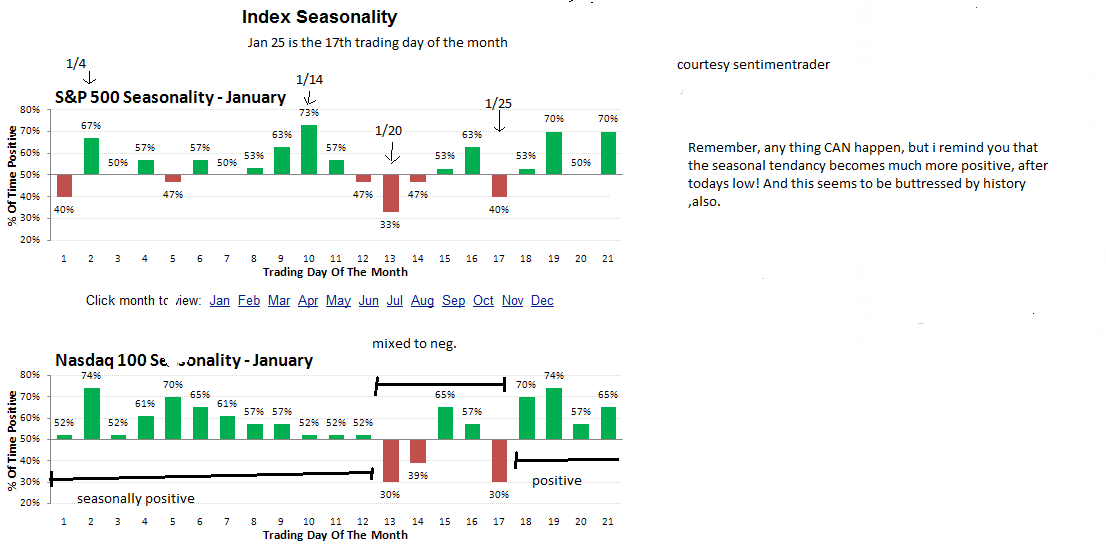 ... great call btw, Bruce.. i had my doubts cause of that 30 candle pattern i mentioned.
I missed getting short at 1281.00. Possible objective at 1277.00 or previous day low .
Will wait for next set-up
ES
trading 1279.75 11:23
The weekly traders will use the weekly pivot and the weekly open much the same way us daily day-traders will use the current days open and the current days Pivot or
Vwap
...
basic rule is that they need volume to trend away from it..otherwise we get the mean reversion concept
Like everything else , this is not statistically proven by me but I believe in the concepts from years of screen time.
My lecture today is that newbie traders need to find concepts they believe in. You can see how the handful of traders post here actually trade but
what is so hard to get across is how much we have faith in our methods.
Does anyone really think Kool could trade off his lines if he didn't believe?
Kool, you mentioned being a bit of an egomaniac in a recent post...and while I don't know you outside of the forum I suspect that it isn't ego as much as it is a strong belief in your methods.
My only real point is that traders need to find what works for them, believe in it and don't keep jumping from method to method.
Ahmen Brothers and sisters!!!! I'm climbing down out of the pulpit and going for a long dunk in the pool.
Well put, Bruce!... well i might have missed my long by 2
ticks
,but because the cycle on the 13 min chart bottoms the next bar(between 11:47 and noon) and the 5 min closer to noon, i will keep my order in till noon...
I have, however changed it to buying 1277.50
I'm waiting for one more down impulse to test yesterday's low. If so I agree will Kool about a buy there. If that was to occur then the objectives will be at 1282. 1286, and possibly yesterday's high.
Below 1277.50 will have me looking to go short for 1273.00 and possibly 1268.00 objectives.
Will see. in due time the market will show us the way.
ES
trading 1281.00 @ 12:05
lunch time hmmmm
@
[email protected]
$ had my sell at 1284.50... no fill , ive lowered it to 1284.25, but if not hit in the next 3 or 4 min, i'll cancell and go to lunch...
hit again... no fill again!... i give up..going to lunch!
Originally posted by koolblue

Hey room, when you get a chance check out my reply to that guy on traders lounge here at mypivots!..LOL if you agree vote him down! If you think im being too hard vote him up

I deleted that topic - I agree - did not
add
any value.